Hi Everyone, I'm in Guyana. I've been here for a week now and the eating at home has been interesting. There've been hits and there've been misses.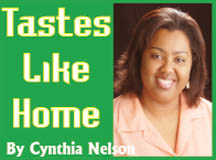 Hits
The Sunday morning Dim Sum at New Thriving is a sure hit. This type of meal and custom that originated in Chinese teahouses has certainly found a home in Guyana. The fresh, clean flavours linger on the palate and entice you to eat just one more dumpling, just one more rice-wrap and just one more bun.
The soup at German's is always outstanding. Whether you're having the beef soup, the cowheel soup, the chicken soup or the vegetable soup. People who want to be successful in the food business, can take a leaf out of the pages of German's cookbook when it comes to consistency of taste and flavour. It is a real taste of home.
Breakfast at Herdmanston Lodge is another hit. The bakes are warm and tender. You don't even need the eggs, salt fish, fried fish, bacon or sausages you may order to accompany them. The fruit plate reminds one what fruit is supposed to taste like.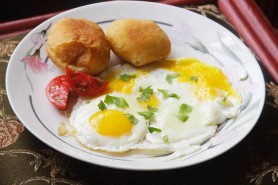 My mom's fish curry hit all the right notes as did her chicken curry. My cousin's Sunday meal of fried rice, chowmein, baked chicken, potato salad and garden salad made me not want to venture outside the realms of a home-cooked meal. And my brother's shrimp curry, and coconut choka – hit! hit!
Misses
In search of pastries – beef patties and pine tarts to be specific, I've tried what was on offer at three well known and well-established places based on recommendations – they were all misses! The "pastry dough" was some kind of flour-water mixture that you could literally tear! The fillings were bland and tasteless. In one case, the filling was overly salty. I am not losing hope though; there are two lesser-known places that have been recommended that I plan to follow-through on in the coming week. Wish me luck, or send me a recommendation at: Cynthia@tasteslikehome.org
Ask anyone living outside of Guyana about Chinese food and they will tell you that Guyanese-Chinese food is something special. I too believe this, but so far, I have been thoroughly disappointed. I've had three different sets of fried rice, chowmein and roast pork; while they looked appetizing, they were major misses. I desperately need recommendations so please email me: Cynthia@tasteslikehome.org
I love, love, love cassava pone. I bought a piece at a favourite corner shop – I had to use a serrated knife to saw off the dry over-baked topping to get to the soft centre. Alas, I should have known that if I had to saw off the topping the centre might have been a disappointment. I was still surprised when I bit in to it and found the pone not even sweet! Oh, how looks can deceive.
Based on the recommendation of a relative, swearing that the cheesecake at that popular café is the best in town, the US$7 ($1400) slice with a canned topping did not live up to expectations.
Lunching at one of Guyana's oldest cricket clubs was a hit and a miss. The trout in a tomato-ee sauce was a hit, the cook-up rice was a miss. The fried plantains were a hit, the tossed salad along with cucumbers and tomatoes, definitely something to miss. I know, you're probably wondering how lettuce, cucumbers and tomatoes can go wrong, trust me, they can and these did.
I'm looking forward to my second week of eating at home given that I have moved beyond the over zealous need to eat my favourites  at the drop of a hat. I want to be measured in my choice. I want seek out some of the many new places I've seen around.
I want to eat a slice or two of Salara, Chester Cake, Black Pudding, Dhal Puri, Cassava Ball, Phulourie – where are the best place to get these items? Please, do not send me to the hut!
Send your recommendations to Cynthia@tasteslikehome.org I look forward to hearing from you.
It's good to be home.
Cynthia
Around the Web