Budding local designer Carlos `Lucky B' Williams will on December 11, officially launch his `She Stush' clothing line, which is his fifth collection since he emerged onto the local scene in 2008.
"This collection is all about making a statement. If you want to look different then come to me," the one-time Soca singer and experienced tailor said.
The collection, which in addition to dresses and ladies swimwear includes blazers and jackets for men, has already been highly praised, according to Williams.
Lots of sassy colours, tulle netting, satin, char-meuse, lace and even feathers are used in this collection, bringing a new meaning to the word "different".
An excited Williams who has been handling fabric for some 15 years, said he returned from the United States in June this year after a five-month stint in New York where he took in the fashion and came up with new ideas.
The creator of the `Stush' brand said that while in the US he took lots of pictures of the various clothing styles and collected many different samples of fabric. What he saw there was the inspiration behind this latest collection.
Williams noted that before he used only cotton but following his NY visit he has decided to move away from that and will be making mostly one of a kind designs.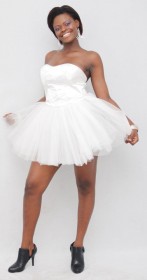 "So you don't have to be afraid that when you are out, you see someone else in your dress. I am doing one-of-a-kind pieces in this collection and you can even choose your own colour," he added.
He describes his new line as exciting and fun.
Williams also revealed that in August he opened his business; the Original Stush Couture at Lot 108 D'Urban Street, Wortmanville where all his designs are on show.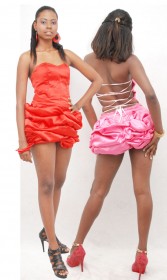 He told The Scene that many persons visit his store and are impressed with what they see. "The support is really, really good."
Those who would like to have a glimpse of the new line could go down to the Side Walk Café on December 11. The show starts at 7.45 pm and the tickets cost $1,500.
Around the Web