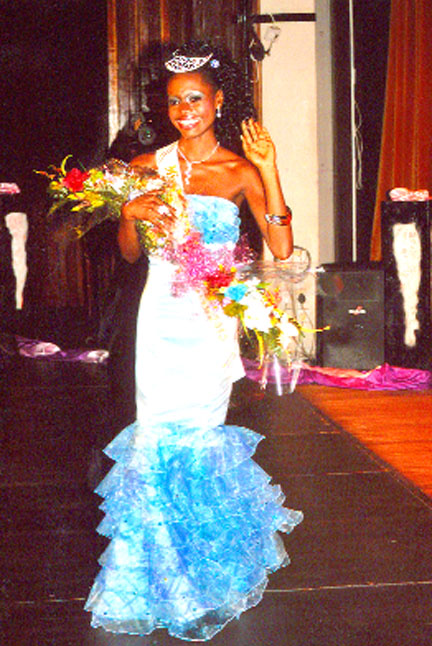 Miss Guyana Talented Teen 2010, Kenisha Richards confesses that she has a love for pageantry and modelling and she says her pageant experience has taught her invaluable lessons and more importantly given her self esteem a needed boost.
Now, she is ready to tackle the job of being a teen queen which turns out to be a very serious responsibility. During her reign, Kenisha must play an integral role in the completion of the Mahaica Children's Home and her task is to ensure that the orphanage is outfitted with a playground.
Last month at the National Cultural Centre, Kenisha outshone eight 'Flowers in Bloom' to become Miss Guyana Talented Teen 2010. The win, she says, came as a total shock to her. "I was blank. I was very, very shocked but very, very happy I won," Kenisha recalls.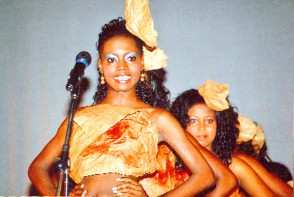 Chatting with The Scene recently, the composed and delightful Kenisha disclosed that the talented teen pageant was not her first and it will definitely not be her last.
"I just always loved modelling and I think pageantry is a way of educating young ladies," Kenisha shared. The 19-year-old says she will be representing Guyana next year at the Ms Jaycees Pageant which is scheduled for July in Antigua. She also has plans to be part of the Miss Guyana Universe or Miss Guyana World pageants.  
It was in high school that Kenisha had her first taste of pageantry when she was crowned Miss Brickdam Secondary. Her next pageant Miss Interschool saw her coming in as first runner-up and in her village Beterverwagting she was the second runner-up in the Miss BV Pageant.
All her pageant experience, Kenisha says "taught me things I didn't know at all. It taught me etiquette, how to move forward, how to plan my career…" But the most important lesson she learned was, "I can be a very kind person dedicating my all to a children's orphanage."
On days off from being ambassador of the orphanage, Kenisha can be found reading, listening to music or styling hair — some of her favourite things. Her dream one day is to be the owner of her own beauty shop.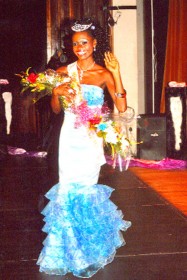 She also wants to become a lawyer, Kenisha says, because she wants to serve her country. Also influencing her decision to become a lawyer is the high crime rate in the country she says.
Describing herself as a friendly and confident young lady, Kenisha says that she "likes being out there and doing all sorts of fun stuff".
The Miss Guyana Talented Teen experience has left Kenisha with new friends and memorable moments. The confidence and self esteem she has gained have made her sure that she will be able to accomplish her duties as queen.
And her advice to young girls who may have self esteem issues is, "Get involved in sports, youth groups, cultural activities…" Kenisha says while pageantry may not be for everyone she believes that it has certainly helped her.
Around the Web