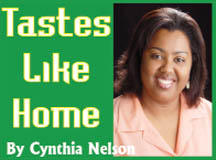 Hi Everyone, I could not believe it – the cornbread did not taste good! Sure, it looked gorgeous; it had beguiled me with its golden beauty. I had been impatiently waiting for it to cool just a little so that I could cut into it. But when I did, and when I took the first bite, I was disappointed. I did not like it at all.
Now, you have to understand, I love corn, you hear me? Love it! And in a variety of ways – roasted, baked, creamed, steamed, in a soup, in a salad, as a pie, or to just eat plain raw. I. Simply. Love. Corn. It seemed natural to me, then, that I would definitely like cornbread. It was one of those things that has been on my "must-make" list for a while. The deal was sealed last year when I went to one of the US's best barbecue places and had a meal of ribs, beans and cornbread. The cornbread was warm, moist, sweet and yet with the right amount salt to balance things out. I kept groaning and moaning each time I took a bite of the cornbread. I think my dining companions wanted to say, "Enough now. We get it. You really like the cornbread." But bless their hearts, they never said a word, and when I ordered four pieces of the cornbread to take away they were not in the least surprised.
I was excited to get back to the Caribbean so that I could get on with the business of making some cornbread. For a recipe I turned to one of my trusted baking sources – Peter Reinhart (master baker). His recipe called for a coarse ground cornmeal, fresh corn and bacon, not just the bacon fat! I was grinning from ear to ear as I gazed at the photograph of this cornbread in the book.
But as always, I wanted to compare recipes. I wanted to analyze them – make notes of similarities, differences etc. So, I looked up cornbread in Southern chef, John Besh's Book, My New Orleans. With the books opened side by side on the dining table, I set about making notes and comparing ingredients and so on. There were things in Peter's recipe that I liked that were not in John's recipes and vice versa, these ranged from the ingredients themselves to the quantities of ingredients. I finally settled on a mishmash of both recipes – taking what I liked from each and set about making the cornbread.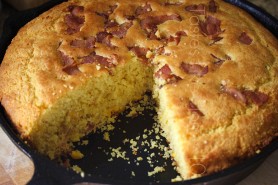 Putting together the ingredients was easy and when I removed the cast iron skillet from the oven, the top golden brown and peppered with crumbled bacon, I was so pleased with myself. The 15-minute waiting period before cutting the cornbread seemed like an hour. Finally the time arrived. With big eyes, I cut a large wedge of cornbread and bit into it. It was moist, the corn flavour was evident and the little golden jewels of corn kernels made the cornbread even more appealing. The crust was brown, the temperature was spot on; but the taste – it was not sweet enough, at least not for me. The one I had last year in the US was much sweeter. I was so disappointed. I kept staring at the cornbread and could not fathom how something that looks so good could disappoint me. Fortunately, everyone with whom I shared the cornbread loved it. That was the best part. I just couldn't get over the fact that I did not like this cornbread. And you know when you have your mind set on something and it disappoints you, you feel really disheartened? That's how I felt.
However, being a person who is not prone to giving up, I set about making two pans of cornbread the very next day. I thought that the problem was that I had mixed and matched the recipes. I resolved to use each recipe as it was laid out. No recipe tampering this time. But, alas, there would be no joy for me. The cornbreads were disappointing, both needed more sweetness and one lacked moisture. I wrapped them up and gave them away to friends (who again, enjoyed them).
How could I not like the cornbread?
John Besh's note at the start of his recipe intrigued me, "Most self-respecting Southerners wouldn't admit to adding sugar to corn bread but it's both good and acceptable in New Orleans. Grand-daddy never put sugar in his…" Huh, no wonder when I made his recipe that it was less sweet than Peter Reinhart's cornbread. And Peter's recipe had notes of tartness from the addition of buttermilk.
Cornbread, it seems, like so many iconic foods the world over, has as many variations as there are people who make it. In the United States, for example, cornbread varies from region to region although the basic ingredients of cornmeal, eggs and bacon drippings (bacon fat) remain the same. The cornbread I ate last year was in the North, though it was Southern-style barbecue, the cornbread was definitely not Southern because it was so awesomely sweet! Man, I am going to work on getting the right amount of sugar in the recipe. Baking, as you know is a science, so it is not just a matter of me adding more sugar to the recipe.
Perhaps this is a project we can work on together? Here's a cornbread recipe for you to try and let me know what you think.
CORNBREAD
Ingredients
8 oz sliced bacon
1 cup cornmeal
1 cup all-purpose flour
½ cup white granulated sugar
2 tablespoons baking powder
½ teaspoon salt
½ teaspoon black pepper (or 1/8 teaspoon cayenne
pepper)
2 eggs, room temperature
1 ¼ cups whole milk
2 tablespoons melted butter
2 cups fresh corn kernels (substitute with drained
canned corn)
Directions
1.  Preheat oven to 400 degrees F.
2.  Add bacon to a dry pan and let render (cook) until the bacon crisps up and the oil separates from it.
3.  Remove bacon and when cool to handle, crumble or chop into bits. Divide the bacon bits into two equal sets and set aside.
4.  Measure 3 tablespoons of bacon fat and add to a 9-inch cast iron skillet. Place the skillet with the bacon fat into the oven. (You can use a 10-inch round baking pan, a 9 x 13 inch pan or a 10-inch square baking pan).
5.  Add the cornmeal, flour, sugar, baking powder, salt and pepper to a large bowl and mix thoroughly. Set aside.
6.  Add the eggs, milk and melted butter into another bowl and mix well.
7.  Pour the egg mixture into the cornmeal mixture and gently mix the ingredients together. Add the corn kernels and half of the bacon bits to the batter and gently fold them in.
8.  Using a thick kitchen towel or mittens, carefully remove the hot skillet or pan from the oven, place it somewhere firm. Pour in the batter, (it will sizzle), sprinkle the remaining bacon bits over the top of the batter and then return the skillet or pan to the oven.
9.  Bake for 15 – 20 minutes or until golden brown. Let cool for 15 minutes before slicing it. The cornbread is best eaten very warm.
Comments

Hi Everyone, Do you like Bajan-style fish cakes? Do you like Trini-style salt fish accras?

Hi Everyone, Disclaimer – I have not been solicited in any way to write about this product.

Hi Everyone, I want to tell you about a cake I made last weekend.

Hi Everyone, It's dinnertime. The last roti has been clapped; it collapses in a soft leafy mound atop the other roti in the bowl.

Hi Everyone, What's Cooking is a series in which I share advice and answer questions you may have about food and cooking, but are too shy to ask.