Hi Everyone, last weekend, during my weekly telephone conversation with mommy, she expressed a desire to have a slice or two of raisin bread. She explained that she called around to various places in Georgetown to enquire if they made raisin bread but alas, she could not find anywhere that sells raisin bread. Sorry mom, wish I was there to bake you some raisin bread.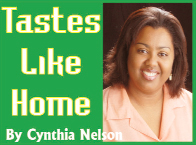 I don't recall raisin bread being made and sold at any of the various bakeries when I was growing up or even as an adult. Every time I had eaten raisin bread it was always baked at home. I understand that when Campsite had first opened they used to make raisin bread. Here in Barbados, the largest bakery, Purity, makes a fruit loaf – it's a round whole-wheat bread with raisins. One of the larger supermarkets with its own bakery section also makes raisin bread.
I like raisin bread but I steer clear of the commercial variety because the breads never have in enough raisins. You cut a slice and find about 2 to 3 pieces of the raisins embedded. In other words, raisin bread is simply not bread with a few raisins mixed into the dough. There should also be flavour to the dough, spiced from the cinnamon added. I like each slice of my raisin bread bejewelled with raisins and the scent and flavour of sweet cinnamon. Oh gosh, a slice of freshly baked raisin bread and a hot beverage could immediately bring calm to your day. It forces you to pause and take your time to eat and sip. Depending on the flavour of the coffee or tea you are having with your raisin bread, you'll find that each flavour combo brings a pleasantly surprising taste.
One of the other things that I like about raisin bread, well, an excellent raisin bread, is that it is good eaten just as is, without anything spread on it. However, jam makes a sweeter addition to every bite you take; butter (not margarine) spread across lightly toasted raisin bread is quite a treat. Oh and the best is yet to come – slices of cheddar cheese sandwiched between the fruity slices of bread do a number on the taste buds. The sweetness from the raisins mixed with the savoury, aged sharp cheddar make for delectable eating.
If my mom was close by I'd make this raisin bread for her this weekend… but you can surely make it for your mom.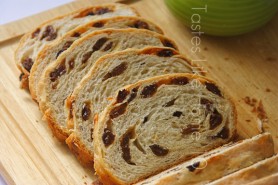 Raisin Bread
(Adapted from The Bread Baker's Apprentice)
Yield: 2 loaves
Ingredients
3 + ½ cups all purpose flour, plus extra for work surface
4 heaped teaspoons white granulated sugar
1 + ¼ teaspoons salt
2 teaspoons instant yeast
1 + ¼ teaspoon ground cinnamon
1 egg, room temperature, lightly beaten
2 tablespoons (1 oz) vegetable shortening, melted
1 cup warm whole milk (110 degrees F)
¼ cup warm water (110 degrees F)
1 + ½ cup raisins, rinsed and well drained

Directions
1.  Mix together the flour, sugar, salt, yeast and cinnamon. Make a well in the centre of the flour mixture.
2.  Pour in the egg, milk and water to the flour mixture and mix to make a dough.
3.  Dust a work surface with flour. Turn the dough onto the work surface and knead for 10 minutes. Sprinkle lightly with flour as needed so that the dough does not stick.
4.  Sprinkle in raisins 2 minutes before the 10-minute kneading is done. Spread the dough out creating a flat surface, sprinkle liberally with raisins. Fold one corner of the dough over, sprinkle with raisins, fold another corner, and sprinkle with raisins. Repeat by folding the dough onto itself and sprinkling with raisins until you have added all of the raisins and continue kneading to take you up to the 10 minutes. Don't worry if you have a few raisins that fall way, just push them onto the dough.
5.  Transfer the dough to an oiled bowl. Rub a little oil on top of the dough to prevent a skin forming. Cover with plastic wrap and place somewhere warm and draft free. Let proof for 2 hours or until doubled in size.
6.  Once risen, punch down the dough, divide in half, form into loaves and place in 8 ½ by 4 ½ – inch loaf pans that have been brushed with oil. Cover loosely with plastic wrap and put in a warm place to rise for an hour or until the dough crests above the lips of the pan.
7.  Bake in a 350 degrees F preheated oven for 20 minutes. After this time, rotate the pans 180 degrees and bake for another 20 – 30 minutes or until lightly browned and the bottom when rapped, sounds hollow.
8.  Immediately remove loaves from pan and cool on wire racks. Let cool for 2 hours before slicing bread.
Cynthia