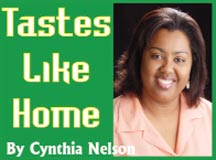 Hi Everyone, Trust me, no matter how creative you are in the kitchen, when you are constantly busy with work, you always find yourself making the same dishes over and over again. You do this because they are quick and easy; you can make them with your eyes closed. However, you soon get bored eating the same thing every week. So, when I saw this recipe online for a one-pot rice dish that's just as fast, quick and easy to make, I knew I had a winner on my hand and that I must share it with you.
Tatbileh is a Middle Eastern rice dish. Rice is cooked with finely chopped meat and flavoured with ground cinnamon and allspice or baharat (an Arabic spice mixture, essentially a blend of spices. Think garam masala). According to Sarah Melamed, the author/editor of Food Bridge, Tatbileh, is a popular dish among the Arabs of the Galilee especially at weddings and other special occasions.
Tatbileh can be served in three ways – as a stuffing for roast chicken, as a side dish, or in my case, as the entrée. It is visually appealing and offers various textures with each bite. Tatbileh is served generously garnished with toasted pine nuts, or almonds. I think that peanuts, pistachios or cashew nuts would be fine as well. The nuts offer crunch, the rice offers tenderness and the meat, though cut small, offers a satisfying bite and mouth-feel.
Since I first made this dish back in May, it has become my go-to meat and rice dish when I get tired of eating the okra, karaila, bora and pumpkin that I have been cooking weekly. On weekends, when I don't want to be in the kitchen for a long time, into the oven goes a chicken to roast and on the stovetop, the Tatbileh cooks unattended. A quick chopped salad of cabbage, cucumbers and tomatoes and my meal is complete.
Want to try it? Here goes.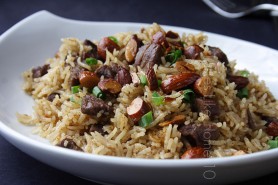 Tatbileh
(Adapted from Food Bridge)
Ingredients
2 cups Basmati rice (substitute with rice of your choice)
3 tablespoons vegetable oil
1 + ¼ lb beef
1 teaspoon ground allspice
½ teaspoon ground cinnamon
Salt and pepper to taste
2 + 2/3 cups boiling water
½ cup toasted pine nuts or chopped almonds
Directions
1.  Wash the rice until water runs almost clear. Soak rice in water for 30 minutes.
2.  Meanwhile, cut meat into very small pieces.
3.  Add oil to pot and place on medium heat. Transfer meat to pot and let cook until brown. Spread the meat out in an even layer, you want the meat to brown not stew. While meat is cooking, drain rice.
4.  Add the spices and rice to the meat and stir to mix. Season with salt and pepper and let cook for 1 minute.
5.  Add water, stir, cover pot and bring to a boil. As soon as the pot comes to a boil, reduce the heat to low and cook for 25 minutes. When the 25 minutes are up, turn off the heat and leave the pot undisturbed for 10 minutes.
6.  Fluff with fork, sprinkle with nuts and serve as is, or with roast chicken or meat.

Notes
●    If you do not have the time to soak the rice, then         wash and drain. However, increase the water to 3         full cups instead of 2 + 2/3.
●    If you decide to use Tatbileh for stuffing, reduce the     liquid and cooking time for the rice, as it will finish     cooking with the roasting of the chicken.
Comments

Hi Everyone, Several years ago while standing in the cashier line at one of the supermarkets here in Barbados, a man (tourist) standing immediately behind me pointed to the small tray I had just put on the cash belt and asked what it was.

Hi Everyone, What's Cooking is a series in which I answer questions and share advice about food and cooking that you may have but are too shy to ask.

Hi Everyone, Have you had your fill of mangoes yet? Me? Almost. Next week I am going in to preservation mode – pureeing the pulp and freezing in half cup portions for use later in the year.

Hi Everyone, This is the third and final part of our heat series on hot peppers.

Hi Everyone, This week, we continue our heat series featuring hot peppers currently in season.