Canadian mining company Guyana Goldfields last week announced its intention to start up its $165 billion underground gold mine, the largest ever in the history of Guyana, this year. The material for this article was provided by company officials and edited by the Stabroek Business for publication.
Fifteen years and more than US$110 million worth of investment in gold exploration in Guyana has finally paid off for the Canadian company Guyana Goldfields Ltd, with a 6.7 million ounce gold deposit at its Aurora mine site in the Cuyuni River which the company is describing as its "heart of gold."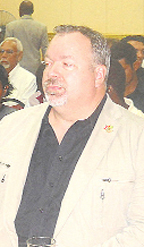 Listed on the Canadian Stock Exchange (TSX:GUY) Guyana Goldfields, having unearthed the single largest gold find in the history of Guyana says it continues to be no less concerned with focusing on its credentials as a company that continues to be quietly committed to supporting national and community causes that bode well for the development of Guyana. The company says that over the past 15 years it "has quietly established itself as a very active corporate citizen in the areas of community development, literacy, health, environmental sustainability, and employee growth and employee social well-being." It does not, it says, "view corporate social responsibility as a cost of doing business," but rather, as an integral part of its corporate culture.
Now set to become a critical employer of labour in Guyana, the company, during the exploration and pre-development phase, employed more than 250 persons. In the future, during the development and construction phases, those numbers will grow to up to 700 employees dipping to between 400-500 employees during its operations phase which is expected to commence in 2014. The workforce, the company says, will comprise between 90 and 95 per cent Guyanese while an estimated 10,000 additional persons are expected to benefit from indirect employment by the company.
In the decade and a half that the company has been in search of its "heart of gold," it has provided various forms of support for Guyanese communities. It cites what it says has been "a conscious attempt to hire individuals from the indigenous community," boosting the social, cultural and economic enrichment of those communities, particularly the small Amerindian community at St Cuthbert's Mission as the outcome. More than 50 residents of that community are employed by the company.
Education, health & community
sustainability
Providing direct employment apart, Guyana Goldfields boasts active involvement in other critical spheres of community activity including education, health and community sustainability. The company has adopted the Itaballi community where it operates a logistics/maintenance centre. Itaballi serves as a transshipment area for its mining operations and the company has provided the local school with a library, potable water and a playground as well as sports events between the local primary school and another located at Karatabo. The company has also actively supported community cultural events including the Emancipation Day Festival and Amerindian Heritage Month.
Guyana Goldfields has also been a sponsor of programmes associated with the national HIV/AIDS programme including Dance Alive Inc and its 26 ½ hour TV programmes entitled "Conversations of Hope". It also sponsors counselling sessions, medical outreaches and free medicines and emergency transportation to injured miners regardless of who they worked for.
Bartica commemoration
At Bartica, Guyana Goldfields donated the "Monument of Hope"  – a 13-foot black marble monument designed in Canada and manufactured in India – to the Bartica community to commemorate and honour the lives lost during the Bartica massacre.
Guyana Relief Council
The Guyana Relief Council is also among the national causes to which Guyana Goldfields has contributed, making donations for use in bringing temporary relief to individuals and families affected by disaster and persons otherwise in need of emergency support in various parts of the country.
Extended environmental
regulatory compliance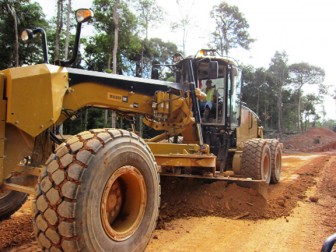 Conscious of the fact that its operations will come under close scrutiny in the matter of the maintenance of environmental standards Guyana Goldfields has commissioned studies designed to establish the environmental, social and cultural variables within its sphere of operations. These baseline studies conducted at Aurora over a three-year period are designed to determine the four seasons typically occurring in Guyana as opposed to the single wet and single dry season requirements mandated by the EPA. The company's environmental work benefitted from a peer review by the World Widlife Fund. Meanwhile, the company has acknowledged and expressed support for the government's Low Carbon Development Strategy  as a mechanism designed to achieve a strategic balance between the value created by various sectors of the economy.
The gold deposits found at Guyana Goldfields' Aurora site have a very large underground mining component which is expected to yield almost 70% of total gold production. The project stands on a concession of 44,607 acres. A total of 600 hectares of land will be cleared for the development of the mine and related operations. Deforestation there will be minimal and emission will amount to approximately 88,200 tonnes of carbon.
Guyana Goldfields is a company driven by its commitment to sustainable development and the World Bank's International Finance Corporation (IFC) one of its shareholders, is playing an active part in quietly raising the bar on corporate social responsibly in Guyana. Gold, the company says, "can be  one of the best economic drivers of growth in Guyana and Guyana Goldfields intends to live up to its motto of  "creating opportunities, helping communities, caring for the environment and proudly building a world-class mine in Guyana."
Around the Web