Having faced much criticism over what has been regarded as their general indifference to the need for local responses to persistent warnings of an impending global food crisis, it appears that Caribbean governments are beginning to make modest responses.
Reports from the region monitored by the Stabroek Business indicate that several governments are distributing seeds and gardening kits to citizens as part of a grow-it-yourself drive. Trinidad and Tobago, Antigua and Barbuda, Jamaica and Grenada are reportedly pushing a practice which has long been in vogue in Guyana, arguably one of the few countries in the region whose pursuit of private sector-driven agriculture has helped keep food import costs down.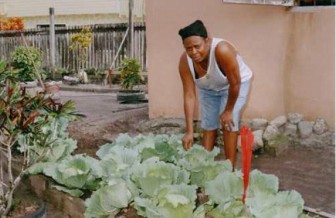 Alarm bells began to ring last year after more warnings about rising food prices and more mouths to feed globally coincided with the disclosure that the region's food import bill had climbed above US$3 billion.
Reports from the region indicate that in working class areas of Jamaica more vegetable and fruit cultivation have been in evidence in already cramped front yards. Statistics from Jamaica's Consumer Affairs Commission point to a more than doubling in the cost of many food staples over the past six years. In February, a pound of rice cost the equivalent of 51 cents, up from about 20 cents in January 2005 while the price of a pound of dried salted fish went from about $1.60 in early 2005 to about $3.70 earlier this year. For Jamaica, a country with a strong tradition of agriculture, it has now become a matter of going back to basics and it is doing do with the help of government-sponsored travel exhibits featuring cooking demonstrations, tastings and booths featuring local products and television commercials urging Jamaicans to "Plant up yuh backyard".
In Antigua and Barbuda the government is seeking to send the population 'back to the land' by reportedly distributing more than 100,000 vegetable and fruit seedlings to residents. The initiative is supported by a pronouncement made by the country's Director of Agriculture that "Agriculture is everybody's business".
Nor is the sense of a need to go back to the land confined to the smaller, less well off countries in the region. Both Barbados, where food import costs are driven in large measure by the need to cater to tourist tastes and Trinidad and Tobago, where earnings from petroleum have seen a shift from agriculture, the governments have been paying a greater measure of attention to agriculture. Specifically, Barbados and Trinidad and Tobago have reportedly been encouraging private sector investment in cassava cultivation with a view to reducing flour imports.
Globally, according to the World Bank, food prices have increased by more than 43 per cent over the past year on account of rising oil prices, unhelpful weather patterns and export restrictions imposed by worried-producing countries. Here in the Caribbean the problem of high food prices has been aggravated by high import taxes on the more than US$3 billion of food imported into the Caribbean annually.
With Caribbean tastes having shifted significantly towards imported foods rather than the abundant home-grown produce that is part of the tradition in the region the feeling among experts is that a kitchen garden crusade may not be enough to restore the region to an 'eat local' status quo. For the region's poor, however, the increasing costs of imported foods may mean the considerations of choice driven by preference will have to be supplanted by affordability.
Around the Web