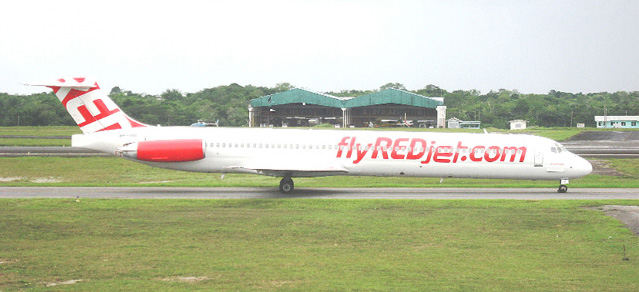 Recent comments reportedly made by two cabinet ministers from Jamaica and Trinidad and Tobago on the safety of aircraft operated by the low-fare airline REDjet has prompted a statement from the airline's management asserting that its safety was being "unfairly maligned."
The comments, reportedly made by Jamaica's Transport Minister Mike Henry and his Trinidadian counterpart Austin 'Jack' Warner have been responded to in a release from REDjet, which stated that its two MD-82 aircraft come to the region with good credentials having been previously operated and maintained by American Airlines and having received an Export Certificate of Airworthiness from the Federal Aviation Administration (FAA) prior to being taken into service in the region.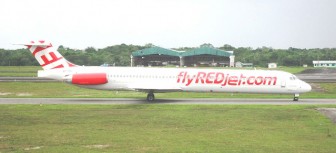 During a visit to Guyana prior to commencing the REDjet service between the Cheddi Jagan International Airport and the Grantley Adams Airport in Barbados, REDjet official Robbie Burns had told Stabroek Business that both the safety and comfort of its passengers were high on its list of priorities. Burns said then that REDjet's operations would comply with all of the standards of safety, security and passenger assurance that apply to the international airline industry.
REDjet's statement earlier this week said the Export Certificate of Airworthiness which it secured from the FAA confirms "that the aircraft has been maintained to comply with the maintenance programmes approved by the FAA and operated by American Airlines" and that following their acquisition by the company "each aircraft has been maintained in accordance with the manufacturer's specifications and regulations of Barbados". Apart from providing assurances regarding the training and certification of REDjet's pilots, cabin crew and flight dispatch officers the statement also points out that the Barbados regulations with which it is in compliance "are based on the same International Civil Aviation Organisa-tion (ICAO) standards as used by the majority of countries in the Caribbean, including Trinidad and Tobago." Such questions as might be raised about the safety of its aircraft amounts to questioning "the integrity of the FAA and American Airlines", REDjet said.
REDjet said it believes that the reported safety queries by the Jamaican and Trinidadian transport ministers are in effect red herrings that are "politically motivated by protectionism".
Around the Web