Visitors to this year's three-day Building Expo can expect to receive information on the efficient use of solar energy in the domestic setting.
Speaking with Stabroek Business earlier this week Housing Minister Irfan Ali said that there is currently a "huge interest" in the energy sector. He said that the ongoing development of the country's energy sector was likely to impact significantly on the growth and development of the housing sector.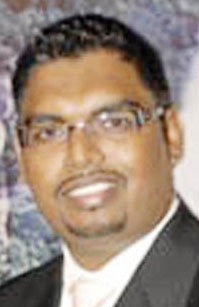 Ali told Stabroek Business that local interest in alternative energy forms had been prompted by an enhanced awareness of the benefits to be derived from the efficient management of eco-friendly energy sources. That apart, local consumers of energy have sought to switch to alternative sources on account of declining confidence in the power generation service provided by the Guyana Power and Light Company.
Ali said that there were two United States- based companies and three companies from Caribbean Community countries that are expected to be part of this year's Building Expo. He further noted that Trinidad and Tobago has long since express ed interest in collaborating with working with Guyana in this and other emerging sectors.
Meanwhile, the Housing Minister told Stabroek Business that part of the Housing Ministry's role at the Building Expo will be to educate visitors about the benefits to be derived from entering into contracts with building contractors for projects associated with building or renovating homes. The absence of binding contracts between clients and contractors in the construction have often led to various unfortunate situations including financial losses and resort to the courts. "A homeowner or renovator may tell a contractor that they want their end product to look like this; the contractor will then call his price and they enter into an oral agreement but often at the end the first part may be left unsatisfied and has no way of recovering their losses or demanding that a bad job be fixed," The Minister explained. He said that such situations can be averted through simple written agreements. "Signing a contract encourages the parties involved to keep their end of the bargain to avoid any penalty that may arise if the terms of the agreement are breached," Ali explained.
This year's Building Expo will also seek to educate potential homeowners and homeowners about what the Minister described as 'the do's and dont's in construction." "We want to see and we are trying to ensure that potential homeowners walk away with as much knowledge as they can and to benefit as much as possible from this expo," Ali said.
Up to least Tuesday one hundred and five companies had committed to participating in Building Expo 2011 and According to the Minister this year's event will be larger than last year's.
Building Expo is Government of Guyana led partnership with the private sector. It aims to promote business linkages in the Building and Construction sector; to provide a common meeting ground for service and product providers to interact with the market; and to further educate and enhance the abilities of all parties involved.
Around the Web