Amidst what appears to be a collision course between Barbados and Trinidad and Tobago over the new Irish-owned low-cost regional airline, REDjet, the Kamla Persad-Bissessar administration appears to be advocating that a proposal for the Civil Aviation Authority in Guyana, Barbados, Trinidad and Tobago and Jamaica investigate its safety concerns relating to the airline.
The Barbados-registered airline has already commenced providing a service out of the Grantley Adams airport and the Cheddi Jagan International Airport, Timehri but efforts by Redjet to extend its service to Jamaica and Trinidad and Tobago have encountered interminable delays, which have given rise to claims of protectionism on the part of the two Caricom countries. The Persad-Bissessar-administration has sidestepped the protectionism accusations, claiming instead that Port of Spain's concerns had to do with what the T&T Prime Minister has termed "predatory pricing," and, more importantly "the safety of our nationals".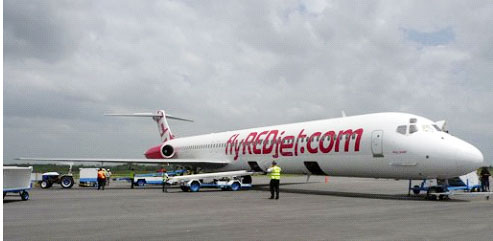 This has not sat well with Barbados Prime Minister Freundel Stuart who earlier this week charged that the administration in Port-of-Spain was "second-guessing" the credibility of the aviation authorities in Barbados which has already attested to the safety of the airline. The Barbados Prime Minister raised the issue of T&T's REDjet safety concerns at last week's Caricom Heads of Government Conference in St Kitts and again on Sunday in his home capital. "We in Barbados certified REDjet in Barbados as safe. We are being second-guessed on that. Other people certify their aircraft and we don't second-guess them," Stuart said.
A section of the media in Barbados alluded to a charge by the Barbados Prime Minister that the government in Port-of-Spain was carrying out a smear campaign against the Barbados-based carrier. The Monday July 4 issue of the Barbados Nation also alluded to "questionable photographs about aircraft" which appeared to have been tendered to support Trinidad and Tobago's REDjet safety concerns. According to the newspaper, up to earlier this week the T&T government had not yet responded to a request for the certification of the photographs. Even as the two Caricom states trade words over REDjet, however, it appears that the airline is gaining ground steadily in the region where the airline industry is widely regarded as being in a state of crisis. On Sunday, St Kitts and Nevis Prime Minister Dr Denzil Douglas told the media in Bassterre that the government there is looking at an application from REDjet to operate on the route Barbados-St Kitts-St Maarten route which would include another Caribbean island.
While Douglas made no secret of the fact that REDjet would be welcomed in St Kitts he alluded to what he described as "the sensitivities in preserving those regional airlines that are plying the same route within the community."
REDjet commenced its four days a week service between Guyana and Barbados on May 10 and an official of the company is on record as stating that the airline would be aiming for a daily service in the future. Concerns expressed by Trinidad and Tobago over "predatory" pricing have, up until now, been drowned out by the region-wide support that has been expressed for the REDjet service in a region where air travel costs are high and service less than reliable. At the beginning of June, just weeks after the launch of its Guyana service REDjet reported a 25 per cent increase in its market share. In a release the airline said that since the launch of its Guyana-Barbados service 35 per cent of the passengers flying that route were now flying with REDjet and that it expected that shortly it would be carrying up to 50 per cent of the passengers on the Guyana to Barbados route."
Around the Web