Chief Executive Officer of the Roraima Group of Companies Captain Gerry Gouveia said he felt Minister Manniram Prashad's response to Caribbean tourism body President Josef Forstmayr was excessive and unnecessary.
In an invited comment, Gouveia also posited that Caribbean countries can significantly reduce the cost of hospitality services through the creation of a regional agricultural policy that provides scope for "a tourism cuisine culture that can rely on the availability of cheaper foods grown here in the region".
Gouveia was asked to weigh in on the exchange, which began with a statement by President Bharrat Jagdeo dismissing as "absolute nonsense" the claims by regional hoteliers that heavy government taxes on hotels in the Caribbean threatened to further compromise an already fragile tourist industry. The Caribbean Hotel and Tourism Association (CHTA) had made the remarks at the recently concluded Caricom Heads of Government meeting in St Kitts.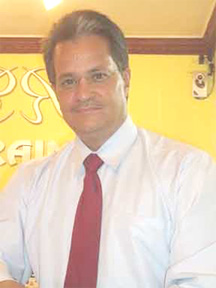 CHTA President Forstmayr had then commented that President Jagdeo was "misinformed" on matters of taxation and tourism.
Prashad then issued a stinging release in which he dismissed Forstmayr's remark as "ludicrous, careless and grossly disrespectful to one of the region's and the world's most respected leaders and authority on finance and taxation."
Expanding on his response to this exchange, the Guyanese hotelier said: "There is certainly something to be said for hotel and hospitality services in the region seeking to bring costs down by using more locally-grown foods. It would be my guess that a large percentage of the US$3 billion plus of food imported by Caribbean countries last year went towards feeding visitors to the region. What we might look to examine is what that figure is and how we can reduce it by relying more on foods that we produce in the region."
Gouveia told Stabroek Business that "if President Jagdeo's remarks were viewed in the context of the high cost of food imports for the regional tourist industry then, perhaps, the real problem lies with Caricom itself, with the failure of governments to respond to the Jagdeo Initiative, which envisages a greater collective effort to boost agriculture in the region."
According to Gouveia, the remarks made by President Jagdeo in St Kitts should not become "a source of conflict between Guyana and the regional tourism and hospitality industry. What we should be doing is looking at the merits of what the President had to say and seeking to find ways of bringing down those costs.
"My point here is that the statement by the minister was probably quite excessive and certainly was out of step with the lead role that Guyana has played in pushing public/private sector partnership in the region. More so, when we all have been striving to foster a relationship between the public and private sectors that was based on the absence of hostilities and more focus on constructive engagements. I was surprised, since as far as I know that minister has always been a strong advocate of public/private sector partnership notwithstanding his own role as a leading private sector official before his government appointment. Guyana is a member of the CHTA and while we must look at what the President had to say in the context of whether there is merit in his statement. A statement from the minister that is probably likely to upset a regional body of which Guyana's private sector is a member is probably not helpful at all."
Returning to the issue of the role that a progressive regional agricultural policy can play in creating a more competitive tourism industry in the Caribbean, Gouveia said he believed that competitive food prices in the hotel and hospitality industry in Guyana "have everything to do with the fact that the agricultural sector can deliver fresh foods to local hotels and restaurants at relatively cheap prices. One of the key factors that account for keeping this industry going in Guyana is the fact that we are far less dependent on imported foods than just about anywhere else in the Caribbean. In a sense what this recent exchange between the President and the CHTA has done is to open the regional discourse on the Jagdeo Initiative again."
Around the Web