While most of the East Bank Demerara village of Craig is still asleep, the warm, buttery smell of bread and pastry drifts into nearby homes from a small bakery that has become a fixture in the community.
For almost two decades Harry Bajjan has continued a family tradition which begun in the 1960s in Charlestown.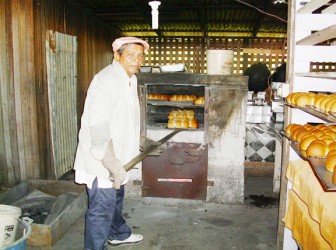 Since the early 1990s he and his wife Purandai have delivered fresh bread, tennis rolls, a variety of pastries and cakes to the residents of Craig and neighbouring villages. It has been tough going and they have seen other small businesses go under; victims of rising prices and lack of capital for investment in expansion. The larger, more resilient bakeries have, in many instances, taken their places.
For all the modernity that has come to Guyana over the years and decades, Craig is still a farming community with a scattering of tiny grocery shops, two poultry farms and Bajjan's Bakery. Other larger poultry farms and baking establishments did not make it into the 21st century.
Harry's father opened the family's first bakery at Howes and Charles streets having spent several years working as a paid employee in other bakeries.
"Soon after we started up we had to rent the place off to Mr Humphrey. It was not profitable for us to operate during that time because of where the political situation had put us," Harry Bajjan told Stabroek Business. "The government at the time had banned flour. We were still getting flour but my family was not willing to take the risk to acquire it."
Several years after the ban on flour, Harry said, his father was forced to sell the bakery in Charlestown. They moved to Buzz Bee Dam in Craig. His earliest investment there was in poultry farming. That enterprise too was thwarted by a crisis, this time, an acute shortage of chicken feed. The business folded and the family begun to pursue a cash crop enterprise.
As a boy Harry had learnt the trade of baking from his father and he eventually returned to what he thought he knew best.
His wife of 28 years recalled that they began by making small amounts of bread and pastries every day. "In those days we used to go house-to-house in Buzz Bee Dam and sell our bread," she said.
Ten years later they added an electric mixer and a multi-shelved brick oven to what had started as a home bakery and today they produce and sell 100 bags of tennis rolls, around 50 loaves of bread and modest quantities of cakes and pastries every day.  By 8 am, six hours of baking is done and at mid-afternoon Harry gets into his van to commence his delivery service to shops in Craig, Friendship, New Hope, Grove and Diamond New Scheme.
The challenges persist. Business, Harry said, was brighter five years ago. The steady increases in flour prices have reduced his profit margin, while increased competition has reduced his portion of the market. Traditional customers have remained loyal but the numbers are dwindling.  "More people are buying from larger bakeries because they get bread for $20 less. Sometimes larger bakeries are the last to raise their prices because it's cheaper for them to produce on a larger scale," Harry said.
Bajjan's bakery products have been part of the village of Craig for several years and though Harry doubts that the enterprise will outlive him and his wife, he is satisfied that his business has survived into this century.
"Times have already changed and they keep changing. Traditional business practices like mine which are more manual labour and less machinery will not survive for long more. But at least I have been able to do something in my lifetime and at least for another generation or so in this village the name Bajjan will still mean something," Harry said.
Around the Web