From home-seekers exploring construction financing options to commercial banks, building contractors and hardware merchants offering their various sector-related services, Guyana's Second Annual International Building Expo attracted an estimated thousands of visitors and scores of service providers over the July 29-31, 2011 weekend.
The event, for the most part, was designed to place on display the public/private sector partnership that underpins the Government of Guyana's accelerated housing drive under which, according to official statistics, almost 90,000 house lots have been distributed over the past seven years.
At Providence, the Ministry of Housing's One Stop Shop distributed a further 250 house lots at Herstelling over the weekend, with lots being sold at between $300,000 and $500,000 to applicants from Region Four drawn from the Ministry's data bank. When Stabroek Business visited the tent set up by the Housing Ministry at the Building Expo, Ministry officials were in the process of interviewing scores of persons who had been invited to visit the event to have their applications processed. In close proximity to the Housing Ministry's facility commercial banks and building contractors were distributing their own promotional leaflets and taking details for subsequent interviews. The banks had come to the event marketing interest rates that particularly targeted the new house lot owners. Last year, local mortgage lending increased by around $6 billion over the previous year and banking sources estimate that mortgage borrowing this year could go even higher.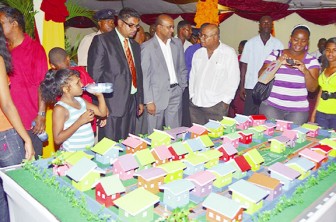 Building contractors too had come prepared, some with detailed estimates that included material and labour. Samuel McKenzie, an East Coast-based contractor told Stabroek Business that he had invested more than $10 million in new equipment in anticipation of securing additional jobs in the construction sector, Mckenzie told Stabroek Business that he was hoping to offer "complete construction of modest family homes" for around $8 million dollars, "it's probably about what the lower end of the market can afford," he says.
During a post-event interview with Stabroek Business, the Housing Ministry's Finance Officer Palim Baksh said that the One Stop Shop set up at Providence during the Exhibition was one of 18 which the Housing Ministry had planned for 2011. He said that eight of them had already been completed in Regions Two, Three, Four, Five and Six and that others were planned for the remaining regions later this year.
Earlier in the afternoon large numbers of visitors to the Building Expo had crammed into the model homes erected on site by investors in the sector. One of the companies, Green Acres, was showing off a four-bedroom model priced at $16 million while another company, Home Well was offering a more modest structure for $7 million. At the Home Well Model house Stabroek Business spoke with Ecliffe Jordan, a young taxi driver who was 'checking out' the prospects of doing business with a company that would provide him with a home at "an affordable price." Married, with a six year-old daughter, Ecliffe told Stabroek Business that he was yet to make an application to the Housing Ministry for a house lot but that his visit to the model house was "in a sense, jumping ahead."
At both model homes, receptionists were providing information pertaining to the conditions being offered by the companies and while a few persons were having their names and "other particulars" taken, most of the visitors appeared to be passing through the model homes out of curiosity.
Offers
The commercial banks and other lending houses had all gone to the Building Expo with offers of reduced lending rates, keen to take advantage of a captive market. The New Building Society was announcing reduced mortgage rates from August 1, ranging from 4.42 per cent on mortgages up to $3 million to 7.45 per cent on mortgages up to $12 million. Demerara Bank, meanwhile, was offering a 6.95 per cent interest rate on loans up to $8 million with roughly similar offers being made by Scotia and Republic banks.
Of the 105 exhibition booths set up at this year's Building Expo, 16 were mounted by non-Guyanese displays and the presence at Providence of a sizeable delegation from Trinidad and Tobago, led by the country's Minister of Trade, Stephen Cadiz, signalled the region's wealthiest country's interest in Guyana's construction sector. At Providence on the opening day Cadiz delivered an upbeat presentation at which he said that Port of Spain was seeking to expand its trade relations with the rest of the region.
Booths set up by home furnishing and appliances dealers, meanwhile, appeared to be attracting rather less attention though visitors to the exhibition paid considerable interest to the IT displays. Starr Computers Chief Executive Officer Mike Mohan told Stabroek Business that his company believed that investments in costly new homes could inevitably be attended by interest in home security appliances. "Some of the basic electronic security devices have actually become quite inexpensive," Mohan told Stabroek Business. At Providence both Starr and GT&T were also "pushing" their Information Technology products. Visitors to the GT&T booth appeared to be buying up internet modems being offered by the company at a reduced price while Starr was promoting its new "Green" PC ahead of its official launch. If the Government of Guyana has declared the Building Expo "a success" some visitors were more modest in the appraisal of the event. Keen Mitchell, a Guyanese-born English-trained Refrigera-tion Engineer whose company, Combined Systems was distributing its promotional leaflets at Providence told Stabroek Business that while he applauded the concept he was expecting to see "evidence of more innovation and new and creative ideas in the construction sector" at the Building Expo. "With the government pushing to expand its housing programme what we need is a comparable response from the private sector. This is perhaps the ideal opportunity for the construction and related industries to shine. In that department I think evidence of new innovation was perhaps lacking." Additionally, and while acknowledging the presence of the overseas display booths Mitchell said that the possibilities for collaborative projects among the construction and other building-related companies in the Caribbean ought to have brought a heavier regional presence to the International Building Expo. Mitchell said that his own company had come to the Building Expo in the hope of "hooking up" with major construction companies that might be interested in joint venture activities that would enable Combined Systems to get a share of the market for electrical and air conditioning installations.
This year's incentive of a President's Award for Innovation in the Construction Industry afforded some limited examples of innovation in the sector with local contractors BK international entry, a mixture of saw dust and binding called trowel wood winning the award. Overall, the government appeared satisfied with the effort of the private sector with Housing Minister Irfaan Ali lauding the contribution of companies involved in the financial, construction and related sectors which, according to Private Sector Commission Chairman Ramesh Dookhoo had, in some cases, invested as much as $2 million to participate in the event.
Around the Web