Last week's first Colombia-Brazil Investment Forum in Bogota featured a level of private sector discourse on trade, investment and economic cooperation between South America's two largest economies that put into sharp perspective the strategy underpinning Brazil's strategic pursuits in the hemisphere.
The 2009 opening of the Takutu Bridge to formalize the long talked-about link between Guyana and Brazil triggered animated discourse here in Guyana at the levels of both the public and private sectors regarding the prospects of creating permanent and, for Guyana, potentially lucrative trading links with northern Brazil. The stumbling block to the envisaged heavy two-way flow of traffic between the two countries is the absence of an all-weather road linking northern Brazil with coastal Guyana via Lethem and the absence of any immediate prospects for the completion of the road-building project.
Not that Brazil is indifferent to the significance of creating a road link to Guyana, the strategic significance of such a link being Brasilia's quest for a much more economically viable sea route through which to strengthen its trading links with Europe, North America and the rest of its trading partners.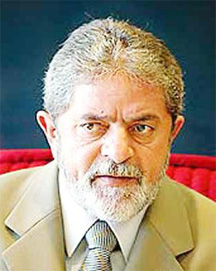 For Guyana, on the other hand, it is purely a matter of benefitting from Brazil's exalted ambitions and local entrepreneurs have set their sights on what, for Guyana, are the potentially huge markets that exist in Northern Brazil. Long before the commissioning of the Takutu Bridge, local traders were already finding their way to Lethem to sell goods bought in Georgetown to Brazilians crossing the border and, more recently, some businesses in Georgetown have begun to show an interest in establishing 'trading posts' at Lethem in preparation for earnest commercial activities between the two countries.
If Guyana sets much store by the strategic significance of Brazil as an economic partner that could provide, among other things, a market for locally produced goods the size of which is non-existent in the Caribbean, Brazil's vision as South America's economic giant extends way beyond its relations with Guyana.    Last week, Brazil signalled its ongoing interest in further consolidating its economic links with the more robust economies in South America by engaging Colombia at the levels of both the public and private sectors on issues of trade, investment and deeper economic cooperation.
Organized by the Inter-American Development Bank the forum attracted some of the two countries' renowned 'heavyweights in industry, banking, telecommunications, mining, energy and agribusiness. The Chief Executive Officer of the Brazilian oil giant PETROBRAS was there as were the Presidents of Odebrecht, Brazil's largest diversified construction group[ and Itau Unibanco, the country's top private sector bank. So too was former Brazilian President Luis Inacio Lula da Silva whose successful tenure as Brazil's Head of State has made him a worthy Ambassador for the country's economic interests.
Not that economic ties between Brazil and Colombia have been non-existent up to this time. Trade between the two countries has quadrupled since 2004, reaching US$3 billion in 2010. What the IDB says is that trade between the two countries is inhibited by lack of infrastructure connecting them which means the Colombian firms seeking to export to Brazil pay shipping costs equivalent to sending goods to Canada, according to the IDB.
With Brazil's continually expanding economy continuing to increase its consumption across the commodity chain, its coal and oil companies have already begun to invest in Colombia, a world-ranked producer of coal and a significant producer of oil by South American standards. At last month's Bogota business summit President Manuel Santos reminded of Brazil's commitment to investing in infrastructure projects in Colombia, particularly railways, which would increase Brazilian access to Colombia's coal exports. Brazil has a particular interest in importing Colombia metallurgical coal for use in its steel mills and MPX, a Brazilian company, is investing US$3 billion in a project in Colombia that will produce 35 million tonnes of coal annually and which will come on stream in 2020 while there are other Brazilian investments in the coal industry in northern Colombia.
By comparison to the virtual non-existent trading relationship between Guyana and Brazil, Colombia says it expects bilateral trade with Brazil to reach around US$5 billion by 2014. Brazil is Colombia's second largest investor with foreign direct investment rising to around US$775 million between 2005 and 2010.
If there is no indication that Brazil has turned its back on such prospects as may exist for deepening bilateral ties with Guyana, the Bogota forum provides a clear indication as to where South America's most developed nation is placing its priorities. If, down the road, ongoing investments in oil and gold exploration may yield results that might trigger genuine Brazilian interest in investment here, Brasilia's interest, for now and the immediate future, is likely to centre around Guyana's strategic position as a cheaper international trading route and less to do with Guyana's value as a trading partner. The prospects for direct investment in neighbouring countries that can impact meaningfully on Brazil's wider economic ambitions are much more evident elsewhere on the continent.
Around the Web