The growth of the local information technology sector and its application to other key areas of national development including health, education and the economy must be attended by a commensurate enhancement in Guyana's capacity to service and repair equipment and to provide other forms of support to the sector, Chief Executive Officer of Starr Computers Mike Mohan told Stabroek Business in an interview earlier this week.
Starr Computers has unveiled a plan to launch up to fifty Starr X-finity Centres across the country—ventures that will see the company partnering with smaller vendors in the sector to make hardware and parts from reputable international brands available to customers utilizing IT equipment. Additionally, the company is moving to 'beef up' its own capacity to enhance its market share in the areas of servicing and supplying the sector.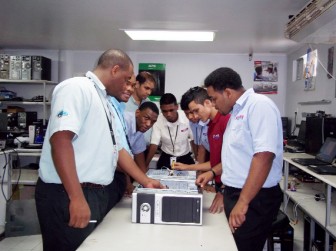 Asked whether the initiatives are specifically designed to take advantage of the anticipated increased demand for spares and services that will arise out of government's One Laptop Per Family (OLPF) project, Mohan said that it was not difficult to determine that the advent of the OLPF will result in a significantly increased demand for "related services" in the sector.
Of particular significance is the recent conclusion of a major distribution and services deal between Starr and the South Korean company SAMSUNG, which was one of the companies that submitted a tender for the supply of laptops under the OLPF project. The company's plan also includes providing training for personnel in "government hubs" charged with servicing OLPF computers.
Mohan told Stabroek Business that apart from better equipping Starr to respond more effectively to the needs for parts and servicing, the Company's X-Finity Centres Project was also designed to empower existing small businesses in various parts of the country to take advantage of the country's growing IT sector. Three X-Finity Centres operated by previously businesses have already been established at Grove, on the East Bank Demerara, Mahaica, on the East Coast of Demerara and at Port Kaituma, in the North West District.
Apart from SAMSUNG, Starr has also concluded product distribution and service agreements with several other international  companies including APC, Lenova, Hewlett Packard. Hannspree, AccuBanker, Q-See and KWorld. Products manufactured by these companies will be available to consumers at or through Starr X-Finity Power Cen-tres. The company also has a collaborative agreement with the Guyana Telephone and Telegraph Company (GT&T).
Mohan told Stabroek Business that Starr was particularly interested in the setting up of X-finity Centres in small to medium-sized communities.
Meanwhile, Mohan told Stabroek Business that he believed that there may be "some very real concerns" relating to what he said may be failure of the local repairs and service sector to keep pace with the growth of the IT industry. "We have to be concerned about the extent to which sound, professional training is available to meet the demands of the industry." He pointed to what he said were various small operators who operated to "different standards" and some of whom may be operating with limited knowledge, limited tools and unreliable power supply. "One the issues that ought to concern us is those situations in which repair shops may be accessing power illegally, in which cases they may be affected by unreliable power supply that may damage valuable equipment and result in the loss of important information. There is also the issue of illegal access to confidential information by people who may do so for their own motives," Mohan said.
Starr Computers Tech-nical Services Manager Adrian Hooper told Stabroek Business that apart from the company's seventeen (17) in-house technicians, its capacity also included about twenty (20) external consultants who collaborated with the company to respond customer requirements. Starr's Technical Centre, which includes a research and development department, software specialists and a parts management service also undertakes the assembling of computers including its own Green PC.
Around the Web