When the Third Caribbean-China Economic and Trade Cooperation Forum opened in Port of Spain earlier this week several Caribbean Heads of Government set aside their alternative schedules to be there, not the customary occurrence in a region where subject ministers are, more often than not, sent to represent their governments at such fora. That President Bharrat Jagdeo of Guyana and Prime Ministers Bruce Golding and Baldwin Spencer of Jamaica and Antigua and Barbuda, among others, made the trip to Trinidad and Tobago, is a reflection of the fast-growing importance which the region has come to attach to its economic ties with Beijing.
Long before Chinese Vice-Premier Wang Qishan announced to opening ceremony that China would be pumping still more millions of dollars in economic assistance into the econo-mies of Caribbean Community (Cari-com) countries, China had already set out its stall in the region.
Bilateral relations between China and some Caricom countries go back several decades though few will doubt that it is in the post-Cold War period, particularly over the past decade or so that the Chinese have ratcheted up their aid, trade and overall economic relations with the Caribbean.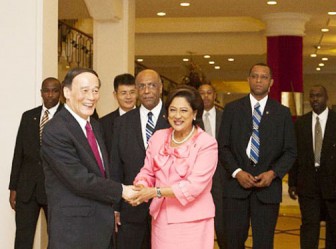 Times have changed and China has been, for quite a few years now, ready to parade its economic 'miracle' as a signal of its elevation into the pantheon of the world's most influential nations. In recent years, the Caribbean has been catching a glimpse of that 'miracle.'
Currently the second largest economy in the world, its foreign reserves, according to the China Business Network, are greater than those of Japan, Russia and Saudi Arabia combined.  Last year the total amount of its foreign direct investment exceeded that of the World Bank. In 2009 China unleashed a US$9 billion investment onslaught in the Caribbean, promoting some of its world-class privately-run corporations in the construction of major infrastructure projects, financing roads, ports and conference facilities in various Caricom countries. The recently released report of the Economic Commission for Latin America (ECLAC) on "foreign direct investment in Latin America and the Caribbean: 2010" indicated that last year Chinese companies invested US$15 billion in the hemisphere, elevating China to the status of the third largest investor in Latin America and the Caribbean with a share of 9 per cent of foreign investment flows, behind the United States (17%) and the Netherlands. (13%).
A few years earlier the Chinese had stepped in to help the Caribbean prepare for its hosting of Cricket World Cup, 2007, building stadia in two Caricom territories—Grenada and Dominica—countries that would not otherwise have been able to afford them. These might have seemed like gestures of "friendly cooperation" a familiar phrase in Chinese foreign policy lexicon. Analysts of Beijing's foreign policy, however, saw them as rewards for the fact that the two countries has chosen to sever relations with Taiwan which the Chinese consider to be a breakaway territory.
If Caribbean countries do not appear to be relenting in their current economic embrace of China, the issue of motive in China's unrelenting push in the levels of aid to the region, has arisen from time to time. The region's role as a market for the huge volumes of goods currently being produced in Chinese factories has more-or-less been ruled out. The notion that is sometimes mooted here in Guyana – and perhaps elsewhere in the region – that closer economic ties with China opens up a grand opportunity for significantly increasing domestic production and thereby securing a much larger share of a huge Chinese market appears curiously like a pipe dream, particularly given the inefficiencies and other constraints that inhere in our production processes. Still, enthusiasts of the growing Caribbean-China relationship say, it is at least something to aim for. Nor is the Caribbean the producer of the kinds of hi-tech, high-value commodities which China, an emerging superpower seeks.
On the surface, at least, therefore, it would appear that China has little if anything to gain in trade and economic terms from its foray into the region.
China's motives for targeting the region with its economic blandishments, at least in the view of Jamaican diplomat Richard Bernal, have to do with diplomacy. Bernal notes that Central America and the Caribbean still accounts for around half the countries of the world that have maintained ties with Taiwan and that, he says, is a key Chinese preoccupation. By contrast, China's Ambassador to Barbados Wei Qiang insists that China sees the region as fellow developing countries and that what it seeks  to do "is to increase the unity with fellow developing countries,"  diplomatic language which watchers of Caribbean-China relations find neither clear nor convincing.
These days, however, perceived Chinese motives are hardly a preoccupation in the region. Caribbean governments have responded to Chinese economic overtures in the region with unbridled enthusiasm in circumstances where sources of aid of the volumes being offered by Beijing have all but dried up. Even Bernal himself admits that US aid to the region has been lagging since the 1980s.
This week's Third Carib-bean-China Economic and Trade Cooperation Forum would be seen by both the Caribbean and China as having further cemented a relationship out of which both sides have benefitted, albeit in different ways. For the Chinese it is an opportunity both to further consolidate its economic influence in the Caribbean – an influence which appears sometimes to ruffle feathers in sections of the United States business community – as well as to display its industrial power through its range of world class companies in areas such as information technology, construction, agro-processing, mining, energy and agro processing. For the Caribbean it provides an opportunity for securing badly-needed investments in the exploitation of its natural resources and the building of its industrial infrastructure.
In Port of Spain, Chinese Vice Premier Wang Qishan unveiled yet another package of Chinese aid to the Caribbean that would have pleased the region. The package includes preferential loans totalling US$1 billion to Caribbean countries "in support of local economic development" and a further US$1million to the Caribbean Development Fund (CDF) in addition to providing no less than 2,500 training opportunities for Caribbean students in China.  China, Vice President Wang said. China will also be displaying its technological capacity in support of helping the region improve its virtually non-existent capacity to fight the natural disasters which, these days, afflict the Caribbean with worrying regularity.
These gestures to the region as a whole do not include the various bilateral discourses at the levels of both state and private sectors of the Caribbean and China out of which more bilateral agreements, lines-of-credit and outward trade missions from the Caribbean are likely to flow. Arising out of those discourses one is almost certain to witness further agreements, more likely than not in the tourism, electricity generation, information technology sectors. It is in these sectors that China appears to be expanding its capabilities fastest and it is in these sectors that the Caribbean needs help the most.
Port-of-Spain too is light years away from the era of the 1970s when visits to this part of the world from Chinese delegations of the old era brought elaborate signing ceremonies on "cooperation" in areas like culture and technical cooperation yielded strictly limited returns for the region. All that has changed. If China continues to hold on to a political ideology that still promulgates the authority of its Communist Party, its economic compass points decidedly in the direction of creating an economy driven by competitiveness, technological growth and sustained expansion. China is making a determined bid to make a global point about its economic transformation and the Caribbean, under the very eyes of the United States, is as fitting a stage as any on which to make its play.
Around the Web