Guyana's coconut exports continue to attract markets in the Caribbean and North America according to the Ministry of Agriculture's Commodity Market Update for the second quarter of this year though prices slipped gradually but continually during the first six months of the year.  Up to the end of June this year export demand for coconuts which has persisted for some time now continued to increase topping 3,140 metric tonnes at the end of the June this year. Coconut exports, however, remained well below the 10,826.57 tonnes of coconuts produced locally during the same period. According to the ministry's update, coconut prices slipped from $119.9 per kilogramme in April to $112.2 at the end of June.
For the same period plantain exports reached 108.8 tonnes taking advantage of steady price rises through the year, from $267 per kg to $289.5 per kg, in June. Barbados and Trinidad and Tobago continues to be important markets for Guyana's plantain exports. Pineapple exports up to June this year have been modest compared with production over that period. While overall pineapple production reached 8973.56 at the end of the first six months of this year less than 40 tonnes were exported to markets in Canada, Argentina, Barbados and Trinidad and Tobago. During the first six month of the year pineapple prices jumped to $264.4 per kg in June from just under $180.0 in the previous month.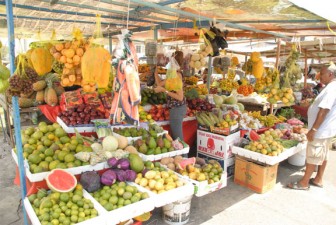 Other local fruits which attracted external markets in varying quantities include papaw, mango, passion fruit and watermelon, all of these finding markets primarily in Caricom, The trend of the vast majority of produce being sold on the local market persisted in the vegetable category with a mere 6.1 tonnes of the 2,471.92 tonnes of bora produced locally being exported, though bora prices rose steadily throughout the first six months of the year with the month of June finding the vegetable at a year-high price of $313.5 per kg. Similarly, pumpkin exports up to June this year stood at 223.1 kg out of 1,921.23 kg produced over the period. Again pumpkin prices rose continually during the first half of 2011 reaching a peak of $190.8 per kg in June.
Citrus export sales evinced a similar trend with 67.5 tonnes of limes being exported out of the overall 130.2 tonnes produced between January and June while a mere 12.5 tonnes of oranges out of the more than 1,200 tonnes reaped were exported to overseas. Citrus prices also increased over the six-month period markets.
Root crop exports were also modest compared with overall production during the first six month of 2011 with eddoes topping the export list with 91.1 tonnes of the overall production totalling 1,222 tonnes being exported mostly to Caricom and North American markets. Modest quantities of cassava, ginger and sweet potato were also exported to the region during the first six months of 2011. Seasonings exports evinced a similar trend with relatively small quantities of peppers and eschallot reaching markets in North America and the Caribbean.
Around the Web