Countries in the Asia/Pacific region continue to tighten their stranglehold on expanding tropical fruit markets in the United States and the European Community, even as the fruit industry in the Caribbean continues to show few signs of making any significant impact on the region's agricultural exports.
The major tropical fruit producers in the Asia/Pacific region including China and Thailand have had a considerable head start on Caribbean Community (Caricom) countries in the tropical fruit sub-sector. However, the region has shown few signs of better positioning itself to compete more effectively for a bigger share of the global market.
Global demand for tropical fruit is continually on the rise; world production was expected to reach 62 million tonnes by 2010, an increase of 15.4 million tonnes and to grow even further this year. Developing countries enjoy the lion's share of global tropical fruit production, accounting for 98 per cent of production last year. Asian and Pacific countries, however, remain the dominant players in global tropical fruit market, accounting for more than 56 per cent of production. Latin America accounts for the vast majority of tropical fruit production in the hemisphere with production dominated by the large orchards of countries like Mexico, Costa Rica, Colombia and Brazil.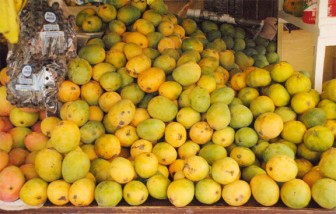 By contrast, fruit production in the Caribbean is confined largely to backyards and gardens as mixed fruit or single fruit orchards. More than 80 per cent of farmers in the region cultivate fruit on between two and three hectares of land with many farming less than half a hectare. The relatively few commercial orchards in the Caribbean comprising more than five hectares of land grow primarily mango, papaya and avocado which are regarded as being among the world's major tropical fruit.
The potential of tropical fruit as a major money-earner for the region's agricultural sector, appears to have been taken seriously in the Caribbean only following the loss of the preferential European market for its major agricultural products, mainly sugar and bananas. This coupled with uncompetitive prices for other agricultural products has compelled several Caricom countries to pay more attention to fruit production. Agricultural diversification in some Caribbean countries including Jamaica and Guyana has seen a higher level of support from state organisations like the New Guyana Marketing Corporation in Guyana and the Jamaica Promotions Corporation (JAMPRO) in Jamaica. While these programmes have realized limited success in improving production and facilitating export opportunities, they have not been anywhere near enough to rival the Asia/Pacific domination of the global tropical fruit market.
Recent statistics for fruit exports from Guyana published in the Ministry of Agriculture's Commodity Market Update for the second quarter of 2011 indicate that production of tropical fruits like mango, pawpaw and pineapple remained modest with local demand placing limits on exports.
Few Caribbean-wide studies of fruit production have been undertaken in recent years and the available information on fruit production in the region suggests that up to three years ago, with the exception of papaw of which 68.4 million kgs were produced, mango yielded the highest domestic production, 16.5 million kgs, with Guyana being among the major producers in the region.
The Asia-Pacific countries are in an altogether different league. According to a study done by the Economic and Social Development Department of the Food and Agricultural Organization (FAO) mango production was expected to reach 30.7 million tonnes by last year accounting for nearly 50 per cent of world tropical fruit production. More than 77 per cent of world mango output is produced in Asia and the Pacific while mango production in Latin America and the Caribbean accounts for around 13 per cent of global production.  Mexico, the largest mango producing nation in Latin America and the Caribbean, was forecast to increase production to 1.9 million tonnes last year.
Global papaya production in 2010, according to the FAO report, was forecast to show the strongest growth in output of the major tropical fruits, with output expected to reach 12.4 million tonnes, Last year, Latin America and the Caribbean was expected to produce nearly 65 per cent of global papaya production while Asia and the Pacific was expected to account for 30 per cent of global production. Brazil accounts for more than half of total global output.
According to the FAO Report avocado production was forecast to reach 3.1 million tonnes by 2010, with developing countries accounting for slightly more than 82 per cent of forecast output. However, while Latin America and the Caribbean continues to be the largest producing region of avocado worldwide, the region's per cent share of total global output was expected to decline last year. With the European Community (EC) and the United States being the first and second largest importers of fresh tropical fruit in the world and with health considerations pushing the demand for tropical fruit upward, there is, it seems, every incentive for the fresh fruit industry in the Caribbean to be aggressively promoted as a sub-sector of the region's wider agricultural sector. Despite the limited initiatives to expand fruit production in some Caribbean territories – including Guyana and Jamaica – however, securing a greater share of the global market is impeded by a number of critical hurdles. These include the failure so far to significantly expand the size of regional fruit-growing enterprises to at least seek to rival those in Asia-Pacific countries. Caribbean tropical fruit production is still dominated by small-farmer operations and by mixed orchards which impact negatively both on quality and specialization and limit the region's ability to meet export market demand.
Global diet and health-related considerations and rising tourist demand would appear to provide sufficient incentive for the Caribbean to pay greater attention to tropical fruit production. Global demand for major tropical fruit including mango, papaya and avocado was expected to grow by around 8 per cent during the first decade of the new millennium.  Global imports were forecast to reach 4.3 million tonnes by 2010 with 87 per cent or 3.8 million tonnes destined for developed country markets in North America and Europe which, together, account for 70 per cent of tropical fruit imports. Europe is expected to remain the main market outlet for tropical fruit, with France a major importer and Netherlands the major European transshipment point for imported tropical fruit.
If the region is to increase its earnings from tropical fruit earnings it must also improve its capacity to cope with pest and disease challenges, high production costs and to enhance its technical knowledge of agronomic practices. Additionally, the available evidence suggests that only limited research and development has been undertaken to support critical re-engineering of fruit production systems.
Other key limitations to the development of a more robust fruit-production industry include logistical constraints associated chiefly with the inability to move produce from farm to market, limiting spoilage and organizing air and sea links to export markets. While these constraints can probably be overcome – in some instances, relatively quickly through public/private sector collaboration, there is evidence in some Caribbean countries, including Guyana, of a reluctance on the part of the private sector to undertake significant investments in the agricultural sector, given the wider vulnerability of the sector to natural disasters and the absence of reliable insurance cover. Those constraints apart, efforts by the Caribbean to increase its share of the global tropical fruit market must also confront import restrictions associated with levels of pesticide input which have to do with food safety considerations.
Around the Web