Jamaican farmers are working with the Ministry of Agriculture's export division in an effort to 'tame' the country's turmeric cultivation and transform it into an export money-earner.
Turmeric is a plant of the ginger family which has become a key ingredient in several culinary cultures and has been in increasing demand among Asian communities, hotels and restaurants in North America and Europe for use in various dishes including curries.
Jamaica is one of several countries in which turmeric grows wild and farmers have begun to work with the country's Ministry of Agriculture in order to take advantage of an estimated US$133m export market.  The  plant reportedly grows extensively in Jamaica's western parishes  and it appears that this is the first time that concerted efforts are being made to bring it into the formal agricultural system.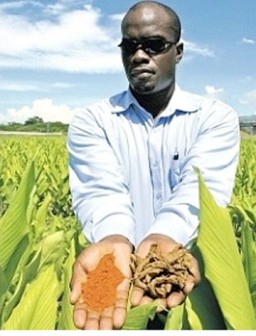 Some Jamaican farmers and agricultural experts appear optimistic that structured turmeric cultivation could become an alternative for farmers displaced from sugar.
Reports indicate that turmeric that grows in Jamaica contains at least four per cent less curcumin, a chemical that gives the spice its yellowish color and renders it attractive to culinary cultures around the globe. On the other hand Jamaica's turmeric is reportedly twice as high in the chemical as the spice customarily sold in the US which represents approximately ten per cent of the world market. Turmeric has a bland taste but is often mixed with other spices to make curry powder.
Jamaica's Ministry of Agriculture has targeted the production of around 676 tonnes of turmeric in four- year programme which is now in its second year. This year, approximately 40 acres of the crop have been cultivated. The country's Export Division estimates that an investment of J$178,000.00 a hectare could generate an income of J$411,000.00 for the raw spice and up to J$878,000.00 for the processed product.
The division calculates that an investment of $178,000 a hectare should generate an income of $411,000 for the raw spice, and as much as $878,000 if it is processed.
Processing is done through washing, boiling, sun-drying for several days then polishing until the turmeric becomes yellow.  Turmeric farmers can take the raw product to the Export Division's plant for processing.
In a second stage of refinement, spice manufacturers first grind the turmeric into a powder and then concentrate the curcumin in an oil base.
In the longer term Jamaica is seeking to position turmeric to rival the success which its ginger exports have achieved. Jamaica has chemically profiled its ginger exports thus enabling its farmers to secure up to US$8.00 per kilogramme compared with the current world market price of around US$4.00.
Around the Web