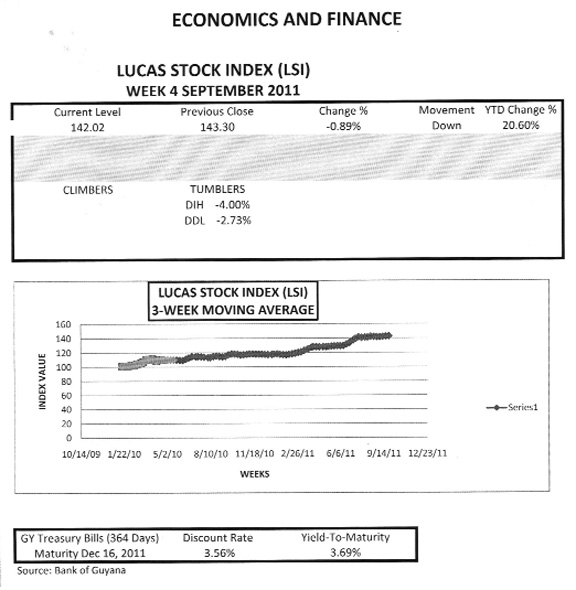 Context
According to the Bank of Guyana, the economy grew by 5.9 percent during the first half of this year.  This is also the position of the administration reported a few weeks ago in the daily newspapers.  As most people know, one swallow does not make a summer.  Nor is it good to take isolated cases and generalize.  As is always the case, these growth statistics will be revised and look far different when the dust settles and they finish serving their purpose.  Despite the rosy numbers offered by the PPP/C Administration about the economy, there is a lot for Guyanese to wonder and worry about.  These numbers would lull anyone into a false sense of belief and security, but when the 2011 half-year report on the economy is put in context, Guyanese would realize that the country is actually trying to dig itself out of a hole.  Many workers also would realize why they are merely spinning their wheels and going nowhere fast, and that their efforts at building the country are being rewarded with lousy service from the administration.
Pattern of Production
The growth of 5.9 percent is the amount produced by Guyanese over and above the production last year.  That six months performance does not tell us as much about the Guyana economy as do the half year performances of the economy over the last four years. Upon examining the year on year performance, it looks more as if the administration is actually trying to hold the Guyana economy together than have it happily humming along.  A close look will show that there is nothing in the pattern of production that suggests that the economy is making consistent forward progress. Of the commodities selected for highlight in the Bank of Guyana Report, fish, shrimp, forestry, bauxite, diamonds, alcoholic beverages and Malta are all below the half year production of 2008.  In other words, the "bounty" that Guyanese enjoyed four years ago is not available to them in 2011. Even in the instance where production surpasses the 2008 level of output such as with non-alcoholic beverages, it lags behind 2010 levels.  The only private sector activities that show consistency in performance are gold and rice, both of which are responding to highly favourable export prices or special trade deals.
Inconsistency
Despite the inconsistency, the administration is trying to trumpet the performance this year as some special achievement. It is not.  Guyanese would recall that 2008 was the year in which the global economy began to sink and its swell started to fan out across the globe.  If 2008 was supposedly unfavourable to Guyana, why should we think that the 2011 half-year performance, which in many ways is worse than 2008, should be thought of differently?  While analyzing the numbers, it must always be borne in mind that production could expand and result in higher levels of inventory and not necessarily higher levels of consumption.  It is always fascinating to observe that the national accounts never readily identify the changes in inventory during the accounting period.  This makes it difficult for the public to determine if the expanded output is still sitting in warehouses or if they have made it to market.  It is important to know because that output would still be counted in current growth, but could be a disaster for the next measurement period. However, there are some places to look to see if this phenomenal supply of goods and services is reaching the kitchens, tables, vanities, and wardrobes of Guyanese.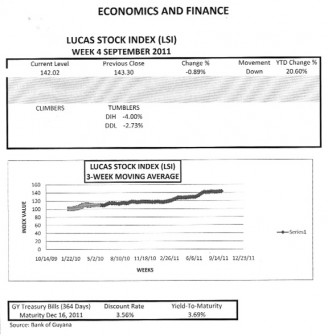 LUCAS STOCK INDEX
The LSI declined about one percent during the third week of trading in September 2011.  Two of the three traded stocks, Banks DIH (DIH) and Demerara Distillers Limited, lost value.  DIH gave up four percent while DDL surrendered more than two percent.  DBL, the other stock traded during the period, remained unchanged in value.   As a result, the spread between the index and the risk-free Treasuries due to mature in December 2011 remained below 20 percentage points.
Decline
In 2010, when the economy reportedly grew by 3.6 percent, now revised upwards to 4.4 percent, the monetary base expanded, particularly the currency in circulation.  As reported by the Bank of Guyana, "[the] increase in currency issued reflected the seasonal demand for money as well as higher cash transactions during the Christmas period." Guyanese would expect, therefore, with an even reportedly faster rate of growth this year, the demand for currency by households and some businesses would grow.  With all the goods and services supposedly available, currency in circulation actually declined by four percent within the first six months of the year. Cashiers' cheques and bankers' acceptances, part of the monetary base, also expanded significantly during 2010, suggesting higher levels of commercial transactions as well.  As reported by the Bank of Guyana, cashiers' cheques and acceptances were down by nearly 55 percent in the first six months of the year. It appears, therefore, that the money supply rose more on account of higher savings and not necessarily on higher spending.
Trying Their Best
Whatever discomfort Guyanese are facing as a consequence of the inconsistent performance of the economy is not their fault. The workers of this country are trying their best against many odds, yet many of them have little to show for it.  Income tax data from the 2011 budget indicate that Guyanese earned about G$150 billion last year. Statements by the Minister of Finance in his budget presentation also revealed that at least 15 percent of workers are taking home less than 10 percent of earned income in Guyana.  Data from other sources suggest that the top 20 percent income-earners are taking home close to 40 percent of earned income, leaving two-thirds of workers to sweat, shout, and fight over the balance.  When that is done, they must give over 16 percent of the cost of almost everything that they buy to the administration.  Money that they once controlled is now controlled by the government.  Families are forced to make tough decisions to survive.
Uncomfortable andUnwelcomed
The taxes that Guyanese pay seem to be doing little for them.  It is still possible for Guyanese to visit a government office and find himself or herself feeling uncomfortable or unwelcomed.  A good case in point is the Guyana Revenue Authority's office in Albert Street.  Pass by that building every day and a line of Guyanese is formed outside the building in the rain or sun to be served.  These are customers who paid taxes so that they could be served by their government who end up treating them like unwelcomed souls. Guyanese are offered no safe and comfortable accommodation to do their business with the government.  Many other service systems appear to be designed, not to emphasize customer service or discourage corruption.
Operating procedures and systems apparently are designed more to frustrate customers and encourage corruption.  The frustrating process at warehouses and wharves to clear personal items would tempt anyone, who does not have the time or temperament, to offer an incentive to escape the heat, hassle and confusion found in those places.

Virtues
One can only hope that sometime soon there could be a different Guyana. One that is tidier and more orderly.  Guyana must be a country in which the people could truly enjoy the fruits of their labour and plan to live out their golden years.
That Guyana is not visible on the horizon and would probably remain out of sight if things do not change. It starts with the safety and security of the people.  It continues with freedom of speech, transparency and accountability.
Unfortunately, these are virtues that the current administration is not known for and does not care about. Consequently, to get these things, Guyanese will have to think and act differently.
Around the Web