The manufacturers of the popular Pandama brand of local fruit wines, Warren and Tracy Douglas, are to establish a learning centre to help refine and enhance the range of skills in the local creative industry with a view to broadening product range and increasing both domestic and overseas marketability of goods produced in the sector.
The couple who own the Pandama Retreat and Winery at Madewini on the Soesdyke/Linden Highway and whose wines have been well-received on the local market told Stabroek Business that the Pandama Creative Arts Learning Centre will provide both lecture-based instructions and practical demonstrations aimed at enhancing creativity, exploring the pursuit of additional value-added products and assisting people with creative skills in designing their displays for public fairs and exhibitions. "We believe that a person who, for example, manufactures leather shoes can be taught to use those skills to venture into other products. There is no reason why they should be confined purely to the manufacture of shoes," Tracy Douglas told Stabroek Business.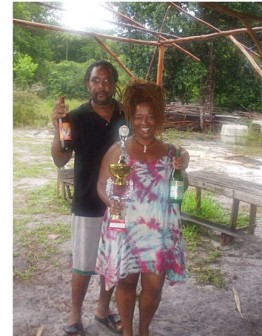 The centre, Douglas says, will offer new learning experiences for people in the creative sector, adding that seamstresses, among others, will be exposed to potentially lucrative opportunities for product diversification that will target both local and external markets. "The centre will focus on learning by exploring possibilities. What we are aiming for is the creation of a safe place to experiment and to play," she added.
Speaking with Stabroek Business less than 24 hours after Pandama Wines had secured this year's GuyExpo Award in the Small Business category, Douglas said she believed that more could be done by the local creative industry to improve its competitiveness. She said that while there was evidence that local craftspeople were being exposed to workshops and seminars in areas such as packaging and marketing she was not persuaded that the benefits of such training were being sufficiently reflected in the progress being made by the participants in those training programmes. Accordingly, she believes training programmes should be modified to take greater account of the need for more practical activities. "People need to be taught how to explore the creative process. They need to discover that there are different ways of doing things and that their skills need not be confined to doing the same things continually. Part of the aim of the centre will be to expose participants to experiences that will encourage them to think outside the box," Douglas said.
According to Douglas, the abundance of potentially lucrative talent in the local creative industry was perhaps being stifled by what she described as a "make-a-dollar vibe" which, she says, keeps many people "on the fringe".
Meanwhile, Douglas told Stabroek Business that she was "very pleased" with the level of patronage which the Pandama wines had attracted during GuyExpo. She explained that sales had benefited from the previous marketing initiatives that had been undertaken and that some people had actually gone to event "looking for the Pandama product". The advent of the Pandama range of fruit wines on the local market has attracted considerable attention on account of both taste and high-quality labelling and packaging though Douglas says that the wines were still to become "a household name" among Guyanese. Warren Douglas, the other half of 'team Pandama' told Stabroek Business that a decision had been made to temporarily suspend plans to promote the wines on the regional market since it was felt that local demand was still to be fully met. He explained that while the winery now had the capacity to produce 300 gallons of wine per month, storage space had become a challenge. He said storage and increased production were the focus of their current expansion plans.
While commenting on the accomplishments of Pandama wines including its award at GuyExpo 2011, Tracy  Douglas, who has previously headed the local Arts and Craft Producers Association, told Stabroek Business that she believed that that small manufacturers including craft producers who come to GuyExpo can benefit from improved organizational and logistical arrangements that would better position them to benefit from the event. Noting that GuyExpo is "a great place to test-market products," Douglas said more planning ought to be put into the creation of booths for the craft sector. "Perhaps the actual planning for the craft sector could have placed more emphasis on the standardization of booths to take account of the types of goods that were being offered by the exhibitors," she said. Douglas also told Stabroek Business that she believed participants in the event would have derived greater benefit from the event if, as was the case last year, it had been extended over a six-day period.
Around the Web