With eating out growing increasingly popular in urban centres across Guyana, local public health officials are paying increasing attention to the health risks associated with the practice. Officials of the Municipal Public Health Department are talking about the 'shortcuts' adopted by some vendors of both raw and cooked food which, they say, pose potentially serious health risks to consumers. Visits by municipal Meat and Food inspectors to supermarkets, restaurants, butcher shops, beer gardens and the numerous food stalls in Georgetown and its environs reveal irregularities in food storage and preparation that are disturbing.
Chief Meat and Food Inspector, Jackdeep Singh says that while as many as 98 per cent of registered food handlers voluntarily procure their annual compliance certificates from City Hall, his inspectors "on the ground" have discovered that many retailers fail to adhere to the stated requirements especially regarding food temperatures.  "Hot food must be kept hot and cold food should be kept cold," he says; and that includes the salads and custards which are sometimes served to customers at room temperature. Chilled foods really ought to be kept at temperatures between o and 4 degrees centigrade;
Concern is also being expressed over what has now become the commonplace practice among both restaurants of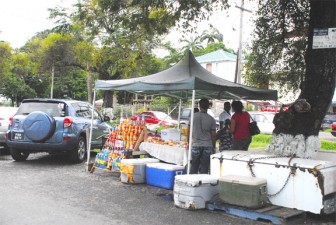 storing cooked food for hours without the application of heat. Singh says that while several business owners have acquired food warmers they unplug them to save electricity and simply pour hot water into the walls of the device. He is, he says, concerned that when that water cools and environment is created in which bacteria and various other harmful micro organisms breed. There is, he says, the ever present danger of food poisoning.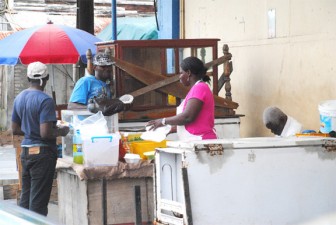 For a Municipal Public Health Department that has complained about under-resourcing, the monitoring of the food industry is becoming an increasingly challenging task. Over time the number of urban restaurants, snackettes and roadside vending operations has increased significantly and issues of oversight have become more important. Charged too with the issuance of Food Handlers' Certificates to persons applying to provide one or another of the various services, the department must also make judgments about the suitability of applicants to provide service in such a sensitive sector.
The issuance of Certificates of Compliance is preceded by visits to business premises by inspectors. They are particularly mindful of the efficiency of storage facilities, food preparation areas, cooking facilities, and serving equipment and utensils. Those considerations apart, each food handler must undergo a medical examination prior to being issued with a Handlers' Certificate. The certificate is valid for six months. The department also provides training opportunities for food handlers.
Monitoring the food service sector, however, is replete with challenges. Keeping track of the itinerant food vendors who ply their trade on just about any convenient street corner is decidedly beyond the capability of the City Public Health Department.
Ivy Coates is far from unwilling to concede that her vending operation breaks just about every public health regulation. She has no Handlers Certificate, operates without running water and has no means of keeping her cooked food warm. It is, she says, a matter of trust between herself and her numerous customers. They know her well, she says.
The Public Health Department is also concerned about the relationships that have developed between schoolchildren and street vendors. Those relationships, Singh says, are replete with major health risks. Singh says that the children are at risk because, often, they are "hardly aware of the conditions that should exist around the food they buy.
The City Public Health Department, Singh says, is currently paying particular attention to vendors serving the school community. Such attention includes compulsory training programmes. Earlier this year vendors serving the hundreds of students attending training institutions in the Woolford Avenue area participated in a compulsory training programme that focused on issues of standards and handling for raw and cooked foods, product choices, food storage, kitchen environment, food handling and personal hygiene.
Similar programmes were held for vendors plying their trade near to schools in Alberttown, Kingston, Queenstown and Kitty. In 2012 programmes will target vendors serving schools in the Ruimveldt, La Penitence, Agricola and Houston areas.
Perhaps not surprisingly, Singh says that the personal hygiene of the vendors is the department's biggest concern. Monitoring mechanisms are weak and people's circumstances change from one time to another. Statistics produced by the department indicate that around 30 per cent of occurrences of food-related infections result from sub-standard sanitation practices. Simple precautions like the use of gloves and headgear during the process of preparing foods are frequently ignored.
There are other considerations too; like the frequent absence of running water in food preparation areas and the practice of recycling water for washing utensils. Singh says the rules for vendors require them to have a container of water with which to wash their hands. Compliance, he says, averages around 60 per cent.
As far as sanctions are concerned, Singh says the law is unclear. "The law does not provide measures for shutting down the operations of those found to be in clear violation of food safety regulations." It appears that the procedures associated with sanctions are far too onerous to be effective.
Several months ago the City Public Health Department issued a public caution about the purchase of coconut water served in recycled bottles. Singh says that measures have been employed to encourage vendors to purchase new bottles though some vendors say that the costs associated with such an initiative are prohibitive. The vending of coconut water from recycled bottles continues openly and there appears to be little that the authorities can do to stop it.
Roadside vending at night has long been a prevalent urban practice. It is the Achilles heel of the Public Health Department's monitoring system. Simply put, there are no night-time inspections and, understandably, this is when most of the infractions occur. Particularly at weekends, itinerant vendors mushroom across the capital. There are instances in which patrons can be uniquely vulnerable. "We just do not have the resources to monitor the situation," Singh said, though he concedes that his officers have reported some heartening signs of compliance by some vendors.
With roadside vending fast becoming one of the fastest growth industries in the small business sector, the municipality's Public Health Department is becoming increasingly involved in seeking to regulate the practice. For the vendors it has become an important money-earner in an economy where unemployment is high and reading a riot act could have other consequences. On the other hand, even if the Public Health Department were willing to do so, the size of the sector simply dwarfs its capacity.
Around the Web