Fertile Ground
For many years now China has maintained a relationship with developing countries through its bilateral and multilateral diplomacy.  Where access to bilateral relationships was not possible, China placed heavy emphasis on its opportunity to meet in multilateral fora.  The United Nations, with its rich crop of country representation, was fertile ground for Chinese multilateral diplomacy and a place to sustain a strategy of winning and influencing friends.  While it has never been a formal member of the Group of 77 and never held any leadership position in that group, China has always been an active participant in the work of the Group of 77 and an important source of advice.  Unless its interests were threatened, it was a vote that the Group of 77 could count on to add some weight to the position it had on a particular issue.  Quite often politics and economics collided and for the most part, China took the side of the developing countries or stayed out of the fight altogether by abstaining on the vote at United Nations meetings.
Constantly Connected
Through the medium of its multilateral diplomacy and working with groups like the Non-Aligned Movement and the Group of 77, China was able to stay constantly connected to many developing countries.  That connection and working relationship enabled China to assess the needs of developing countries with a degree of detail that is often only available to intimate and trusted friends.  It was something that China was able to do at very low cost while at the simultaneously shaping the attitudes and opinions of many about issues of grave import to itself.  Very often that was about its determination to repossess Hong Kong and Taiwan.  Now with the use of various types of economic vehicles, China is enjoying high gains from its diplomacy.
The Chinese approach to influence was different from that practiced by Western and other powers.  China's quiet diplomacy or "soft power" allowed it to grow its influence without arousing much suspicion among Western economic powers and without employing their belligerence and heavy-handed methods.  Many are certain that that soft diplomacy will change when it is time to defend the supremacy that it has attained.  They expect China to eventually start throwing its weight around.  It is just that it is not ready to do so.
Peaceful Coexistence
As it continues its ascendancy to the top of the economic ladder, the strategy of peaceful coexistence with the developing world continues to pay off for China.  By joining hands and working with the developing countries for several decades, China did not have to do anything exceptional to win their confidence in a time of crisis.  Their hands-off approach to dealing with governments of developing countries with poor human rights records has also created a dilemma for its diplomacy.  Mixed in with its own atrocities, that position has earned China the criticism of advocates of human rights and defenders of free speech.  Oddly, that same attitude has created anxiety among western countries as they try to fend off continuous Chinese intrusion into their spheres of influence.  Such was the case in 2006 when China upped the economic ante by deciding to attend the China-Pacific Economic Development Forum in Fiji at the level of its Premier.
Corruption
There are many other instances of western worry about the intrusion of China into their economic spheres of influence.  Some newspaper reports offer clear evidence that China's growing role in the Philippines, for example, has stunned the US, Europe and Australia.  The thing about China's economic influence is that it invariably seems to contain a corruption component.  Part of the reason might be that it competes for influence with Taiwan, an entity that China is determined to bring back into its fold, and the gravitas of the Dalai Lama of Tibetan fame.  The special benefits that officials receive serve as incentives to acquire their cooperation on important political and economic positions.  Some people liken China's lack of concern for corruption to the system of dictatorship and abuse of power that western countries tolerated as they tried to gain global economic control in an effort to diminish Soviet influence.
Efforts by Western powers to reform and clean up their own past misdeeds come with international calls for, and action on, press freedom, transparency, use of peacekeepers and the International Criminal Court, and the employ of anti-corruption measures.  Where it has little to lose, China always steps aside when those tools come into play.  Accustomed to that practice for years, developing countries do not seem to think much of China's behaviour when it "abstains" from the pursuit of "justice" by Western powers.
Ascendancy
If as the West showed during its own ascendancy that bribery and corruption increase leverage, then no one should expect China to discontinue the practice of tolerating corruption among those countries that it assists.  That brings us to the Caribbean Community and Guyana in particular.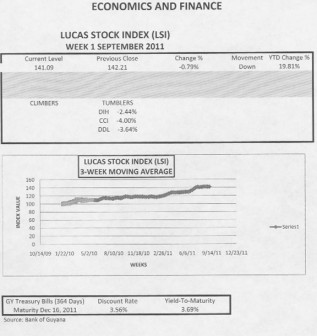 China has begun to strengthen its links in the region using a more broad based approach.  China is no longer depending solely on bilateral agreements with government to acquire economic position in the Caribbean.  It has widened its approach with the use of things like the Caribbean-China Economic and Trade Forum.  The third such event will take place in Port-of-Spain, the capital of Trinidad and Tobago on Monday and Tuesday next week and no one doubts that trade and investment between China and the Caribbean will grow as a result.
Well Timed
The deepening of China's intervention into the Caribbean was well timed to take advantage of adjustments in economic relationships that were occurring globally.  First, Europe decided to loosen its links with the Caribbean with the abandonment of the special trading arrangements that started with the Lome Convention.  Second, the transition by the Caribbean was not well supported by Europe and other Western powers.  Third, the Economic Partnership Agreement (EPA) has not enjoyed the same profile, attention and acceptance as the precursor agreements with the African-Caribbean and Pacific states.  Fourth, the global economic crisis has left many Caribbean countries struggling to maintain economic progress.  Fifth, as far back as 2008, Europe and the USA were themselves struggling with their own economic problems and were in no position to do much for anyone else.  Recently, the struggle has intensified for both groups of countries.  As a consequence, China literally has the Caribbean to itself.
Feel Safe
In the case of Guyana, it is interesting to note that none of the major manufacturing operations has been listed to participate in the event being sponsored in part by the China Council for the Promotion of International Trade (CCPIT).  It is not clear if companies like Banks DIH, Demera Distillers Limited (DDL) and Sterling Products Limited (SPL), for example, feel safe from Chinese competition and do not see the need to participate.  Or, is it that they think there is little to gain from the business forum and the Chinese market is not a place for their products.
Then there is the issue of corruption.
(To be continued)
Around the Web