Satrohan Sookdeo of Sookdeo's Fishing and Boat Building began building boats at the age of 15. Today, he operates his own successful small business located at Pump Road, Mon Repos on the East Coast Demerara. He says he has been in the business for 10 years.
Sookdeo, who 'born and grow' in the Mon Repos community says that there was a group building boats there, and so he chose to learn the trade with them. "I like build boat," he said. During his apprenticeship, Sookdeo said the group moved to Berbice to pursue their boat-building trade, and he moved with them.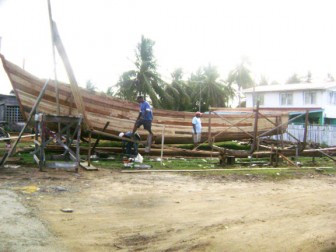 Returning some years later he opened his own boat-building business.  He employs five men from the community and they build mostly fishing boats.
At the construction site, Sookdeo had dropped off lumber for the men. The workers were putting together the frame of a boat as another boat which Sookdeo said was 85 per cent completed was "drying."
"Boat is a far different thing to build from a house," he said. It takes about eight to 10 weeks to construct a boat with three different kinds of wood. Sookdeo explained that mora and tatabu wood are used to make the frame of the vessel, while silverballi is used for the sides and greenheart for the bottom.
The boats he constructs are for "outboard use," and are powered by 48 Yamaha outboard engines.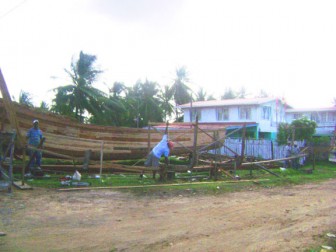 When the boat is put together, Sookdeo said that the creases are sealed and the vessel left to dry in the sun: "The work is a outdoor wuk. You can't work under shed; the more you work in the sun the wood gun be dry faster."
When the boat has been dried and all the creases properly puttied, it is placed in the water. "The business good but bad weather and difficulty in getting the material, that does be lil hard," said Sookdeo.
Apart from boat-building, Sookdeo is also into deep-sea fishing. He said he employed a small crew to go out to sea because "me nah like the idea fuh deh pun sea."
He sells the fish he catches, such as trout, shark and mackerel at the Medowbank wharf. "Fishing wuk is lil tuff. Is so much a problem ya know how much times dem hijack me?
We trying in the business' ya done invest, ya got to try," said the boat-builder.
Sookdeo believes that more should be done for fishermen and small fishing businesses like his. Many people in the country are involved in fishing, he continued, including the majority of those in his community.
"More attention should be paid in fishing; we don't get duty-free fuel like them trawler that does go out. We need some sorta benefit to help out."
Comments
Since the festival of Christmas commands a pre-eminent position – of observance and celebration – on Guyana's Annual Calendar of National Events, I thought I'd pen a few lines to provoke thought and meditation relevant to the "Real Reason for the Season".

To mark the anniversary of Martin Carter's passing on December 13, 1997, Gemma Robinson looks at Carter's Poems of Succession, published 40 years ago this year.
By Naicelis Rozema-Elkins It is about time, past due in fact, that the problem of sexual assault by teachers in our school system is addressed.

Focus on Guyana's National Budget 2018 represents the twenty-eighth edition of this Ram & McRae annual publication which highlights, reviews and comments on the major issues surrounding and raised in the National Budget.

By Mark Leonard LONDON – Over the last few weeks, media around the world have been saturated with stories about how technology is destroying politics.