Nelson's food anecdotes, memories, tried and tested recipes along with photographs, first appeared on her food blog and then in The Scene, this newspaper's entertainment and culture supplement which is published every Saturday.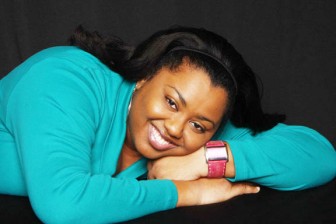 Though she has a 'day job' – Nelson is in charge of the broadcast component of the Associate Degree Programme in Mass Communication at the Barbados Community College – her passion for food writing and food photography drives her to the point where she will spend hours, days even, working to get a recipe right before writing about it. This ensures the authenticity of what she does.
In an interview with Stabroek News, Nelson said her mother and Aunt Betty taught her to cook and fortunately for her, they were not just food enthusiasts. They also "liked to experiment, [were] always willing to try new ingredients and methods of cooking and they had a passion for talking about food too… I liked everything about that and so I grew up having a passion for food and all things related to it," she said.
"Growing up, I too liked to experiment, I wanted to create, I wanted to talk about food to anyone who would listen and enjoyed reading cookbooks…"
But as much as she enjoyed cooking and experimenting, Nelson said she never felt moved enough to open her own eating establishment.
In the early 2000s, Nelson said, she received a subscription to the now defunct Gourmet Magazine as a gift. "The editor was Ruth Reichl, a phenomenal writer who was a former New York Times food critic. I remember getting the magazine and turning immediately to the page with the 'Letter from the Editor,'" Nelson said. In 2006, when Reichl's book Garlic & Sapphires was released, Nelson bought it immediately. By the time she had read the first chapter, "I had what Oprah would call, an 'aha moment.' I knew what 'food job' I wanted. I wanted to write about food!"
The 'Tastes Like Home' column was born in January 2007.
In the column, and in her book, Nelson "de-mystifies cooking and provides cooks… with the information and tools necessary to make their time in the kitchen, efficient, nutritious, creative and rewarding."
She expands, "Through my work, I try to communicate about the ways in which food shapes our sense of who we are as people, particularly Caribbean people. My musings on food cover the gamut of food-related issues … I write recipes. I write about the nutritional importance of specific foods. I write about the cultural and historical significance of different dishes. I write about the fundamental importance that food plays in the ways in which we construct our identities."
Nelson told Stabroek News that her book is dedicated to all who follow the 'Tastes Like Home' column and blog. "This book was really a response to second and third generation Guyanese and Caribbean people living abroad, in search of a taste of home."
Nelson said she has already received requests for a vegetarian cookbook and is excited at the idea since it will allow her to "show the many ways in which we can use the bountiful bevy of vegetables and other produce that we get in this region."
She said she is also interested in tracing the food of the Caribbean. "I'd like to look at our food influences; the dishes themselves, the methods used and in some cases, the tools," she said. "For example, the Choka we make in Guyana and Trinidad has its origins in the Indian state of Bihar. The Chinese Cake we make and love, is a type of moon cake with its origins firmly in China. Foo-Foo, using the wooden mortar and pestle and the pounding has roots in West Africa. Fried pancakes are very similar to the Portuguese malasada [a type of doughnut]. The Spanish, French and Middle Eastern cuisines have all left indelible marks on our cuisine in countries like Jamaica and Trinidad and Tobago. Not to mention how the Indonesian cuisine has influenced that of Suriname." But she acknowledges that a massive project such as this will require funding and appeals to "any of you out there reading this and would like to make this project a reality, please contact me: [email protected]
"This particular project will not just have great cultural significance to us as Caribbean people but also historical significance. The world is shrinking rapidly with globalization, and very soon the Caribbean will become a homogenized space. I want us to leave something that people can look back on long after you and I are gone and see from whence we came and our food-ways."
Nelson, a former broadcaster with the now defunct Guyana Broadcasting Corporation, now makes her home in Barbados.
Around the Web