It's a cold nippy Wednesday morning – a holiday. At 6.15, the Meadowbank Wharf is buzzing with sellers and buyers of fish. Behind the Fisher's Co-op Society a row of fish cleaners are busy scaling, gutting and filleting fish of all sizes and species.
Cleaners such as Moreine Kennedy has been cleaning fish for a living for some 15 years.
A greens vendor prior to cleaning fish, Kennedy says she got into the business because, "I'm a mother of eight children [and] the father never mind them so I had to hustle."
But she notes also that being a fish vendor is easier than her last job because "pun a morning when you use to go Big Market the constable running you down."
She learnt the trade seven years ago from her father. who used to do a similar job. Kennedy stated that there is a special skill to gutting and preparing the fish since, "ya could loose ya finger."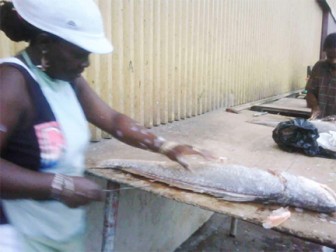 As she shares her story, she is busy at work removing the scales from a trout using a special brush for a customer who waits patiently.
Currently Kennedy says she works with her sister buying, selling, cleaning and preparing fish. Every morning the two of them try to make it out to the wharf from 4am to buy fish from the fishermen. They in turn sell the fish back to their customers.
A tip to selecting fresh fish she points out, is to ensure that the flesh is white and not greenish in colour, and the fish is redder as opposed to pink-looking.
The cost of cleaning and preparing a fish ranges from $200 to $300, depending on what kind of fish it is. If the person wants the fish cut up, filleted and skinned they can have it done upon request Kennedy noted.
On a normal day, Kennedy says that she and her sister clean nearly 300 fish. They also sell, clean and prepare fish for restaurants such as Wind Jammer and the Guinness Bar among others, for bulk orders.
Meanwhile, as Kennedy begins to remove the bone from the fish she was de-scaling earlier, she says that she enjoys what she does, especially since it allows her to spend time with her children.  The great thing about her job she says is that she gets to go home by 10am
.
"Because I get time to come home I can look my children and to church and do things for myself," Kennedy says. As for being a fish cleaner, she remarked, "We does try with it, but I rather do that than go in the market."
Comments
Since the festival of Christmas commands a pre-eminent position – of observance and celebration – on Guyana's Annual Calendar of National Events, I thought I'd pen a few lines to provoke thought and meditation relevant to the "Real Reason for the Season".

To mark the anniversary of Martin Carter's passing on December 13, 1997, Gemma Robinson looks at Carter's Poems of Succession, published 40 years ago this year.
By Naicelis Rozema-Elkins It is about time, past due in fact, that the problem of sexual assault by teachers in our school system is addressed.

Focus on Guyana's National Budget 2018 represents the twenty-eighth edition of this Ram & McRae annual publication which highlights, reviews and comments on the major issues surrounding and raised in the National Budget.

By Mark Leonard LONDON – Over the last few weeks, media around the world have been saturated with stories about how technology is destroying politics.