Come rain or shine, Trevlin Pilgrim can be found on the road with a broom in hand and a bundle on her head. The 39-year-old single mother of two is making a living by selling brooms three times a week to take care of her four children.
When Sunday Stabroek caught up with Pilgrim on a wet Friday morning she was in Albouystown plying her trade. Easing the bundle of brooms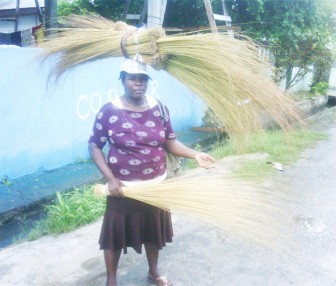 off her head to speak to this newspaper Pilgrim said she has been selling brooms for nearly ten years.
"Years ago back in 1994 before I get me first child ah used to work as a farmer with President College," Pilgrim said. She stopped farming to take care of her child. Later after she and the father of her children split, Pilgrim said she decided to sell brooms for a living.
"I see it as a way to come out, mek an early living and go home back to ma children," she explained. A resident of Victoria on the East Coast of Demerara, Pilgrim said she gets up every morning at 4 am and travels to Georgetown.
She arrives in Georgetown around 6 am and purchases 30 brooms from persons selling at the Stabroek Market "and walk from big market to how far ever I reach till all sell out." Pilgrim said that she walks all over Georgetown and can reach as far as Diamond on the East Bank of Demerara to sell her brooms. She catches a bus she says, and then walks around the community.
"It's a lot of walking but yah got to get the strength from God. Sometimes it easy, sometimes it hard." Pilgrim went on to say that the rainy weather makes her job difficult sometimes, but when the sun shines she can go further as long as she has a bottle of water in hand. "Even though the walking hard, it beneficial to me. It make me feel more comfortable that I can go in the market and buy ma own thing without having to depend on anybody."
Currently, Pilgrim said she is working towards owing her own house one day. Her eldest child had recently found employment with fishers and was now contributing to work. Every day Pilgrim said she tells her children, "I hoping ya'll tek in ya'll education and get big and get job so that they don't have to be doing this."
Comments

By Clem Seecharan Clem Seecharan is Emeritus Professor of History at London Metropolitan University.

Cheddi Jagan returned from studies in the United States to a British Guiana in 1943 that was a cauldron of poverty.

Dr Jagan enjoys a ride on a ferris wheel with his grandchildren. Cheddi Jagan and Forbes Burnham leave then British Guiana to plead their case abroad, following the suspension of the constitution by the British in 1953.

Cheddi Jagan was born on March 22, 1918, and died on March 6, 1997.

By Sharief Khan (An excerpt from an interview with Sharief Khan reprinted from Stabroek News, December 11, 1987, page 5) In gaining a politician like Cheddi Jagan Guyana might have lost a cricketer.