From a farming and a fishing community, Bush Lot Village, West Coast Berbice which has a population of over 10,000 has developed tremendously with residents establishing various types of business.
The village is made up of predominately Indian Guyanese and is located about 56 miles from Georgetown between the villages of Golden Grove and Armadale. It is divided into seven residential sections – A-G with sections A & B located north of the public road and Sections C, D, E, F & G located on the southern side. There is also the cultivation plot, H-J located in the backlands to the south. A housing scheme is also located aback of section A.
The village has three doctors who studied in Cuba, pharmacists, educators, nurses, veterinary officers, photographers, surveyors, accountants, computer technicians, taxi drivers, tailors, a reporter, accountants and other professionals. Some of the residents are engaged in fishing, cash crop and livestock farming, welding and joinery. Among the businesses are grocery, hardware, electrical, jewellery, cell phone, and spare parts shops. It also has two supermarkets, barber shops and hairdressing salons, boutiques, internet cafes, Chinese restaurants, auto dealers and a fast food restaurant – Chester Fried Chicken.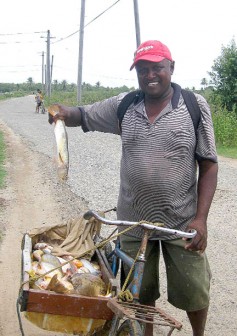 The village also has the North American Life Insurance Co, office, the Union/Naarstigheid Neighbourhood Democratic Council (NDC), a Guyana Water Inc pump, a GT&T transmitter, two mosques, two mandirs, three Christian churches, a rice mill, a turf club, a cemetery, the
Environmental Health Department office and a crematorium.
The Bush Lot Nursery, Lachmansingh Primary and the Bush Lot Secondary School are located along the Middle Dam. There is also a Hindu school – Bush Lot Vedanta Academy that has been recently established.
Residents access health care from the health centre in the village or the Fort Wellington or Mahaicony hospitals. Others would sometimes have to travel to Georgetown in the case of major illnesses.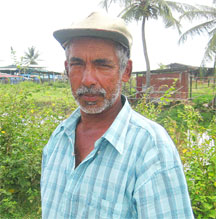 Formers students of Bush Lot Secondary were happy that the school recently acquired a plot of land for agricultural purposes. But the school's playground is in a deplorable state and students cannot benefit from it. They are calling for it to be upgraded urgently. They said too that the science laboratory needs to be rehabilitated and stocked, noting that, "it is the dream of the Minister of Education to have more passes in science subjects."
They pointed out that the school also needs "more graduate teachers for the science subjects… it has been without a physics teacher for the longest while." According to them "it was a leading school for science oriented students… Evidence can be seen from former students who have become doctors, lab technicians and a nuclear physicist." They observed too that "the computer lab needs more computers."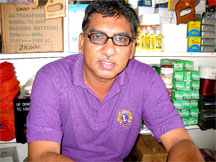 A resident, Nandra Phagoo, 47, owns Phagoo's General Store which was established 20 years ago and wholesales and retails hardware, electrical, household and grocery items. Phagoo is the President of the West Berbice Lions Club which serves less fortunate persons from Abary to Ithaca. Members would provide them with food and clothing hampers and would conduct eye clinics. The club which has 16 active members would also assist persons with medical expenses.
Phagoo said Bush Lot is a "changed village" from several years ago when there were just a few businesses. Almost all the residents who own properties along the roadside have rented them out for businesses which seem to be thriving.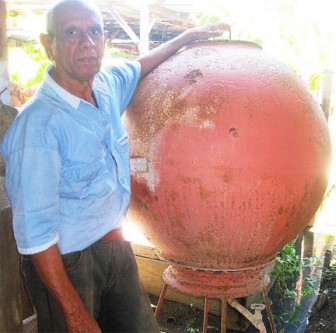 Some residents said that the village just needs a bank now to make it a town. They pointed out that persons from all across West Berbice would visit to shop and transact business.
Fisherman, Rudolph Sooklall, 50, had not gone out to sea when this newspaper visited because his sail-boat could not withstand the heavy wind and the high tide.
Although Sooklall who has been in the fishing business for the past 20 years, does not go out too far he can catch different types of fish including salmon and banga mary which he sells in the village.
Other fishermen that this newspaper caught up with also had chosen not to go out to sea that day. The go out to fish depending on the tide. Fisherman, V Ramlochan had braved the rough sea though. He left early in the morning and around 12.30 pm when this newspaper caught up with him he was returning home with his catch which included a pakhu, banga mary and basha.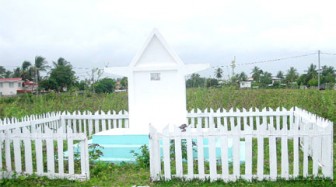 The fishers told the Sunday Stabroek that the access dam to the seaside and other streets are in a deplorable condition and badly need fixing.
They said too that inconsiderate businesspersons would dump garbage, including broken bottles, at the side of the access street to the sea, creating quite an eyesore.
An official from the NDC told the Sunday Stabroek that the disposal of garbage is indeed a "sore problem" because there is no dumpsite in the village or the NDC. She said they were told to identify the land for the dumpsite and then apply to the Environmental Protection Agency for  permission. However, there is no available land at Bush Lot although a plot has been identified in  nearby Onverwagt Village.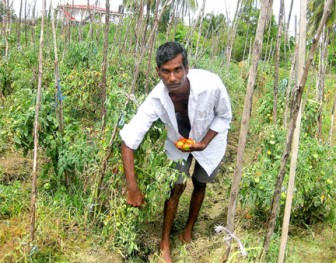 Residents also complain that some persons would install smaller tubes in their drains causing them to suffer flooding during the rainy season. The official acknowledged they were aware of that problem as well and would serve notices to have the structures removed. She said some persons would comply but others are bent on having things their own way.
Alim Baksh, 38, was hard at work at his 'Top of De Line Tailoring' shop which he established over 10 years ago. He spent two years learning the skill from an experienced tailor. Four other apprentices were in his batch. At times he would have to spend hours on his machines to complete his job so customers could get their clothes on time.
Down in the housing scheme Dennis Thomas and his sister, Abiola and other persons were fishing with hooks at the corner trench. They had spent one hour and had already caught half a bucket of tilapia, hassar and sunfish, and were planning to cook a nice pot of curried
fish when they got home.
At the other end of the village, cash crop farmer, Paul Ramcharran was reaping tomatoes in his garden. He also plants boulangers, peppers and bora. He said at times the authorities would "open the water too much" for the rice farmers and it would affect his crop.
However, he was happy when his street was finally built late last year, he said, but was disappointed at the shoddy work that the contractor did. He had informed the contractor that the street would need a revetment for it to last longer, but according to him the contractor responded that he did not have that in his contract. Just as he had feared, the street has already started to sustain damage.
Another resident, Devika Kurhair, showed this newspaper the street at the back of her house that seemed to be abandoned. She said residents can only access the street up to a certain point because the other section was taken over by thick bushes and was not being cleared.
'Bombshell'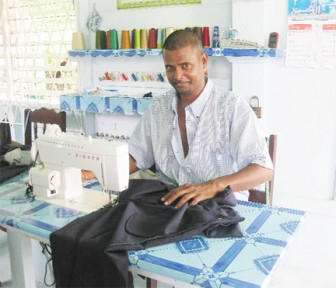 At age 75, no job is too big for Wallim Ullah, a welder/fabricator who has manufactured agricultural items including ploughs, chippers, 'raker' and trailers on order.
He learnt the trade from his father who was also a blacksmith and he developed his skills especially after migrating to the US for a few years.
Ullah, who came from a family of rice farmers was also in that business until he decided to rent his land a few years ago.
In his yard he proudly displayed a "bombshell" left over from the war and was floating in the sea. Ullah is happy to show it to persons interested in history. He recalled that he was just 11 years old when a fisherman, Bhoop Jitlall and his son came across the mine, suspected to be French, floating in the sea. Not knowing what it was they tied it to their small boat and brought it out in the trench by the roadside. Several days later, he said, the police were informed and Superintendant Griffith came and examined it.
Two bomb experts from Trinidad subsequently arrived in the country and took the mine to the blacksmith (Ullah's father) where they opened it, and removed the detonator (two ft by 8 inches).
They also took out the arm which floated at the top to trigger an explosion once it connected to the metal hull of ships.
Ullah's father and other residents "lifted the detonator with a big stick and took it to the seaside where the experts lit a wick which took about 15 minutes to explode, giving persons enough time to clear the area." Residents were ordered to leave their homes and go to the other end of
the village while the detonator was being taken out. Before the explosion, the police informed them it was safe for them to return home.  The massive explosion which was followed by thick black smoke was heard several miles away, and even caused the windows in some residents' homes to shatter.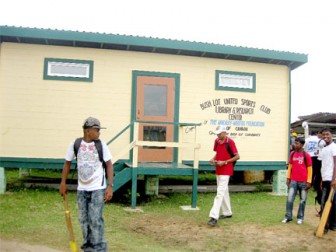 According to Ullah, a cabinet in their home fell and all the dishes in it were broken. He recalled too that the explosion got him so scared that "I was standing and the next thing I know I was flat down on my belly." The mine left a "huge pond (24 ft wide and six ft deep) in the ground which later filled up with rainwater and the older boys used to swim in it."
Because of how much Ullah's father helped, he was given the mine casing which he mounted on a stand and used to store water. Ullah said that for a long time their yard was an attraction because "people from all over passed and stopped in to see the shell. Up to now some persons, especially who return from overseas would come to see it."

Monument
Lalta Deokie, 70, a Justice of Peace and religious leader told this newspaper that the village was laid out in 1900 and the lots were given out to the people in 1902. He mentioned that although the residential area is just 200 rods in size, the agricultural plots extend into the backlands behind Hopetown.
His grandparents came from India with other indentured labourers and they were all given a house lot for $1 along with one garden plot and two acres for rice. He learnt that apart from farming they also worked at the Bath Sugar Estate for six cents a day. They were taken to their workplace in a small train which "used to be so filled that it wouldn't start until persons came out and push." After that he said they had to walk about six miles to get to the canefield where they also caught a lot of fish.
For the 100th anniversary of the village in 2002, Deokie organized the construction of a monument close to the race course. He regarded the unveiling of the monument as a "two-fold event" because it was done during the Arrival Day celebration.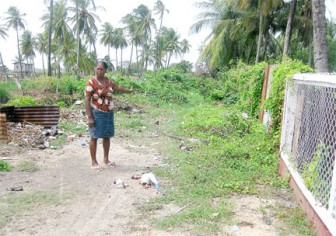 Deokie who also served as secretary of the cricket club said, "Bush Lot was known for having a good team and had players who were called for the first class match in Georgetown."
The main means of earning an income then was through farming and fishing and according to him, "it was easy to fish by the seaside; the women would go with seines and quickly come back with shrimp and crabs and small fishes."
Regarding the 'bombshell,' Deokie who was eight years old at the time, recalled that "in afternoons everyone would go to see it and gave different opinions about what it might be."
He said "some of the men hit it with a hammer thinking it had money in it, and others thought it had tools."
His version about how the police were informed about the mine was that "one day an army truck was passing and the metal truck attracted it and it started to turn in the water and the people became scared." He recalled that after it exploded, "dirt was pitched all over on people's houses." He was one of the persons who went to bathe in the pond left behind by the mine. A bulldozer was eventually used to fill up the pond.

Bush Lot United Sports Club (BLUSC)
The Bush Lot United Sports Club (BLUSC) would normally hold matches but the President, Rabindranauth Saywack who is responsible for the junior team said it needed a lot more to attract the young people.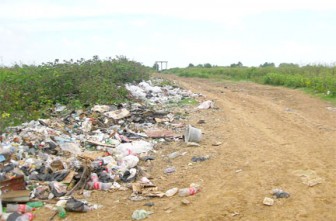 The Madray Mootoo Foundation had established a library at the club where students can access information but it needs a new librarian. Saywack is still looking at upgrading the club and when the Enhanced Public Trust Security Inclusion (EPTSI) offered a project to uplift the
community he along with other residents gladly jumped at the opportunity. The project which is expected to commence shortly is being implemented by the Ministry of Local Government & Regional Development and funded by the United Nations Development Programme.
The project is based on creating a community space where persons of all backgrounds would be free to express themselves and a micro-economic and social project for skills training for vulnerable women and youths. It would also have an economic component such as block-making and the development of a multi-purpose court for sports such as basketball and volleyball. At a meeting held with members of the EPTSI residents decided that a section of one of the pavilions would be upgraded to satisfy the needs of the project.
The project would cater for facilities including the provision of water, washrooms, electricity, telephone and internet services, furniture, computers, a fully equipped kitchen and an all-weather access road. Volunteer resource persons would be sought from within the community or would be provided by the ministry. According to Saywack, the project would greatly assist the club in realizing its dreams of having "community development through education by assisting in empowering the youth, not only through sports but in education, physical and moral development."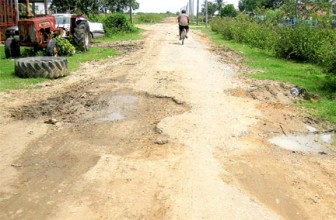 Saywack said the BLUSC "has 90 members [both males and females from eight to 50 years] and has been managed and maintained over the years without support from central government in terms of finance."
He said the ground is low and is seriously affected by flooding during the rainy season, and "is in dire need of backfilling. The club had brought over 200 loads of dirt but that is not enough."
There are also "problems with vandalism and misuse of the facilities by unscrupulous persons."
On the positive side, he noted that the club has produced players of potential in both the scholastic and sports fields. It has "executed a successful cricket training programme for youths between eight and 16 yearsin 2009. It was run by a technical officer from the Guyana/West Indies cricket board, Mr Colin Stuart."
However, he said that because of "financial and weather constraints" the programme could not be continued last year. He is hoping to have it this year though.

Social problem
Residents said that some of the youths were involved in drugs and alcohol abuse and other illicit activities and Saywack said the project is intended to get the youths involved in meaningful activities.
He said practice sessions for cricket were held in the afternoons after school, but have been put on hold mainly because of the weather. "Some other constraints affecting junior membership are that parents are more inclined to send them to extra lessons than having them involved in sports.
This is in the belief that they would be made perfect students." He was reminded of the adage, "a quick mind in a healthy body." He hopes that "with the advent of the project where affordable computer classes and other courses would be available, it would attract parents to send them."
According to him, the management of the club is at present looking to rehabilitate the roof and seating accommodation of the pavilion. There are also plans to have two side screens constructed and an all-weather cricket pitch "and we would welcome donations from persons."
Arnold Persaud
Retired headmaster, Arnold Persaud who had dropped out of school for a while at a young age had considered himself a "dunce." He never knew that one day he would become a graduate of the University of Guyana.
Growing up in the Abary Creek, Persaud left home to stay with his relatives to attend the Bush Lot Canadian Mission School. His hatred of school started after he received many "stripes on my back" from a teacher, JW Chinapen. He recalled that in the lower class he used double-line books and was taught to fill the lines. When he got to the higher class he wrote in single-line books, but "no one told me that I did not have to fill those lines."
The teacher kept hitting him across his back and telling him to "write better." Apparently, he said, Chinapen felt intimidated when he fumbled for a word while giving a speech at a function and Persaud's father gave him the word. He recalled that Chinapen had beaten a boy mercilessly with a piece of shingle "for not knowing a nonsense rhyme." When the boy could no longer take the blows, Chinapen called the boy's sister who was in another class looking on to "take the rest for him."
He returned to the Abary Creek and showed his mother his badly bruised back and told her he would never return to school. He spent one year catching fish and looking after an uncle's cows.
His life changed after another relative visited the creek and told the uncle that "this boy would grow up to hate you… because you have him running behind cow tail."
The relative took Persaud with his belongings to Skeldon to attend school and told the teacher: "This is my nephew, I am leaving him in your hand; he is backward." Determined to succeed and prove his uncle wrong, Persaud passed all of his exams; he was among the 20 out of 21 students to excel.
He first taught at a school at Albion and at New Dam, Canje before being transferred to the Novar Canadian Mission School for almost two years. During that time Prime Minister Samuel Hinds passed his Common Entrance and moved to Queen's College.
Persaud subsequently moved to Lachmansingh Primary where he spent most of his teaching life. In 1957 he attended teachers' college for one year before moving back to Lachmansingh. In 1965 he attended the University of Guyana and during that time he taught at Campbellville Government School and at Rama Krishna.
He then served as headmaster at Bush Lot Secondary School from 1970 to 1974 and then at Blairmont until 1979. Persaud was then sent to Lachmansingh Primary which he headed until 1984 when he resigned to accept the post of regional chairman for two years.
He "did not like politics" and returned to the teaching profession as a senior master until 2004.
Persaud who occupies his time doing chores around the yard would pay persons to "keep the drainage systems clean." He would assist persons to draft letters and gives free lessons to students.
He also likes to "spend my evenings in fervent prayers and meditation and helping the poor and needy as much as I could."
He loved to tell the story of his aunty, 'Baby' Laganey who, though uneducated operated successful businesses, including a bus service to Georgetown, a filling station, a grocery shop and also rented out a few stalls she built in her yard.
Persaud who resides where Laganey used to live said gasoline for the filling station was stored in drums and filled into vehicles with a bucket and funnel. He was amazed that she gave credit to residents and had a unique way of identifying what each customer bought and how much they owed and "she was never wrong." The information was recorded through strokes and drawings in a folio she made with brown paper. So good was she with money that she even gave a loan to a relative for his son, Dr Lachmansingh, to complete his studies in Canada.
According to Persaud, the village had a road trench which "used to be filthy because residents would fill it up with rubbish." Later in the 1960s, residents who could afford it filled up the trenches and made narrow drains. He said he was one of the first persons who got permission to do so.
Around the Web