McNeil Powley grew up in Bel Air Village, across from Dr Cheddi and Janet Jagan, and neighbour to Ralph Ramkarran. "I grew up a block away from Uncle Boysie, and I want to see Ralph Ramkarran become President. I hope the party picks him," he said.
He refers to the Jagans as 'Uncle Cheddi' and 'Aunty J.'
"I grew up in the Guyanese society as a place of deep respect for our elders. We were a community. We lived as one," Powley, now 64 years old, said.
He said Janet Jagan made it a duty to offer rides to anyone waiting for public transport at Conversation Tree on the East Coast. "Many times she gave me a ride. Twice she took me all the way to my workplace. We were that kind of community, close knit and without division," he said.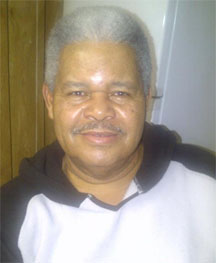 Powley now spends his days hibernating indoors, waiting out the snowy winter in Toronto, Ontario, Canada.
He migrated from his Bel Air home to Canada in 2000, and has been enjoying the fruits of Canadian citizenship, especially its excellent medical care.
The seasoned plumber is fond of his homeland. "I love Guyana. It's my home, and I would go back there tomorrow if I could," he said.
However, he cannot at the moment, because he is waiting for the results of medical scans on his leg. "I came to Canada because of its excellent health care system. I had cataract in both eyes, and my Canadian son and daughter urged me to migrate to take care of my eyes," he said. His children sponsored him and he landed in Ontario as a permanent resident.
In Canada, he got free treatment for his eyes, both now alright. But he developed complications in his foot, and started treatment for that. Once that is okay, he plans "to go back home."
Powley has a wealth of knowledge about Guyana. He was born in British Guiana on December 18, 1946, and grew up to see the nation achieve political independence.
He has lived through it all – Independence, the rule of the People's National Con-gress under Forbes Burnham and Desmond Hoyte, the fight for free and fair elections, the presidencies of Cheddi Jagan, Janet Jagan and Bharrat Jagdeo, and the socio-economic decline in the country.
He talks about Guyana with great passion and heart, feeling very close to the land and the people.
Powley is of mixed race, with an Amerindian, African and Indian heritage. He feels he belongs only in Guyana. His life there has been successful, with adult children doing well in Canada, and a son in Guyana.
He said he did "all the plumbing" for 100 houses built during the 1970s at Wisroc, Linden, when that community was developed in the bauxite mining town.
But most of his life was spent at the then Guyana National Engineering Cor-poration (GNEC).
His story tells of the innocence of the new Guyana of the 1960s, the job security he enjoyed as the country battled the challenges of self-governance, and of a family life where the village literally raised the kids of the society.
After his school days, he got skills training at the Guyana Technical Institute, successfully writing his  City and Guilds examinations to qualify as a certified plumber.
"Those days young people got a good, solid education. I entered the trade as a professional plumber, yet I got an education at the institute," he said.
He worked with the same company, GNEC, from 1966 to 1994, starting as a labourer and rising to become senior supervisor.
"I became Superintendent for docking and undocking ships and vessels at the Lombard Street wharf," he said.
From 1994 to 2000, when he migrated, he worked at the Georgetown Public Hospital, "maintaining the gas system" at the Ambulatory Care Unit.
He believes President Bharrat Jagdeo is doing "an excellent job as President. Guyana is such a beautiful place. If Jagan and Burnham had held hands and worked together, there would not be a better country than Guyana in the world today. In my lifetime I want to see the two parties merge – the People's Progressive Party and the People's National Congress must come together. That is the solution to the country's problems," he said.
But "I don't like to talk politics," he went on, although repeating again that "those two parties must merge. That's it."
"In Bel Air we had no such thing as racism. I never knew skin colour," he said.
He was able to work in Guyana as a young man after his institute education, and build his house for his young family. "I was able to build my house in Bel Air in 1974. That house is still there. That's where I lived till I moved to Canada. That's where I'll live when I go back," he said.
He said growing up was a fun experience for him, "although my parents were very strict. But that upbringing prepared me well for life. I consider my life a success," Powley said.
With 12 grandchildren in Guyana and Canada, Powley lives his days in contentment and peace, but, he is concerned about the future generation in Guyana.
Recalling the day on February 11, 2000, he boarded a plane at the airport at Timehri to go and live with two of his children in Ontario, he said: "It was the heart of winter, and there was snow everywhere. My son picked me up and we had a long drive from the Pearson Inter-national Airport in Ontario to Hamilton (a city in Ontario). I felt like I was in a Christmas postcard. The place felt like the postcards we used to receive in Guyana. Everything was covered in snow, and the trees were all bare with no leaves."
His workplace had sent him to study in England in 1982, so he had experienced cold before. "But Canada's cold is different. In England there wasn't so much snow; just a cold that crawled slowly up your leg. In Canada the cold is different – it's everywhere."
In Canada he got not only medical care, but worked at great jobs. "I was Assistant Supervisor at a 200-unit apartment building in Toronto, and I really enjoyed that job," he said.
He said he got a hospital quotation from the Georgetown Public Hospital to operate on his eyes while in Guyana. "The cost was $260,000. In Canada, I got medical care for both eyes so that now they are okay, and it cost me not a cent."
Despite this, "I want to go home. In Bel Air we all lived as one family, the whole village. I remember once my mother was ill, a neighbour took care of us as kids, even cooking for us. The village was the family. We lived as one. I cannot see why so many people are leaving. I left because of my health, but so many people are leaving. I am asking why," Powley said.
Since migrating, "I have been back home twice – in 2007 and last year," he said, and both times he felt disappointed that the Bel Air community is not what it used to be, although "there is significant development in the country."
"There is so much development going on, with roads and so on. But they really need to work on the airport. When you get off the plane, if it's raining, you get soaked walking from the plane to the building. That's not good," he commented.
He noted that he passed through Trinidad's airport in transit to Canada, and Trinidad and Tobago looks better. "Even as a people. We see Trinidad and Tobago coming together as a society. There they see themselves as Trini. Everybody is a Trini. We should all be Guyanese, nothing else. People in Guyana have to get together as a nation, as one family. I remember once in Ontario I met a Guyanese man whom I knew from a long time ago, and I was so happy. We hugged each other, right there in the grocery store. That's what we need, to see each other as Guyanese, and to embrace each other as Guyanese," Powley said.
He said he never experienced racism in his life. Yet, "I believe that the problem that keeps the country down is a racial one. When I visited in 2007 Bel Air felt like a different place. It had changed, and the whole of Guyana seems to have changed. It seems worse off now, a more divided place, less of a community spirit."
He said he was there again in June, 2010. "I was there sitting on the front veranda of my house in Bel Air, and four or five kids were walking on the street, and their conversation – they were laughing loudly and cursing, totally uncaring that adults, and elderly people, were hearing them. In my time, kids had respect for adults. Not now. They are loud and vulgar on the street. These were seven-year-old kids. I asked them where they learn such stuff from – and they said they hear even their teachers talk like that."
Powley said he would willingly contribute his values, skills and experience for the shaping of the new generation. But his efforts in 2007 met with frustration.
"I went to the Guyana Technical Institute, where I had studied so long ago, and offered to teach plumbing. The institute could not afford to pay more than a pittance, and the workshop had no material to work with the kids. It was so frustrating. They did not welcome this offer. I feel I would like to give back to the country. When I came to Canada I saw that the life is not a bed of roses. In Canada it's better than Guyana because it has lots more opportunities for young people. But that's now. In my time, Guyana was a lovely place. I got a solid education."
Powley attended the St Mary's Presbyterian School in the 1950s. He remembers teachers "like Olga Bone, Cedric Grannum, Charles K Persaud and Dhanpaul Tiwarie. These were great teachers who took a personal interest in the overall development of each student. It was British Guiana then, and it was a better place for opportunity, than after independence. The Technical Institute in '61 and '62 had 21 young people in our class, and after graduation we got work study opportunities," he said.
"Now the teachers don't care. Back then the country was so disciplined, people were more mannerly. After independence everything started falling apart, going down. I am disappointed at my age to see where the country has fallen to, given our resources. We should be better than Trinidad and Tobago, Barbados and Jamaica. It is sad that everyone is moving out of the country," Powley said.
Powley said when the country gained its independence, he was "excited for the future of our nation. But that faded. From the 1970s I started to see things were not working."
"This is it. We need to come together and be one community, sharing the power and being family to each other," Powley said.
He is planning to return to his Bel Air home "soon, within the next few years, once my foot is healthy."
Around the Web