Shieldstown, a quiet village on the West Bank of Berbice was established after officials from the GuySuCo Estate at Blairmont made arrangements for residents of Rampoor Settlement to relocate there.
Although most of the residents were sad to leave their homes and farms at Rampoor – located one-and-a-half miles away from the public road, they had no choice.
They would have preferred it if the government had put in services like electricity and water and a school, and let them remain where they were. A contract was ready for an all-weather access road to be built when residents were told they had to move.
Initially there was no proper infrastructure at Shieldstown, but residents told the Sunday Stabroek that they are thankful that they are now benefiting from water, electricity, telephone and streets – although some of the latter need fixing.
The Rosignol Primary School is also located in the village along with a nursery school, a mosque, a mandir and a sports ground with a small play park for the children.
A few businesses have been established in Shieldtown , including two butchers shops, a barber's shop, snackettes, grocery shops and "plenty bottom-house rum shops."
Most of the residents are employed at the Blairmont Estate as labourers and clerks and businesses are said to "depend heavily on the estate." Others work as rice, cash crop and livestock farmers, vendors and teachers, while one woman is an x-ray technician at the Fort Wellington Hospital.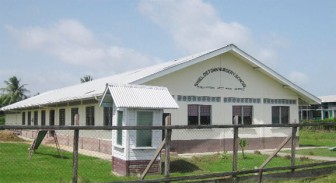 Salima Mohamed runs the Zena Malik Halaal Roti Shop at the Rosignol market on Saturdays. She sells a variety of dishes including dhal puri with curried chicken, fried rice, chowmein, cook-up rice as well as fish cakes and egg balls.
Business is good most of the time but according to her it is a "lot of work." She starts her preparation from the evening before and from midnight she gets down to cooking.
Her husband, Rahamat Ali assists her and by 5 am she is already at the market to start her selling until 1 pm.
Ali is also engaged in his own business, walking and selling rat poison "all over Guyana – as far as Bartica." He is well-known for entertaining persons as he plies his trade.
Meanwhile, Mohamed is concerned that she, her daughter and two daughters-in-law have applied for birth certificates a long time ago and still cannot get through. She said they have to get them in order to get their ID cards which would qualify them to vote in the upcoming elections.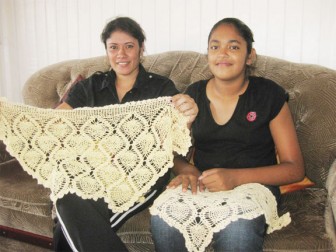 A few doors away, Imran Khan, 30 was busy attending to a customer in his barber's shop and flashed a bright smile when this reporter arrived. It was only after I asked him a question that I realized that he was mute and deaf. According to a relative, he established the business 11 years ago and is very popular in the area. Imran is happily married and has two children, aged four and six.
His sister, Afroze Khan, 31, also a pleasant person is mute and deaf as well. She is the mother of two children: Ridwaan Ramjohn, 16, and Sharana Ramjohn, 14. Her husband deserted her when Sharana was just three months old.
Despite their disabilities, both brother and sister are quite talented. Afroze has developed skills including crocheting, sewing, cake decorating and cosmetology. She is also well-known for dressing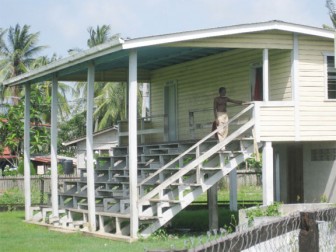 brides and can operate the computer.
Rasheed (only name), 71, was returning home on his bicycle from the Friday prayers at the mosque when this newspaper caught up with him. He was concerned that persons "don't tie their cows" and would allow them to roam the streets. The animals were damaging the drains,
parapets and gardens. He leaves home at 4 am daily to pray at the mosque and "the cows does be in the way."
As a pensioner, Rasheed gets frustrated when he visits the post office to uplift his pension and has to return because the money does not arrive on time. He also feels that the pension should be issued on the first day of the month instead of on the first Monday.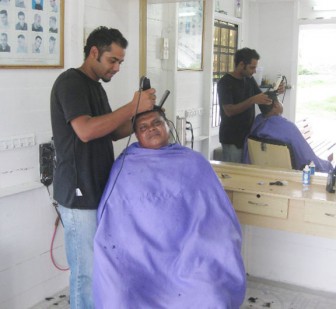 He calls for street lights to be installed at the head of the three main streets in the village because persons have been victims of robberies while walking late at nights. He said too that thieves had stolen a water tank valued $28,000 from the mosque and three weeks ago they carted off 15 louvre windows. The funds from the mosque were dwindling unnecessarily because of that, he lamented.
He said the ranks from the nearby Blairmont Police Station should visit the area to do spot checks. Rasheed who belonged to Blairmont moved to Shieldstown 10 years ago.
Hamid Nazrul, chairman of the Community Policing Group (CPG) and the vice chairman of the 'B' Division CPG told this newspaper that he was "trying with security but some persons are destroying the place with smoking [drugs] and gambling."
Plantain Walk
Dolly Dukhi told the Sunday Stabroek that before Shieldstown was established houses were only located along the roadside, and that area was known as Plantain Walk.
She purchased a plot of land in the late '60s at Plantain Walk with her husband, Harry Dukhi (deceased) but did not move there right away. In 1970 her land was used as access while Shieldstown was being developed.
Her father, an indentured immigrant came from India, and his ship landed at Diamond, East Bank Demerara; he was sent to work on the sugar plantation at Blairmont. Her mother belonged to Chesney on the Corentyne. Dukhi and her siblings grew up on the estate with their parents. She worked at the estate as a telephone operator.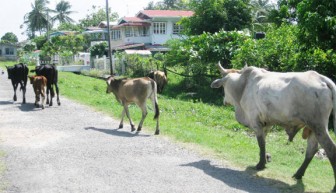 She recalled that earlier, a big hospital was located on the estate but the building was sold and later dismantled.
She relocated to Plantain Walk with her family but after her husband became a senior worker at the estate they were sent to live in one of the houses in the compound. Upon her husband's retirement they returned to their home.
Dolly described the area along the roadside as peaceful and quiet and said they don't have problems with loud music and persons fighting and quarrelling. But in some sections down in the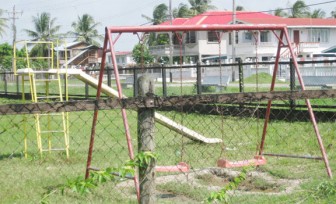 village, others spoke of residents abusing drugs and alcohol and of some persons cursing and fighting each other.
Shieldstown Community Centre
Residents said too that some of the youths would go into the community centre to gamble, smoke and consume alcohol. They noted too that while some youths are benefiting from the ground, others "would use it for the wrong purpose." The gate to the ground is now being kept locked and the residents are happy that those problems have eased up a lot. This newspaper noticed that although the gate was closed there were a lot of sheep grazing in the ground.
Members of the cricket club are concerned that a visually impaired man has been living in one of the two dressing rooms at the centre since 2006. The man would defecate all over, leaving the place filthy and smelly and they are "unable to eat there."
They pointed out that the man is "destroying public property and persons from the NDC [Neighbourhood Democratic Council] seem not to care; they are not making any effort to get him out." According to them, many times they are prevented from inviting teams and holding matches on the ground. The club is also "stagnant financially and a body is not in place to look after the ground because of that man."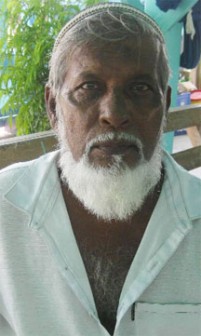 They said the man's relatives who belong to the village would supply him with food, but none of them is willing to keep him. One member noted that, "People willing to do things for the club but that situation is holding them back. Those who like the idea of the blind man staying there are not involved in cricket…"
Despite their plight, the member said, the club ended up in the quarter finals in the game last year.
Rampoor
The oldest resident in the village, Mohamed Haniff, 91, recalled that 73 persons were living in Rampoor when they were relocated. He was not happy when he and his family had to move. They lived and farmed on a large plot of land and were comfortable in the area.
Haniff said along with [Creole] English he grew up speaking Hindi and Urdu that he picked up from his father, an indentured immigrant from India.
He was born at Mahaicony and attended the Wesleyan School there. He moved to Rampoor at the age of 12 after life became hard for his family and his father got a job at the estate. Haniff quit school and he too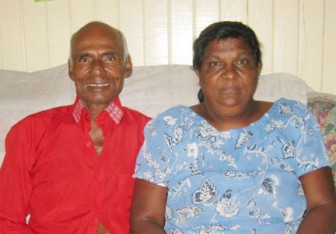 started working from that age until his retirement 48 years later. He remembered that he struggled to raise his children and give them an education.
He supplemented his income by planting rice and rearing livestock. His wife, Shamshun Nesha also worked at the estate.
He pointed out that "in those days there was more unity among persons and the youths had more respect for the elderly."
His son, Mohamed Ayube, 63, was once the secretary of the Rampoor Tenants' Association. Ayube described Rampoor as a "beautiful place to live… it had a well-prepared settlement."
At the time residents felt that Rampoor was "better" because they were "spending less that they earned."
They wanted government to "put in all the infrastructures so that life would have been much more comfortable."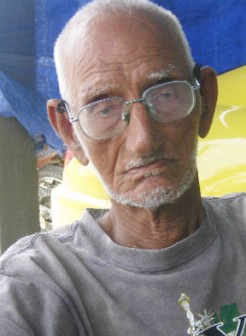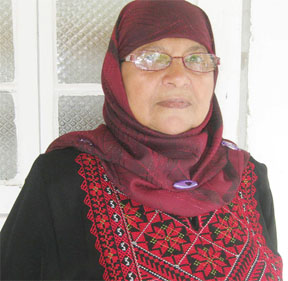 Ayube who worked at the estate and did farming to "make ends meet" said Shieldstown was "passed under the second certificate [as a developed area] but it was in a terrible condition… We could not even walk some places." He is thankful that the area is now more developed.
He felt victimized because for 30 years he was farming on a 70-acre plot of land which he had developed when "government took it away." He said he challenged them and was given another plot, but it was like giving him "basket to fetch water" because "it was low and had a lot of bush."
He ended up clearing the land and farming on it but said cows would destroy his crops. At one time he caught 21 head of cattle in his farm and took them to the pound. The police, he said only gave him $13,000 for his effort.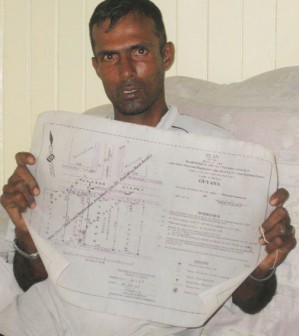 Another resident, Kateram, 69, a labourer at the estate at the time remembered that locomotives were sent in to Rampoor to pick them up and take them to work. He said since moving out of the area life seemed tougher. "We have to buy everything and times hard now."
Two other residents, Nowrang Harkishun, 38, and Karamat Ali, 31, had issues with government reclaiming a portion of their land. Nowrang's land is said to be a reserve where a drain has been dug on a part, while persons are claiming that Ali is occupying a portion of their land that was given to him by the Sugar Welfare Fund.
A government official said that both matters are complicated and prefers that it goes through the
Around the Web