Deonarine Ramsook, 55, of Belvedere, Corentyne enjoyed being creative from a young age, not realizing that he would later develop his skill and earn a living from it.
He makes all types of wooden craft including key and pen-holders and towel racks. He finishes them by painting pictures of the Guyana flag, Kaieteur Falls and other designs on them.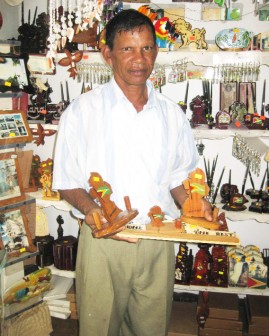 He supplies the items to the Church View Gift & Flower Shop in New Amsterdam as well to craft shops at the GPO mall and at Guyana Stores in Georgetown.
In addition, he is also well known for vending his craft at the Rose Hall and Skeldon markets on the Corentyne. He enjoys his occupation and gets down to work from 6.15 am and continues on to 5.30 pm.
Whenever he looks at his finished products he would feel satisfied, and be motivated to keep doing more. "Even when I don't get order I would still be working," he told Sunday Stabroek recently.
When this newspaper caught up with Ramsook he was at the Church View Gift & Flower Shop delivering craft. He selected a few of his items that were on display in the shop and showed them to this newspaper. He recalled that after completing school he enhanced his skills while working with a businessman in the area.
His only concern now is that "business is slow." He said persons in Georgetown would "put on big mark-up" on his products and they would take a longer time to sell. As a result, he has to wait a long time before he gets another order.
He also sells his items on consignment and has to wait a long time before he collects his payment. "If I get the market I can go to Georgetown two times per week to do delivery," he said. At the moment he does all the work on his own but said that "if the business runs well I would employ about three persons."
Around the Web