Early on a Monday morning, seated on the pavement in front of Guyana Stores Limited, Daniel Ramiah is already at work patiently sculpting images on calabashes.
Ramiah, 45, has embraced his passion for creative art for over 12 years now and spends almost nine hours each day working on calabashes. His fingers take control and he works fast on the hard surface of the shell.
Ramiah said he uses the calabashes to make different things such as lamp shades, eating utensils, ornaments, necklaces and pocket books, among other things."I does got to buy the calabashes then I does got to scoop out the stuff that does be in de middle," he says. "When meh done do that I use me mind and put meh fingers to de challenge."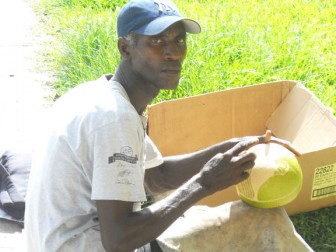 The shell carver said that he had always loved drawing since he was a teen: "I jus enjoy what meh do, meh believe that meh born with this in me bone and me gon always be doing this even though sometimes de business does be slow." He also said that it would take him about five minutes to do a drawing of someone's face, but to do other forms would take longer. "The pictures of designs just come to meh; as me doing the designs me mind does gave me ideas and that is what me does follow. Most a de time I do not know what to begin with but once I start the finish product does always be excellent."
The artist said that this is not the only job that he does and after a long day in the sun, it is time for the night shift. "After meh don wuk here in de day, I got to go to work in de night to do de guard wuk. Sometimes I does feel really sleepy and do not wan fu go to wuk, but meh got responsibilities and as a man I jus have to do what meh got to do," he says. Ramiah lives with his wife but does not have any children.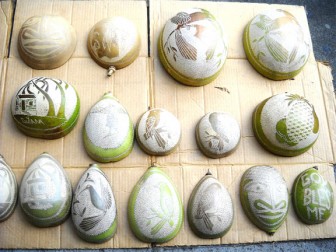 He explained that business can be very profitable at times but on other days it is very slow. "Sometimes not even a calabash does be sold.
But if me should look at that me family would not survive. Most a de times I does got to sell it out very cheap and at the end of de day I do not get to gain no profit, but me prefer it that way cause me na like to beg people to buy me things," he said.
Ramiah added that he feels encouraged when he finishes carving his designs on the calabashes. "It gives meh a good feeling to look at the wuk me hands put out. It gives me great joy cause sometimes I ask meself if it is really me that doing these awesome sculptures," he said.
When asked what it means to him being self employed he responded, "To me it means standing up fuh yourself because nobody na gonna stand up fuh you.
If you want progress in life you have to put aside what people may say and your feelings and go after that what you want. Me want pregress in life and if it means selling in de rain or sun I gon do it until I become better in life."
Comments
CARACAS/HOUSTON (Reuters) – Venezuela's unraveling socialist government is increasingly turning to ally Russia for the cash and credit it needs to survive – and offering prized state-owned oil assets in return, sources familiar with the negotiations told Reuters.
By Carl Bildt CHICAGO – We are now in the final days of the industrial age.

During Men's Health Week, the man/woman in the street were asked to speak on their lifestyles and what they do to maintain their health or to encourage their significant others to lead healthy lifestyles.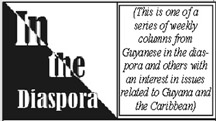 By The Caribbean Voice There are no reliable statistics on the amount of persons engaging in the use of illegal drugs or those described as addicts.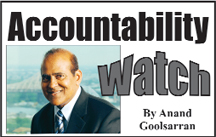 In last week's article, we referred to the two recognized methods of accounting for costs relating to the exploration, development and production of crude oil and natural gas: the "successful efforts" (SE) method and the "full cost" (FC) method.