When your dining room and living room are essentially the same room, decorating can be confusing. Do you start with the dining room? Do you start with the living room? Do you paint both rooms the same colour? Do you paint the rooms in contrasting colours? There can be too many options to narrow down. This guide will help you make your living room-dining room combo a work of art.
Furniture
Furniture style should flow from room to room. While you want to be careful about making all colours and materials match too closely for both rooms, you will want to keep your style of furniture the same. The style of furniture you use is unimportant as long as the styles flow from one room to the other. If eclectic furnishings are your preference, that is fine too as long as you don't have only one style in one room and a completely different style in another. Try to keep it balanced.
Colour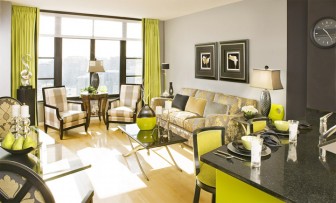 Colour scheme is very important to designing a living room-dining room combo. Choose a colour grouping that you like by looking at fabric swatches and your favourite art in your home. You may even choose to use the colours on the fabric of one of your chairs. Choose a main colour, a secondary colour and an accent colour or two.
Distribute your secondary colours throughout the rooms in the following way. Secondary colour number one should dominate the living room, and be used as an accent in the dining room and secondary colour number two should dominate the dining room and be used sparingly in the living room. That way, the two rooms will coordinate without being too closely matching.
Flooring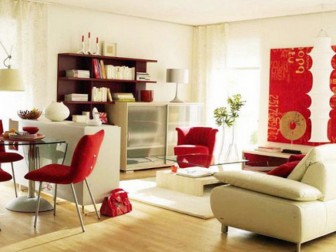 The flooring needs to accommodate the various uses of the room. The floor must withstand high traffic, food and moisture while maintaining comfort and appearance. Common flooring choices for great rooms include hardwood, laminate, tile and carpet. Area and throw rugs can help define spaces within the great room, while runners add protection for high-traffic areas. Consider varying the flooring within the great room to further define the zones, such as using tile in the dining room and hardwood or carpet in the living area.
To prevent the room's design from becoming too disjointed, you will want to use the same flooring colour and materials for both rooms. For walls, you can also use one colour and add your secondary colour to the accent wall in one of the rooms, such as the main wall in the dining room. (eHow)
Around the Web