The setting sun, chirping insects and rough water as it flowed over the rocks all fused to contribute to the picturesque setting that greeted us as we arrived at Tumatumari – a small village tucked away in the Potaro River in Region 8.
"Tumatumari nice, it beautiful… I try nuff place in de bush… and although they say it is a dead place this is where I make myself," a beaming Suedath Bhandan said, while the background music of cascading water from the Tumatumari falls played.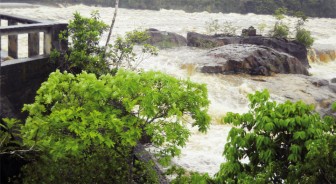 It isn't the scenery alone that causes Suedath to describe the village as beautiful. For him, Tumatumari has proven to be place of opportunity. "I find myself making a living moe easy. I make myself somebody." Originally from Sisters Village, East Bank Bernice, he worked at GuySuCo for ten years before he journeyed to Linden in search of a better life. After spending some time there, he decided to go and explore the bush, and eventually settled in Tumat (as residents fondly call it) in the early 1990s.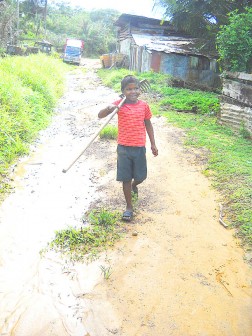 Initially, he got involved in boat-building and then in 1994 he started his own business selling various items. His support comes from villagers in the neigbouring community of Micobie.  "Is Micobie people that does patronize me." Tumatumari, being a small village, doesn't have the clientele, he explains. However, neither he nor anyone else was able to say how many people live here.  But some estimate there aren't more than 200 people altogether.  "Me ain know how many people here, nah plenty…but dem children so nuffy, nuffy," Suedath says.
And while Tumat has offered Suedath the chance of success, many in the community, particularly the young, are waiting for their opportunity.  Mining is the main economic activity in the village apart from the occasional business venture.  "Tumat flat," one young miner says. "There isn't much to do," he adds. "We does play football; sometimes we may knock lil cricket among we selves," he explains.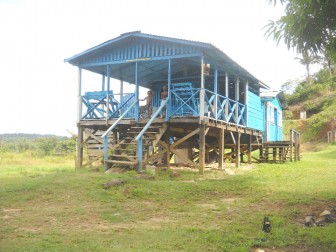 But they do like it here, and prefer it to life on the coastland. "It mo' easier than Georgetown; I ain like town" one says.   "You get freedom. You can walk how you like. Quiet and nice," another adds.  Crime in the community is also at a minimum.
Since 1975, Ethel Webster has made Tumatumari her home. And while she enjoys living in the village, she believes that life would be much easier if there was improved access to medical attention and cheaper transportation available. "You really got to pray that nothing ain go wrong with you," she says.  The health worker in the village left suddenly and up to last month she had not been replaced.  So in health emergencies, they would have to travel to Micobie and in more serious cases go to Mahdia. This comes at a huge financial cost to the villagers.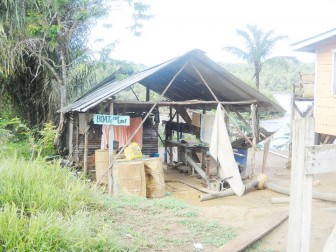 Winston Williams is the headmaster of the El Paso Primary School and has been serving in that position for the past seven years.  The school has a student population of 29, most of whom attend classes regularly. Recently, he and his students moved into a new school building after the previous one fell into a state of disrepair.
After the students complete their primary education, they go on to Mahdia Secondary.  And one of his main concerns is that after the children finish secondary school, there are not enough job opportunities around, apart from mining.  So many leave the village or end up in the mining industry. Williams, himself, owns a dredge.
Agriculture is not much of an option in the area he says. According to him, "the soil here is really dead" while explaining that he had tried planting several kinds of produce but none had been successful.   He has tried planting cassava, ground provisions among other produce.
He believes that a cookshop could be opened in the community to give women employment as they could provide meals for persons who pass through the village. A joinery in the village, he believes, would be useful in securing employment for the young men. "Right now the school needs furniture," he says, trying to underscore his point.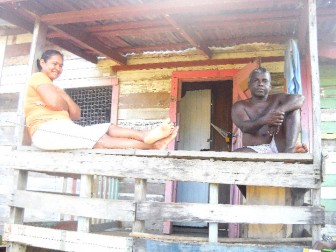 Williams is one of those residents who wouldn't mind if some programme similar to the now disbanded Guyana National Service was to be restarted in the area. A Guyana National Service Centre was established in Tumatumari some time in the early 1980s and several residents in neighbouring communities were able to learn some skill.  And for many of the residents, these were the glory days of the village.
Nevertheless, Williams feels that the community has been developing in recent years. Now they have village phones, although they are a bit faulty, and more businesses are opening up. But one thing that is keeping them back is the absence of cheap and reliable energy. Work is ongoing at the Tumatumari hydro and the plan is to provide free electricity to the residents for a while. However, the engineers are awaiting the arrival of two key parts before the plant becomes operational again. The wait has frustrated residents and some doubt that they would be able to move away from lamps and generator-fuelled power any time soon.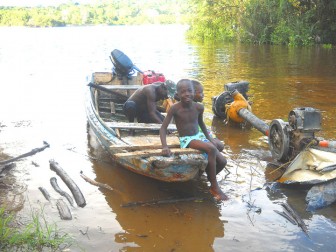 But hope is what many of the Tumatumari residents cling to. Hope that one day the village will fully develop while still maintaining its serenity and physical beauty.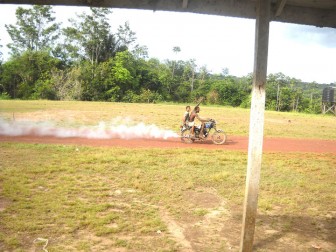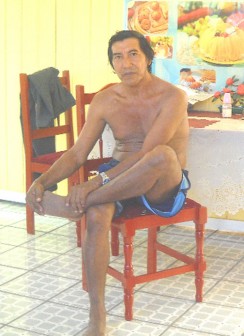 Around the Web