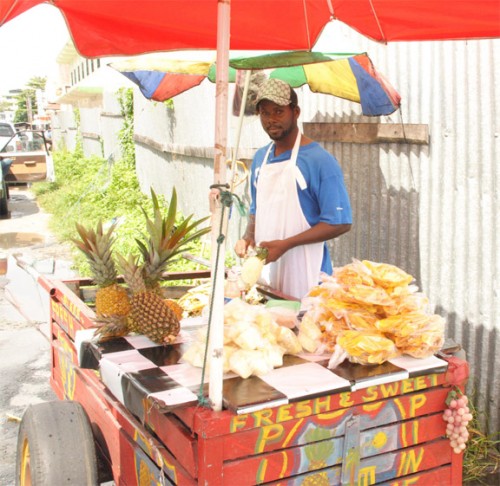 It is 6am on a Monday morning and Kenrick Josiah is busy behind his pineapple stall at Robb and Wellington Streets. With a rhythm learnt over the years he picks the pineapple, peels off the skin, slices it up, parcels it into a plastic bag and then adds salt and pepper before passing it to the customer. "Pass me a ripe one and put plenty salt on it," is the instruction Josiah hears constantly.
Selling pineapples has been Josiah's occupation for almost three years now. After finding it very difficult to get a job that he liked doing, he decided to sell pineapples since he believes they are used by many Guyanese. This job has been the main means of providing for his family.
Josiah said that at the beginning he found it very difficult to peel the pineapple but with persistence he developed the technique for doing so. "I have very funny skin and if the stalk of the pineapple bore my skin it will bring out rash, but I had to use me head to come up with an idea on how to peel i," he said. Sometimes he sells watermelons, but pineapples are in greater demand.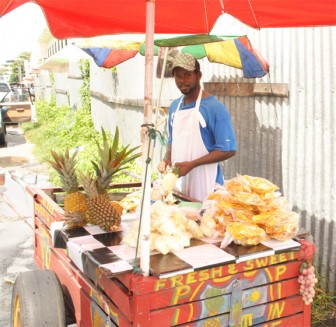 It is healthier to drink or eat the pineapple, he remarked, than buy a bottle of soda. "Right now everybody dieting and want to look good," he said; "all them sodas like Fanta and Big Red have too many sugar in them [and] most people looking… to maintain a good figure."  In addition, he explained, "I put them pineapples in the bags and when I finish slicing them in a fancy way it does look really appetizing and people does find it hard to resist the look of them."
Josiah said that he also pays keen attention to sanitary practices when dealing with customers: "I always make sure that I use my glove when I putting the pine in the bag… customer's satisfaction is very important." The vendor said that he enjoys his occupation although at times he feels very discouraged. "I does have to wake up since 5 am to go to Stabroek Market to buy the pineapples from the farmers [and] when I finish that I still have to come at me stall to peel the pineapple and at times the customers can be very hard to please."
He said that despite the fact that some people who see him standing on the pave regard him as just an "ordinary pineapple vendor," he is still determined to make his living. "Nowadays people that working in de office does tell them self that they better than people that doing job like me, but if I fu look at what people say I won't get no way in this hard times," he said.
After a hectic day on the pavements Josiah still has to go home to Victoria where he has a cake and pastries snackette. "Not every day me pineapple business does be bright, so if it means doing an additional job fu mek me family comfortable me ain't get a problem with it," he said.
When asked how he feels about being self employed he replied, "It is easier than doing other things; I choose my working days… I aint get nobody fu tell me what to do… I am comfortable at what I am doing."
Comments

By Greg Quinn British High Commissioner Today the 53 members of the Common-wealth will celebrate Commonwealth Day. 

(A column by Transparency Institute Guyana Inc) On September 10, 2017, Stabroek News published an article containing remarks by Treasurer of the AFC and Minister of Business, Dominic Gaskin; the Minister of State, Joseph Harmon; and the Leader of the Opposition, Bharrat Jagdeo, on the matter of political (campaign) financing legislation.
Since the festival of Christmas commands a pre-eminent position – of observance and celebration – on Guyana's Annual Calendar of National Events, I thought I'd pen a few lines to provoke thought and meditation relevant to the "Real Reason for the Season".

To mark the anniversary of Martin Carter's passing on December 13, 1997, Gemma Robinson looks at Carter's Poems of Succession, published 40 years ago this year.
By Naicelis Rozema-Elkins It is about time, past due in fact, that the problem of sexual assault by teachers in our school system is addressed.