In the Essequibo River island of Wakenaam, Ram converts coconut milk to oil in a process that takes days.
It is seasonal, hard work and he has been doing this since he was a child, the coconut oil maker said in a recent interview with the Sunday Stabroek at his Maria Johanna, Wakenaam home. Before him, Ram's father made coconut oil and he took over the trade from him. There are thousands of coconut trees on the island, some in large groves and Ram said that he buys the nuts from all across the area.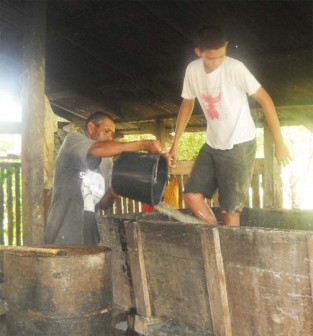 Explaining the process of making coconut oil, he said that dry coconuts are used. Depending on availability, about 1000 coconuts are normally used during each cycle. Ram said that after receiving the dry coconuts, he would usually employ two persons to "dig out the meat." The "meat" is then grated using a mechanical grater and the grated meat, called "cush" is then placed in a "wash box."  Water is added and the milk squeezed out. Ram and his son, Danny Ram were engaged in this part of the process when this newspaper caught up with them recently.
The milk is stored overnight in drums. Then, Ram said, the "fat of the milk" which floats to the top, is taken out. The "fat" is then boiled and as it boils, it changes to oil. This is then placed in a press to squeeze out the oil. "Nuff wuk meh tell you," Ram exclaimed.
He sells the oil to vendors in Wakenaam and the price is good, he said, and is enough to maintain his family. "When coconut price drop, oil price drop," he added. Currently, the price for coconut oil is $1240 per gallon which he said is "reasonable."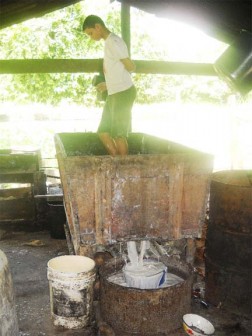 After the milk is taken out, the dry "cush" can be used to feed livestock. Ram said that he makes the coconut oil whenever he gets coconuts but sometimes the prices for the nuts are high. He said that making coconut oil is a living and he is contented with it. "All body like dem own wuk you know," he said. )
Comments
Since the festival of Christmas commands a pre-eminent position – of observance and celebration – on Guyana's Annual Calendar of National Events, I thought I'd pen a few lines to provoke thought and meditation relevant to the "Real Reason for the Season".

To mark the anniversary of Martin Carter's passing on December 13, 1997, Gemma Robinson looks at Carter's Poems of Succession, published 40 years ago this year.
By Naicelis Rozema-Elkins It is about time, past due in fact, that the problem of sexual assault by teachers in our school system is addressed.

Focus on Guyana's National Budget 2018 represents the twenty-eighth edition of this Ram & McRae annual publication which highlights, reviews and comments on the major issues surrounding and raised in the National Budget.

By Mark Leonard LONDON – Over the last few weeks, media around the world have been saturated with stories about how technology is destroying politics.