There is no escaping the sea in Wakenaam. Here the Essequibo River and the Atlantic Ocean clash and mingle, threatening to overrun the fragile defences of the island as they have done in the past. The sea is both friend and foe: a source of fish but also of floods. Wakenaam is only accessible by boat; an airstrip was built there recently, drawing the ire of residents who said the island has other pressing needs, but it still has not been opened.
On a July morning, the breezes rolling off the Atlantic do little to cool the island, steaming under the heat of a midday sun. Guyanese should be used to it and the islanders certainly do not seem to feel it, nonchalantly going about their activities. "Here the air ah fresh," says one businessman in Maria's Pleasure. "Wakenaam is very quiet and relaxing," says another.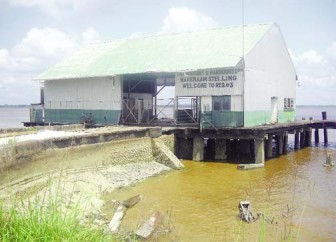 Life in the 17.5 square miles island – populated by over 7000 persons – plods along much like other rural communities across Guyana. Coconut groves, the fronds rustling in the wind dot every part of the island, interrupted time and again by emerald green rice fields.
Kokers, ancient bells and old gravestones recall the island's Dutch past. 'Wakenaam' means 'waiting for a name,' residents said. However, the early plantation owners gave names like Free and Easy, Belle Plaine, Bank Hall, Friendship, Noitgedacht, Rush Brook, Domburg, Good Success and Sans Souci among others, to their estates, which have now been passed on to thevillages within Wakenaam. Maria's Pleasure, according to one resident, was so named by the husband of Maria, long deceased, who had purchased the piece of land for her.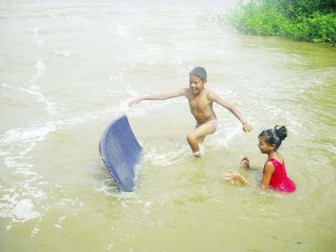 One can envision that the Dutch felt at home in Wakenaam. There are the flat plains, the threatening sea, the emerald fields with dairy cows grazing at the sides and now, dozens and dozens of bicycles which are the main means of transport within the island. Idyllic scenes where land meets the water, with fishing boats moored to stakes on small beaches can be found at different parts.
Agriculture is the mainstay of the island, providing employment to many residents who focus on rice, coconuts, vegetables, ground provisions and livestock. "Plenty rum shop" as well says a businessman during a drive on the narrow, winding road that encircles the island. At one spot, at mid-morning, several youths have already completed a few bottles of rum while at another roadside bar, three friends walk unsteadily, glasses in their hand.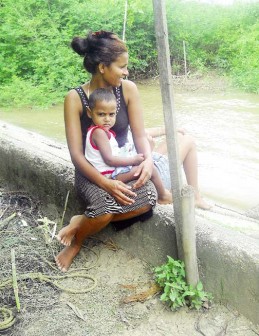 A few doors away is a temple, one of the many Muslim, Hindu and Christian houses of worship interspersed among the wooden and concrete houses.
"Wakenaam quiet, no crime," says the businessman, who did not want to be identified. He relates that he was supposed to move to Parika but decided not to because of crime. "In Wakenaam, yuh sleep with yuh door open," he said. Police maintain a presence in the village of Sans Souci and there is also a courthouse where villagers, charged with an offence or complaining of one, go, dressed in their best, whenever the magistrate visits.
Sleepy, idyllic, and sweltering, change has been slow to arrive in Wakenaam. Most residents have piped water and electricity at nights and weekends.  During the week-days, there is no power. A private passenger boat service operates several times daily and the ferry makes regular calls. Cellular phones work here, but landline service is limited.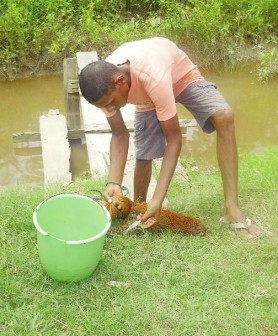 In San Souci, barber Sunil Ramratan sits amidst the tools in his barbershop that is sited illegally on the road reserve. He has been trying to get a permit from the Neighbourhood Democratic Council but so far has had no success, he said. He is frustrated that officials say that they do not want anything on the reserves yet allow some to have structures there. "This is what yuh get yuh lil daily bread from," he said.
Job opportunities are the bugbear of Wakenaam, residents agree. "If you want to get up in life, you have to get off the island," says Kunjbeharry who returned to the island after retirement two years ago, having worked at various places throughout the country. Persons have to get off the island to qualify themselves and oftentimes do not want to return, he said. But it is still somewhat possible to make a life on the island. "If you can't make a living here, I don't think you can make a living anywhere," said Kunjbeharry.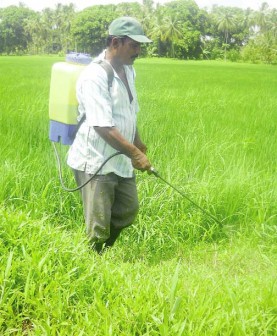 Joan McPhoy in Fredericksburg said that the island is getting poor because many of
the people are leaving because of the lack of jobs. "Life very hard but you got to try and make it soft," she said. "You got to make job for yourself." McPhoy pointed out that the cost of living on the island is high.
Clive Stewart believes that the lack of 24-hours electricity is hampering the setting up of businesses such as repair shops, which depend on electricity. "Employment is the situation in Wakenaam," he stressed. Many have migrated, and abandoned houses are now havens for birds and sometimes, the sheep that roam freely on the road. It is a continuing trend. Entire families leave, their homes falling into ruin.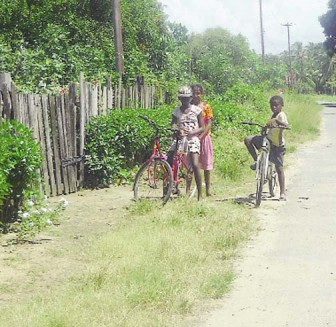 For several residents, the sea is a constant threat when it erupts in a fury.  In Maria Johanna, residents fear the spring tides. Time and time again, they said, the tides race across the fragile patch of seawall, flood their fields and destroy their crops. Ram (only name) said that over six months ago, a petition was sent to the Minister of Transport, Robeson Benn asking that something be done, but they got no response and nothing has been done. Last October, he recalled, the spring tide covered the land there with over two feet of water. "All the kitchen and all duck," he said. "Meh had to carry dem fowl upstairs."  Drainage is bad as well, says Stewart.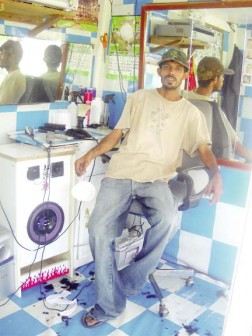 Wakenaam has several primary schools, a secondary school and now a new mortuary at the Wakenaam Cottage Hospital, that some have objected to saying that the money could have been better spent.  An official at the hospital said that they were not in favour of the construction of a new mortuary when the existing one could have easily been upgraded. The new mortuary is not yet functioning since a freezer had not yet been sent to the island. "This place really need a mini-lab and an x-ray department," the official said, pointing out that both could have fitted in the mortuary building.
A Cuban doctor is stationed at the hospital as well as a medex and a midwife, and the staff is mostly able to cope with the cases it sees. The official said that they try to be proactive in terms of lifestyle diseases, and go out into the communities and follow-up on patients and distribute medicine. But, he said, some people do not accept change easily and it is a challenge to get them to follow advice. Alcoholism is a problem in the island but they are trying to reduce this by getting youths involved in activities, the official said. A 'White Zone' where abused women can get help has also been set up at the hospital.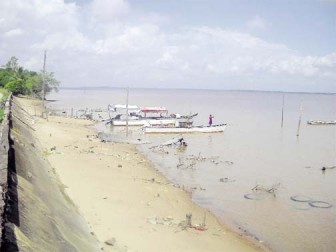 Residents said that the roads are also a source of concern with potholes appearing in several. In addition, agricultural produce sometimes goes to waste, they said. What is needed, said Stewart, are markets for certain produce that currently would often go to waste when they are in season. Alternatively, a place where the produce can be processed would help the island's farmers, he said.
Despite the issues they face, persons live in harmony and there is little crime, residents said. "You could go and pick a coconut from anybody tree and nobody nah tell you nothing, only if you carry away plenty," one explained.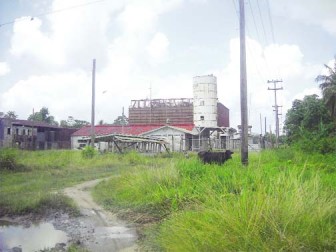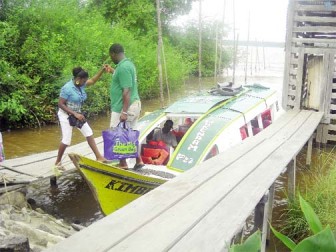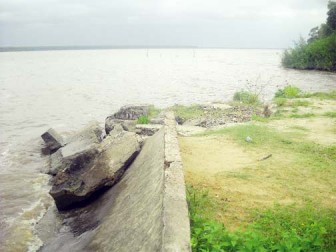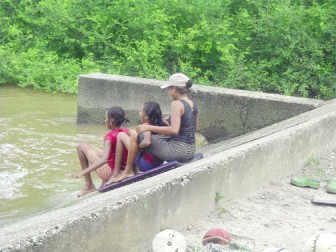 Around the Web