Twelve years ago, when Joe Pierre was just 13 years old, his mother died, leaving him with no alternative but to leave school and assist his father with providing for himself and siblings.
With encouragement from his father over the years, Pierre has now established himself as a glass-cutter, and he operates a little stall on Croal Street in the city, obliquely opposite the Metro Building. Seated under the shade of several trees, Pierre can be found from 8 am in the morning cutting rearview mirrors for vehicles as well as carving number plates. He says he can do any job which relates to cutting glass.
The Cummings Lodge, East Coast Demerara resident said that he has been in the glass-cutting business for about 12 years after he left the construction industry. "I use to put in louvre windows, wardrobe glass and so, but now I dealing with strictly vehicles," he said.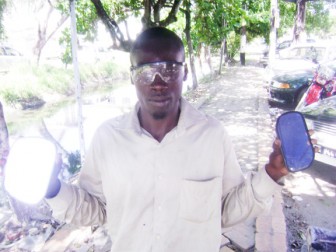 The father of one said that his passion for his job has increased over the years, adding that even though the job can be dangerous, he finds delight in putting the finishing touches to his work. "Sometimes when you filing the edges of the glass all the splits goes into your skin… on two occasions it went into my eyes and almost damage it… But to see the look of satisfaction on customer faces makes me more hungry to go after this job," he told Sunday Stabroek.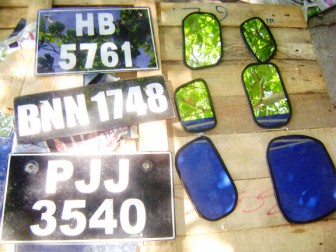 The man said that one of the disadvantages of his job is sourcing money for the glass which he said is costly at the stores. "I spend a lot of money to buy glass… sometimes I don't gain no profit," he said. He explained that if the driver of a vehicle replaces an entire mirror, it is very expensive, but if he puts the mirror into the mirror sockets it will be much cheaper.
Pierre said that he has developed his skill over the years, and now he finds it easy to fit mirrors into various sockets which may have been damaged in an accident. He can fit mirrors into Toyota cars such as the Premio, Corolla and Allion, among others.
But apart from fitting mirrors on vehicles, Pierre also is good at carving number plates. "I do whatever little I can to get the dollar bill," he told this newspaper, "I even put the people names on it [number plate] if they want."
Pierre said he spends almost 10 hours each day working: "You see how de society is going these days; the economy is getting rough… If I sit down and wait cat gone with me dinner." He said that "everybody got to hussle to get what they want in this life."
His daughter is getting older each day, he said, and he has to work hard to ensure that she gets access to a proper education, one which he was never fortunate to receive.
When asked whether the job provided a sufficient income for him, Piere nodded, saying "Some days business is bright, likewise on other occasions things does be very slow."
Pierre added too that being self employed meant being self-motivated, which gave a sense of being independent. "Nobody is there to tell me when or what to do or what time to leave work… I am able to manage my time better and it teaches me determination." He went on to say that if he cannot get things done , no one will do it for him.
As regards his future, Joe said that he sees himself being more established as a glass cutter: "I want to expand my job and enhance my skills… I believe in progress and it first starts with me being determined to accomplish whatever I put my mind to."
Around the Web