For the residents of Victory Valley life is not too far below the average compared to persons living in other communities on the west bank of the Demerara River at Linden. While they have the conveniences of an electricity supply, water and good drainage,  they also have pothole-riddled roads, and issues with the Linden Municipality in relation to garbage collection.
Unlike many other communities in the town of Linden they are a very tightly knit group. They have what they call the 'look out' group, which one encounters the moment one reaches the main entrance to the community. "Hail up Sistrin, you look wonderful today" greets you as you enter the Valley, as it is commonly called.
From the moment a stranger enters the community the word is quickly spread and everyone is on the look out. "If we ain't know you, you got to state your case before you go in here; we don't allow anybody to come around and violate in here," said a Rastafarian resident. He related an occasion when the USA embassy visited the community to verify the address of a resident. It took approximately half an hour before they were able to get any information from neighbours. "They had to reason right because we don't sell out on we people in here," he explained.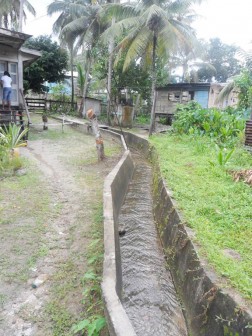 "In here is real ghetto life; we are a good people but you can't get away from the fact like dah, we is all time ghetto," said one of the community leaders, who also expressed satisfaction about the fact that there has been some transformation in the area for the better recently.
Lovern Baird is a community and CDC member of Victory. With the able assistance of other residents including Nichola Laycon and youth leader Keola has been doing her best to keep youths in the neighbourhood gainfully occupied, especially now that school is out for the July-August break.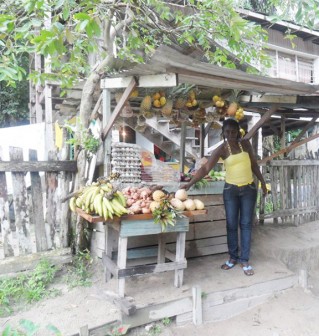 Baird said that in times past the community was overwhelmed with social issues, ranging from domestic violence to child neglect and abuse, but was skipping around the road as she expressed her pleasure that they have come a long way and life as they once knew it in the ghetto is now better.
"Thank God parents are now taking time out to look out for their children; they really are, and so the problems we had in the past like children not going to school don't  really exist here no more, but we is still ghetto – you can't run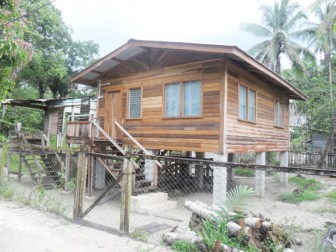 away from that" said Laycon.
The community itself has gone through a number of physical transformations over the years. It now boasts paved roads, although these are in need of rehabilitation; and most of the homes now have flush toilets as opposed to the traditional pit latrines, although a few still exist. Drainage is said to be maintained at a satisfactory level, as was evident during a walk through the community.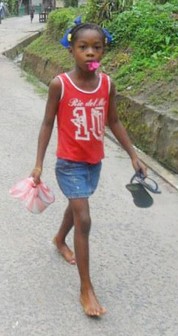 Apart from the few little shops around and a few nightspots, Victory's only family social facility is the Lyndon Johnson Jah Fiyah Community Centre. "This year it seems like everybody forget we, because we ain't get nothing happening at the centre like before," said Laycon. However, she said that because of their commitment to seeing ongoing activities at the centre, they had successfully solicited funds from residents and will be hosting a two-day summer programme for youths in the area.
Victory does not have a school since it is a very small community with less than one hundred families, and is in close proximity to the Wismar Hill nursery and primary schools at one end and  the St Aidan's Primary, Mount Carmel Nursery and the Wismar-Christianburg Secondary schools at the other end at Blueberry Hill. The closest health facility is the Upper Demerara Hospital on one side, and the One Mile Health Centre on the other. The nearest playground is just a stone's throw away in the adjoining community of Silver City.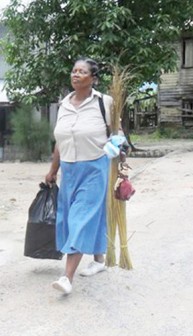 Getting to the market centre at Mackenzie is a fifteen minute journey from the furthest point of Victory Valley, and $50 will take one across the river with the closest ferry service called Dutchies. In most cases persons would leave home on foot to go do their shopping, and if loaded would cross by the ferry and take a taxi at the Wismar end into the Valley. Taxis charge $300 and $400 to take persons into Victory Valley from the Wismar Shore, although from Mackenzie it would cost as much as $1,000.
"Long ago they use to say Valley bad man hide hole, and whenever something happen [crime] deh first place deh use to come is in here; it does still happen to an extent but we are ghetto and you can't take that away, but we good," said a senior citizen. Most persons opted not to be named.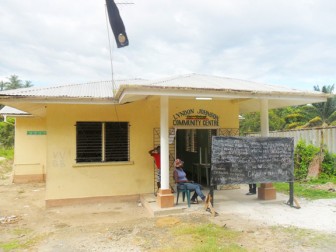 Today most residents are employed either in Linden or in the interior, while women who are not full-time housewives are involved in small business enterprises.
They say that Victory Valley has a rich history and though deemed a poor, not depressed community, it is open to tourists who can explore its many facets. "The geographical changes are  worth studying," residents said, while pointing to several homes which have sunk causing more than half of their bottom flats to disappear underground. Hills which were once very steep now have only a slight incline and creeks which were once fishing ponds are now mere small streams.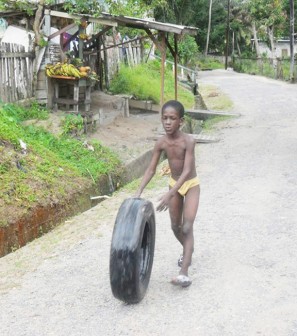 Garbage collection is a problem, but there was hardly an unkept yard in Victory Valley. Residents said that because of the layout of the community they are forced to take their garbage to the open space behind the Community Centre since they cannot burn it in their yards. "Now the Community Centre looking to put up a fence for the children to have a place to play," said a resident who joined others in appealing to the Linden Municipality to make Victory Valley a part of their scheduled runs for garbage collection.
Around the Web