Introduction
On September 16 a grand day of appreciation was hosted for President Bharrat Jagdeo. The President's friends planned a grand occasion to hail his achievements in government. The resources of the state were utilized to entertain the party faithful at a stadium paid for by a U$19 million loan from India (the other US$5 million was aid from India).  The people of Guyana regardless of political views will have to repay the stadium loan. The President's chosen presidential candidate, Mr Donald Ramotar, got free campaign publicity as he gave thanks to the man who manoeuvred the party's internal election to allow him to circumvent other presidential contenders like Mr Moses Nagamootoo and Mr Ralph Ramkarran.
I will outline and analyze President Jagdeo's economic development achievements in this column and the next. I will paint the common features of the President's economic policy. I will examine the much talked about macroeconomic stability that the faithful attribute to the President's shrewd management of the economy. Was this stability due to the President or certain structures like the underground economy, remittances, the nature of capital inflows and competition in the banking sector? I will posit an answer to this question. I will also examine the rate of economic growth and private investments under Jagdeo. I will examine how crucial institutions – essential for long-term economic growth – of the state evolved during this period. Finally, I will examine the President's foreign policy. It will take more than one essay to fully analyze the President's economic accomplishments. After considering the positives versus the negatives, I will give my judgment as to whether the Jagdeo variable was positive, negative or neutral for Guyana.
Common features

Economic policies under Jagdeo had certain common trends. It was not until the conceptualization of the Low Carbon Development Strategy (LCDS) around 2006 that we saw an attempt at consistency. The LCDS centred on maintaining a low rate of deforestation for US$580 million each year in payments. The Office of the President (OP) would then decide how to spend these funds on development projects. So far the actual realization of financing is US$40 million (the Norway funds) per year for five years instead of the projection of US$580 million each year indefinitely. Norway handed over the disbursement of the funds to the World Bank which requires strict accountability before release.
Prior to the LCDS, President Jagdeo invested all his energies in building upon the Jagan years – which in turn were based on the initial Hoyte reforms –debt relief. Very little effort was placed in attracting large-scale foreign private investments. When large foreign investments did flow in, they were mainly brownfield projects buying up existing resource extraction industries (bauxite and gold). A brownfield investment is one where nothing new was created but ownership changed hands. The President also shunned Western investors for Russian and Chinese investors. He even cursed the Americans while he was in Iran. Russian investors in bauxite promote rancorous labour relations in Guyana. Some of these very exploitations of labour the PPP of old fought against. The main greenfield foreign private investment that occurred under Jagdeo was Digicel. Under President Jagdeo not a single large-scale Greenfield manufacturing enterprise the size of Banks DIH or DDL was created. When a greenfield investment occurs something new is created. In my opinion, to really transform an economy we need many more large-scale greenfield investments to help the mom and pop enterprises to grow up and survive.
Mom and pop enterprises became the main form of new businesses under Jagdeo. These were called by the President the Newly Emerging Private Sector (NEPS). The WikiLeaks noted that one former "investor", Mr Roger Khan who is now in US prison for cocaine trafficking, built housing schemes without bank financing.  Another WikiLeak cable noted that this same "investor" was seen leaving the Office of the President. There is also the focus on information technology, which hinges on sharing out laptops to families. It is not so certain how these will lead to job creation and new industries.
Two other features are becoming clear under the Jagdeo strategy. Firstly, they focus on non-tradable sectors. A non-tradable good is one which is not exported or imported. Sugar and bauxite are examples of tradable goods, while a haircut is a classic non-tradable good. We do not take a plane and travel to Barbados for a haircut. We get our haircuts at home. The roti shop at the international airport (which by the way has terrible toilet facilities) is another non-tradable enterprise. The focus on small-scale non-tradable productive sectors has the advantage of insulating Guyana from external shocks since these are focused on internal markets and production.
However, and secondly, the non-tradable mini enterprises promote a kind of subsistence economy where the masses will stay at or just above the poverty line. This focus on subsistence will see emerging a parallel economic and social structure in post-Jagdeo Guyana. As the masses grind it out in a state of penury, a small rich elite class will live in gated communities, pay for private security guards, send their children to foreign Western colleges (notice the recent attacks on UG), and the children of the masses will go primarily to Cuba for university education. The Cuban educated will be trained to be subservient to the Western educated elites. I fear that my beloved alma mater, the University of Guyana, will be marginalized and eventually be closed – at least major parts of it. Just look at the signals Pro Chancellor PremMisir is sending in various letters he published in the press. The University of Guyana is seen as a problem rather than part of the solution to the development challenges Guyana faces.
The problem with the subsistence economy is it cannot generate foreign exchange to purchase the much needed technology and machines for industry. Guyana's foreign exchange capacity will continue to depend on primary resource extraction and low value added goods, remittances and the illegal underground economy. One recent econometric study by Professor Clive Thomas and co-authors found that the size of the underground economy is as large as the official economy. The illegal component, according to the study, could be as small as US$150 million to as large as US$900 million per year. The core legitimate exports will continue to be susceptible to adverse foreign shocks.
Housing development
Long before the LCDS, the PPP saw housing as a crucial political strategy that can guarantee electoral votes. Housing continued to be a cornerstone of the Jagdeo policy agenda – hence it can be seen as one of the consistent strategies. The government never worked out a clear economic, social and esthetic role for housing. They understood, however, that it made political sense to distribute the people's land to the people. It was not until recently efforts were made to provide low interest mortgage loans through New Building Society and other commercial banks.
While economists tend to view housing as a non-tradable good, in Guyana's case the inputs into housing construction come mainly from imports. Therefore, a chance was missed to make sure that new industrial activities sprang up around housing. It was a good opportunity to promote furniture manufacturing, makers of building fixtures, precision wood designs and so on. We continue to import most of these including cement, electric pumps and black tanks. Even President Jagdeo is importing materials to beautify his new multi-million dollar home on the East Coast. The question of drainage, planning of recreation facilities and green parks never emerged along with the new housing areas. Except Eccles, Pradoville 1 and Pradoville 2, housing was developed more as a squatting enterprise. The point is, it was always possible to make housing better and at the same time promote industries that could sustain jobs.
Should the PPP win the next election, I anticipate continued emphasis on housing. However, with no major new industrial activity we can expect bank lending to more risky sectors of the economy. That is, lending to those without regular jobs. This would be a situation similar to sub-prime mortgage lending in the United States that ballooned from 2004. A sub-prime mortgage is a mortgage to someone who is more likely to default on payments. Financial engineers on Wall Street thought they could spread and manage the risks. The Great Financial Crisis of 2007-2008 showed us they could not manage that risk.
Comments
CARACAS/HOUSTON (Reuters) – Venezuela's unraveling socialist government is increasingly turning to ally Russia for the cash and credit it needs to survive – and offering prized state-owned oil assets in return, sources familiar with the negotiations told Reuters.
By Carl Bildt CHICAGO – We are now in the final days of the industrial age.

During Men's Health Week, the man/woman in the street were asked to speak on their lifestyles and what they do to maintain their health or to encourage their significant others to lead healthy lifestyles.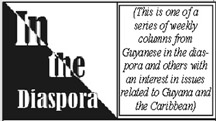 By The Caribbean Voice There are no reliable statistics on the amount of persons engaging in the use of illegal drugs or those described as addicts.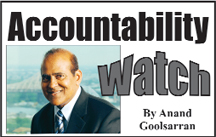 In last week's article, we referred to the two recognized methods of accounting for costs relating to the exploration, development and production of crude oil and natural gas: the "successful efforts" (SE) method and the "full cost" (FC) method.