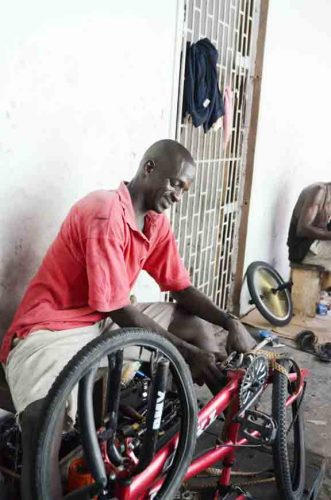 On a hot, lazy afternoon, Ian Jackson sits outside a bicycle shop, working away on a broken cycle chain. He is forty-three years old and is hearing impaired. With the aid of a sign translator, the newspaper learned that he has been repairing bicycles for nearly fifteen years – five at his previous place of employment, and ten at his current one.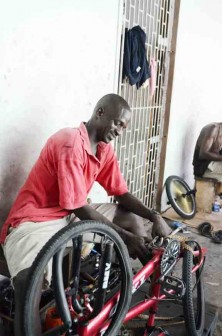 He was educated at the David Rose Community High School and upon leaving in 1986, enrolled in the Government Technical Institute to learn carpentry.  Mr Jackson said that he was content doing carpentry after leaving school, but was left unemployed when his boss migrated, which led him to take up repairing bicycles.
Currently he resides in Sophia with his girlfriend and thirteen-year-old son, and he is satisfied. Although Jackson acknowledged that he does encounter difficulties being deaf, since he is disregarded by some people and receives no government assistance, he is happy that he is able to provide for his family using his skills.
Comments
Since the festival of Christmas commands a pre-eminent position – of observance and celebration – on Guyana's Annual Calendar of National Events, I thought I'd pen a few lines to provoke thought and meditation relevant to the "Real Reason for the Season".

To mark the anniversary of Martin Carter's passing on December 13, 1997, Gemma Robinson looks at Carter's Poems of Succession, published 40 years ago this year.
By Naicelis Rozema-Elkins It is about time, past due in fact, that the problem of sexual assault by teachers in our school system is addressed.

Focus on Guyana's National Budget 2018 represents the twenty-eighth edition of this Ram & McRae annual publication which highlights, reviews and comments on the major issues surrounding and raised in the National Budget.

By Mark Leonard LONDON – Over the last few weeks, media around the world have been saturated with stories about how technology is destroying politics.