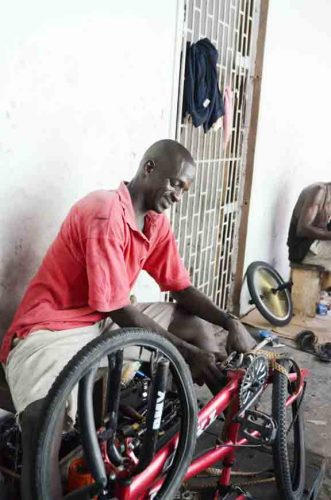 On a hot, lazy afternoon, Ian Jackson sits outside a bicycle shop, working away on a broken cycle chain. He is forty-three years old and is hearing impaired. With the aid of a sign translator, the newspaper learned that he has been repairing bicycles for nearly fifteen years – five at his previous place of employment, and ten at his current one.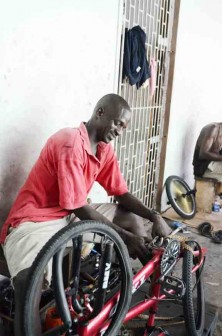 He was educated at the David Rose Community High School and upon leaving in 1986, enrolled in the Government Technical Institute to learn carpentry.  Mr Jackson said that he was content doing carpentry after leaving school, but was left unemployed when his boss migrated, which led him to take up repairing bicycles.
Currently he resides in Sophia with his girlfriend and thirteen-year-old son, and he is satisfied. Although Jackson acknowledged that he does encounter difficulties being deaf, since he is disregarded by some people and receives no government assistance, he is happy that he is able to provide for his family using his skills.
Comments

By Clem Seecharan Clem Seecharan is Emeritus Professor of History at London Metropolitan University.

Cheddi Jagan returned from studies in the United States to a British Guiana in 1943 that was a cauldron of poverty.

Dr Jagan enjoys a ride on a ferris wheel with his grandchildren. Cheddi Jagan and Forbes Burnham leave then British Guiana to plead their case abroad, following the suspension of the constitution by the British in 1953.

Cheddi Jagan was born on March 22, 1918, and died on March 6, 1997.

By Sharief Khan (An excerpt from an interview with Sharief Khan reprinted from Stabroek News, December 11, 1987, page 5) In gaining a politician like Cheddi Jagan Guyana might have lost a cricketer.