Springlands/Number 78 is known as a business hub in the town of Corriverton, and includes the backtrack crossing which facilitates cross-border trading with Suriname.
Corriverton, which means Corentyne River Town, starts from Number 74 Village and ends at 'Blackwater,' Line Path, Skeldon. It is about 10 miles away from Moleson Creek where the ferry stelling can be found.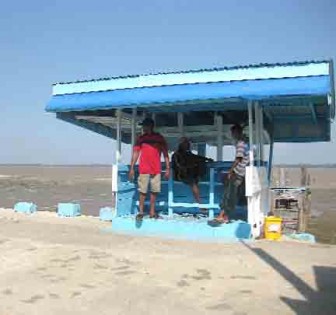 With three 'backtrack' landings operating in the area, persons are taken across the river to the neighbouring country in speedboats fitted with lifejackets at a cost of $2,000 per trip. Many persons from across the country earn a living by trading items between the two countries, including clothing, footwear, electronic and household appliances and pesticides.
Passengers are required to produce their goods and bills to the customs officers at the landing, and the bills are then forwarded to the customs office where duties are paid.
Fezal Mursaline who operates 'Aunty Landing' has been in the business for over 25 years. He has recently upgraded his service and now has "a better landing and camps." He has also rehabilitated two snackettes at the landing and he given them to residents to operate rent-free.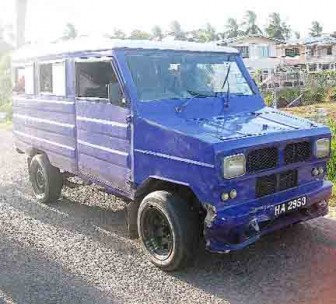 His boats start working from around 5.45 am and after making about 10 to 12 trips, they would return at about 5 pm. His captains do not work beyond 5 pm because of the risk of being robbed at sea.
Licences for the boat owners to operate have been issued by the authorities in Suriname. Mursaline said passengers are required to produce some form of identification before travelling. This was introduced after the boat owners requested it during one of the meetings held every six weeks with the authorities in Suriname.
President of the Upper Corentyne Chamber of Commerce (UCCC), Vishnu Doerga, told the Sunday Stabroek that the back-track crossing is a viable business but it is risky, although many persons prefer to use it because it is fast. He is looking forward to the bridge across the Corentyne because that can be accessed "day and night," he said.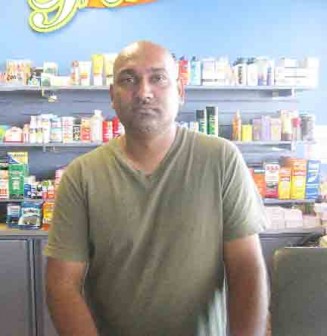 He said too that the UCCC had lobbied for the MV Kanawaima to operate twice a day − at 9 am and at 1 pm, rather than only at 11 am. He hoped that this would help to increase trade between the two countries.
Meanwhile, a significant amount of revenue that enters Springlands comes from the sugar estate at Skeldon where many residents are employed, as well as from the fishing industry.
Springlands has a number of businesses which offer employment to residents. These include fast food outlets, restaurants, hotels, night clubs, hardware stores, gas stations, cell phone and DVD shops, photo studios, taxi and Tapir services, pharmacies and supermarkets.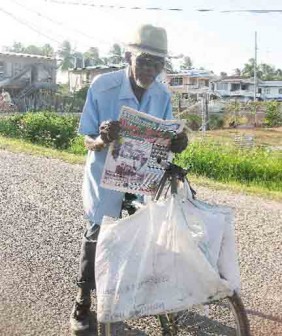 The village also has a technical institute, three commercial banks, insurance companies, police station and magistrate's court, as well as offices for Guyana Power & Light, Guyana Telephone & Telegraph Co and the Guyana Water Inc. There is, in addition, a race course.
Some of the residents are also employed at the nearby Skeldon Hospital and at the various schools around.
The residents of Orealla access the Skeldon market through the port at Springlands, where they bring their pineapples, bananas and other produce as well as lumber. On the way back they take in supplies including groceries and beverages.
Chamber of Commerce
Doerga, a qualified engineer who is currently reading for an MBA in business administration said the membership of the chamber has recently grown significantly to 70. He also operates the Venu Shopping Centre with his wife, Davatri. He is the only person in the Caribbean to be certified by the World Resources Institute in Greenhouse Gases Emission Inventories.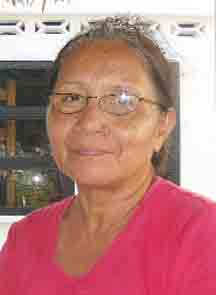 According to the President of the chamber, the UCCC has extended its reach in partnership with other organizations, including the two other chambers in Berbice and the Private Sector Commission. He went on to say that through the chamber, 25 members as well as persons from other organizations were trained by United States Agency for International Development (USAID) under the Governance Enhancement Programme. USAID also provided the chamber office with communications equipment and other items at a cost of US$28,000.
UCCC is also working on programmes to preserve the Number 63 Beach and reducing early sexual activity through the schools.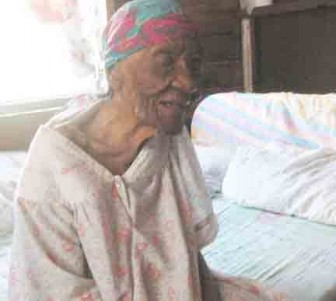 Doerga noted that the "entertainment sector has a lot of potential" but there are not enough facilities for families, especially children. He said while some persons are engaged in cricket and football there are no organized clubs for them, and he believed that many children would be happy for the opportunity to be involved in karate, dancing and singing classes.
The area is being littered with garbage and Doerga said persons need to be more conscious of their environment. He was pleased that "the crime situation is not as bad as in other areas" and said the UCCC is working closely with the police. It has also held a training session for the cops on courtesy and etiquette and how to handle the public.
Businesses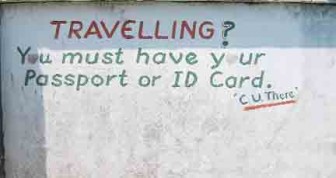 A resident, Imtiaz Ally, told the Sunday Stabroek that during the "contraband time" government had a port-of-entry at Springlands from where up to three launches owned by Surinamese operated. The port is still there and it is being used as a wharf for exporting rice.
Ally is currently running a business − Byloon's Farm World that was established by his late father, Rahamat 'Byloon' Ally in 1957. Meena, 73, Ally's mother said they operated a grocery shop and a poultry farm and also sold baby chicks. Ally has continued with the business and has been supplying baby chicks, eggs, meat-birds and chicken feed as well as veterinary and pet supplies.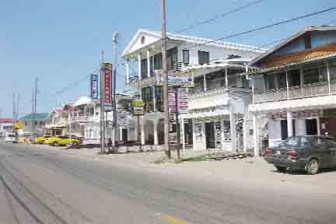 Another resident, Daniel Persaud, 25, earns his living as a joiner where he makes "all types of furniture" on order. He learnt the trade at the age of 16 from another furniture dealer, and established his joinery two years ago. Persaud who works only on order intends to open a showroom later.
Ganesh Gangadin along with his wife, Taheera Rasheed, operates a Shell gas station, minimart and fast food deli by the roadside. The 24-hour gas station which is centrally located was rebranded after changing over from Esso in 2009. Gangadin boasted that he sells V-Power fuel which has the "best quality and high performance".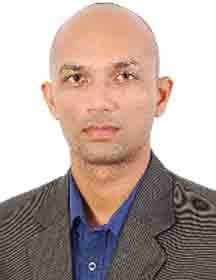 He tries, he said, "as best as possible to meet the needs of the community" and offers quality products and a high service. He caters for late shoppers and said the minimart is open up to 1 am.
Rasheed told this newspaper that the convenience store is a "hub for social interaction." According to her, "we encourage ethical business practices and do not sell tobacco or alcohol products to underage persons."
She said they also offer "clean family activities," including a Rangoli (art with coloured rice) competition for schools, individuals and organizations. She explained that the Rangoli designs can be built on the site or built at another location and transported. At Christmastime they would have a night of carolling.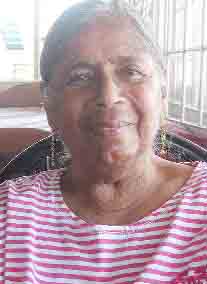 She also mentioned that they try to bring unique products and services. They offer exotic fruits and vegetables such as broccoli, cauliflower, strawberries, kiwis, blueberries and nectarines year-round. The couple also provides fresh flowers for special occasions but only on order.
Ismay Spooner
Sections of the Springlands/Number 78 Village are referred to as Rampoor, Little India as well as Little Africa where the old sugar estate, named 'Elijah' and 'Mary' after the children of a planter, was located.
At Little Africa, 110-year-old Ismay Spooner was happy for a visit from this newspaper. In fact, she just loves company and was willing to share stories about her life. Despite her age, she was just as jovial and her voice just as strong as when this newspaper paid her a visit a few years ago.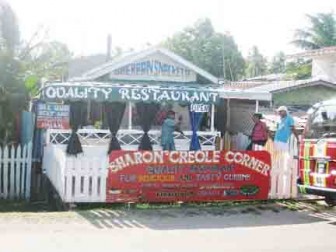 Asked how she was doing, she told this reporter, she was "trying by the grace of God… not of the best, you know old age. Some days are good and some are not."
She said too that she was "living by the mercy of the almighty. Without God I am nothing." At this point she started to sing her favourite hymns and quoted verses from the Bible. She said she was enjoying a "long life" because "God is the foundation of the world. Every day is a day closer to home."
Spooner said she eats any type of food along with porridge provided by a church member she lives with and whom she refers to as her "lil nurse." She advises that "after one time comes another. No man should boast because today is one thing and tomorrow is something else. You have to have faith or you would run overboard."
Spooner, a Barbadian by birth came to Guyana as a young girl to work in the Creole gang on the sugar estate. She recalled with a smile that "early morning the driver [with a foreign accent] would come to pick us up and would say 'hully, hully [hurry, hurry].'" She also did all types of work in the field as well as in the office.
The woman bore one child for her late husband, also a Barbadian. She lost her child and because of her love for children she adopted three more, although she has outlived two of them.  Her surviving adopted daughter resides in Georgetown and would visit her monthly. Spooner survives on her pension from the estate.
She attended church regularly but says she "don't go anywhere now. I get weak so I stay home and sing. I begin my day with singing and praying and I end it with that."
Zaiboon Ahamad, 82, was sitting in her rocking chair looking out when this newspaper stopped in. She was born and grew up at Springlands and enjoys living there. Ahamad's father was a driver on the sugar estate and her mother planted rice. She assisted her mother in the fields.
She recalled that she lived in a logie with her parents and siblings. She learnt to sew and knit from "Mrs Cruickshank," the wife of a planter and later earned an income from the skills she acquired.
This publication also caught up with 'Fraser,' who is in his 70s as he rode around the area selling newspapers. He said he has been a vendor for several years now and enjoys bringing the news to people's doors.
Amerindian Hostel
Over at the Amerindian Hostel, three youths from Orealla, Corentyne River, who attend school on the coast were relaxing under a benab in the yard. They left to get the housemother, Pamela Chacon to speak to this newspaper. A polite and pleasant woman, Chacon said she is in charge of 16 boys and 13 girls who hail from both Orealla and Siparuta. She has been there for the past nine years and enjoys working with the children, in spite of the challenges she faces sometimes regarding discipline.
She acknowledged that disciplinary problems arise because the children come from "different backgrounds and have different behaviour." But, she said "we have rules here and they have to abide by them."
The girls occupy the top flat of the building and at first the space was too small because the kitchen was also housed there. Government has since built a separate kitchen and the girls now enjoy a more spacious living quarters. Immediately after the kitchen was built, Food for the Poor provided the hostel with a quantity of articles including beds, televisions, freezer and stove.
The organization has also been providing the students with stationery and footwear for school, while government has been supplying the uniforms and groceries and paying the electricity bill.
Around the Web