Our historians have missed a great deal by placing too much emphasis on the role-play of parties, and political and social factors in writing the pre and post-independence history of our nation.  If they had stopped to think of the crucial role played by what may be considered to be 'ordinary people,' they might have recognized that they could have had far greater influence on the evolution of events than is generally thought.  Take for example the confidential secretaries who served the prime ministers and presidents of this period.  Ruby Harry, Jean King and others who may yet be unknown to the general public, have been 'witnesses to history' in a manner which would turn any historian worth his salt green with envy.  Another such was Celina Diana Harewood, who passed away on November 18, 2011, ten days before the last General and Regional Elections.
Verbally deft, neat, punctual, always well dressed and endowed with an engaging personality, Celina had a public service career which lasted almost four decades, during which she served some of the most powerful men in Guyana. In these capacities she was privileged to rub shoulders with the high and mighty of the globe. Present at Commonwealth, Non-Aligned and other meetings at which the world's leaders congregated, she could converse on the importance of these meetings as well as offer insights into the qualities of the participants. Celina Harewood could produce a flawlessly typed document and returned those to erring officers which she felt should not be submitted to the President. These qualities –good working habits, an interest that ranged well beyond that of a secretary, an interest in national and international politics and an intense focus on her work – made her a valued and respected member of the various public service institutions she served.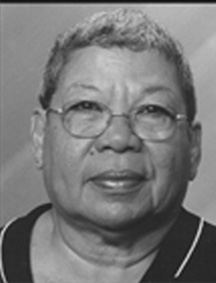 Her first major post was that of confidential secretary to the well-known and respected Harold Davis, the Chairman of the Guyana Sugar Corporation in 1981.   Davis led a staff which was known for its efficiency and ability to get things done in an era when sugar had been nationalised and many problems had to be overcome.  From all accounts Celina Harewood fitted in snuggly here and proved her value as a confidential secretary and a socially amenable human being. It was either the close association Harold Davis enjoyed with Prime Minster Forbes Burnham or the evident expertise of Celina Harewood that led her to be recruited into the Office of the President in the same year.
Guyana was making the transition from the prime ministerial system to the presidential. Along with Pat Whitney and later Imogene Crawford, Celina Harewood was responsible for the establishment of the Office of Confidential Secretary to the new president and ensured that it functioned effectively as one of several divisions in the presidential complex.  It was a task which was not without its difficulties.  It involved negotiating her way among ministers, advisers, politicians, ambitious subordinates and suave diplomats.  Here there were sharp elbows and Machiavellian tactics.  The reverse side of Celina Harewood's character was on display when attempts were made to force her out of her position after about two years on the job. However, revealing a level of political astuteness and accurate reading of the then President's mood, she carried the day.  Celina Harewood had demonstrated that she had the steel and fortitude to survive the office politics of that time.  The only other time her position was challenged was when a head of the Presidential Secretariat sought to work his way around her and had to retire in defeat.  Celine Harewood was to survive as Confidential Secretary to Presidents Hoyte and Jagan and retire in 1996.
Retirement was both an irritation and constraint.  Ms Harewood therefore lent her services and her expertise  to the TROPENBOS Guyana Programme and The Forestry Training Centre of the Guyana Forestry Commission, and she became Secretary to the Roman Catholic Bishop from 2004-2009.  However, she did not want to live her life in compartments.  As a result, even while she was still actively engaged in public service work she was not reluctant to take up the challenges in her own community.  Celina Harewood was as anxious to get the street in Louisa Row fixed as she was to work among the needy and the very young.  As she maintained a wide circle of friends, mostly from her long years in public service employment, she became something of an informal adviser to literally dozens of people who sought her views on a range of issues.  Celina Harewood was never reluctant to offer that advice or comfort when this was necessary.
When illness did set in, in the 1990s, she seemed to disregard her discomfort and evinced a fierce determination not to give in.  Celina Harewood continued to do the essential work of looking after her family and keeping in touch with her wide circle of friends.  Her family over the years had become the centre of her attention and all of her children have testified to her superb abilities as a mother.
Celina Harewood was born on the June 6,1937 in McKenzie, British Guiana, the daughter of John and Jennie Wong née Campbell.  She was the last of three children.  She was educated at McKenzie Primary School and Echlos High School, the foreunner to Linden High. Celina was married to Carl Harewood and their union produced four children:  Carol, Anna, Paul and Jasmin.  She was grandmother to Christopher and Leiann.
Around the Web