For the last 15 years Christmas Day has found 49-year-old Jennifer Gulliver pounding the streets of Georgetown selling newspapers.
The vending of newspapers has been this woman's only occupation during those years and even though it has not been an easy rood she will tell you that the earnings from the newspaper sales have helped to send her children to school and build her Turkeyen home.
She knows that today is a day when families are usually together at home, but for her and her three children it is a day when they are on the streets. However, she said, it is not something that really bothered the children as it has been a part of their lives for so long. In fact her last son now 13 "was born into the paper business." She feels that is due to the fact that he "has the voice for the paper business" as opposed to his older siblings, Phynella, 19, and Jamal, 17. The two would fight about which of them he would accompany when they sold papers because he knows how to attract customers.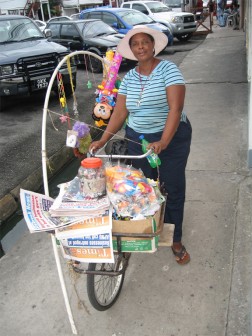 And because Gulliver's husband later started selling newspapers as well, all the family members spent this day on the streets, although not together because as the children grew older they all had different spots in the city where they vended the papers.
"But Boxing day is we day," she told the Sunday Stabroek adding that she found that on Christmas Day many of her customers would be in a giving spirit and she got a lot from them as she delivered their reading material.
While at first she was angry that she had to work on Christmas Day, she moved on and said over the years her mother always assisted her and her children with a special lunch.
But selling newspapers is not what Gulliver has done all of her life, and she told the Sunday Stabroek that it was circumstances that forced her into the paper business. She does not entirely regret the move but does not want to die a paper, vendor and is hoping to one day move away from this.
It was while going through the newspapers that were left back that the Sunday Stabroek caught up with this woman of purpose, who in recent times has been referred to as a moving store, since she now hawks haberdashery and other small items which festoon the bicycle she pushes through the streets of Georgetown, rain or shine.
Many are amazed at the strength of the woman and she admitted that she would from time to time be asked how she does it. She revealed that it is nothing special since she does what she has to do to help provide for her family.
It has not been an easy road and as Gulliver looks back at her life it is far removed from that young woman who started out her working life at the age of 22 as a typist in the Ministry of Education.
North Georgetown
She completed her secondary school education at the North Georgetown Secondary School, but did not initially obtain a high enough pass for a secondary school and after primary school attended the Guyana Oriental College. During those years she did arts and craft, took piano lessons and was taught typing.
Gulliver and her friends wanted badly to attend secondary school, but at some point they realized that even if they passed the entry exams their age would have been a problem. Not daunted by this, however, the girls got away and headed to the office of the Chief Education Office at 21 Brickdam, and after she represented their cause to him he promised to assist them. He kept his word and they were granted the opportunity to attend North Georgetown.
At secondary school she was very good at Geography and had a dream of becoming an astronaut one day, but she soon realized that it was just a dream.
"But I have learnt that you must dream big, so when you fail you would not fall hard," she told the Sunday Stabroek.
"And so when I come out of secondary school I could remember I write one hundred applications and send them out."
She eventually got the job in the planning and research department at the Ministry of Education and she described those years as a "great experience." She spent six years at the ministry and also attended the Government Technical Institute (GTI) during her time there, before going to the University of Guyana where she had hoped to read for a diploma in computer science.
Unfortunately that was not to be, as Gulliver met her husband and they got married; she later left UG with the aim of returning later. That day never came as she found that she was forced to take on so many of the financial responsibilities that she could not afford to go to university, especially after the children came.
Her financial circumstances is not a topic that Gulliver readily discusses, but she pointed out that the fact that she sells newspapers for a living and does that whether it rains or the sun shines, tells its own story.
After UG they acquired a piece of land in Turkeyen and used to farm there before they started to build their home, which is yet to be completed, and after all these years the family is still without electricity. When she left UG she did not just stay home and farm, as she also worked as an accounts clerk at the Continental Group of Companies, a job she quit after she had her first child.
Later she worked at NALICO selling insurance, but many days she sold no policy and at the end of the month the money she made did not do much for the family. It was during those difficult days that she met well-known paper vendor Phyllis – now deceased – who walked her through the steps to becoming a paper vendor.
"I regret it every day that I did not finish UG," she said with a sad shake of the head.
'Get a money'
It was not bad going at first, as Gulliver said she made money, but as more and more persons started to sell it became a difficult road to travel.
But she maintains that with newspaper vending, "You get a money every day even if it is just passage to send the children to school… You don't have to wait until month end for the money."
But Gulliver yearns to elevate herself and revealed that she recently took some Portuguese classes and she wants to continue.
"I want to elevate myself and because of my age I know I can't get a job because soon is retirement for me, but I want to do something in language or music," she told the Sunday Stabroek.
She said for years she had dreamt of getting a job at the Caricom Secretariat and she finally has to accept that it will remain just a dream.
But whatever life has thrown at her, Gulliver has taken it and kept going, although she still yearns for a better life. However, she is committed to continuing working as long as she has health and strength. Because she is away so much from home Gulliver said she is not proud of the directions her sons are taking, but she will not give up on them and will continue to do what she needs to do. Her daughter has a job and goes to classes and her wish is for her to get married and "settle down."
Around the Web