Ask the Consul Installment One Hundred and Nine
Ask the Consul
Frequently Asked Questions
This Ask the Consul article addresses questions that have been asked during recent interviews at the U.S. Embassy in Georgetown or by e-mail.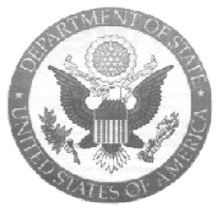 My visa to travel to the United States is still valid but it is in my expired passport.  Do I need to apply for a new visa with my new passport?
No. If your visa is still valid you can travel to the United States with your two passports, as long as the visa is valid, not damaged, and is the appropriate type of visa required for your principal purpose of travel. (Example: tourist visa, when your principal purpose of travel is tourism). Also, the expired passport must not be damaged.  Both passports should be from the same country and should be the same type (Example: both Guyanese regular passports, both official passports, etc.). When you arrive at the United States port of entry (POE) the Customs and Border Protection Immigration Officer will check your visa in the old passport and if s/he admits you into the United States, will stamp your new passport with an admission stamp along with the letters "VIOPP" (visa in other passport). Do not try to remove the visa from your old passport and stick it into the new, valid passport. If you do so, your visa will no longer be valid.
How long does "Administrative Processing" take?
Some visa applications require further administrative processing, which takes additional time after the visa applicant's interview by a Consular Officer. If an applicant's case requires further administrative processing, the applicant will be told so at the time of the interview. Most administrative processing is resolved within 60-90 days of the visa interview; however, the timing will vary based on individual circumstances of each case. Visa applicants are reminded to apply early for their visa, well in advance of the anticipated travel date.
I had a letter of invitation from a family member to go to the United States, and I still did not get a tourist visa.  Why not?
A letter of invitation from someone in the United States does not guarantee visa issuance to a foreign friend, relative, or student. Visa applicants must qualify for the visa according to their own circumstances, not on the basis of an American sponsor's assurance.
***
"Ask the Consul" is a fortnightly column from the U.S. Embassy answering questions about U.S. immigration law and visa issues. If you have a general question about visa policy please email it to us at AskGeorge@state.gov.  We select questions every other week and publish the answers in Stabroek News and on our website at http://georgetown.usembassy.gov/ask-the-consul.html .  Information about visas and travel can be viewed at http://georgetown.usembassy.gov, http://travel.state.gov, and at http://www.dhs.gov.  Applicants are strongly encouraged to prepare their own documents and avoid third-party advice.  U.S. Consular rules change frequently and non-US government advisors often provide inadequate or inaccurate information.
Other than the questions we select, we DO NOT respond to questions sent to Ask the Consul. Please contact the visa inquiries unit (email visageorge@state.gov or call 225-7965 between 8 am and 4 pm Monday through Friday) if you have questions about a specific case.
Most Read This Week