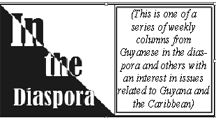 In March and April, two diaspora columns examined the Former Presidents (Benefits and Other Facilities) Act No. 12, which was passed in Parliament in the first quarter of 2009. President Bharrat Jagdeo, who will be 48 years old when he demits office, will be the first to enjoy the lavish package that the passage of this Act has enabled. The first column drew attention to the entitlements, which are guaranteed during the remainder of his lifetime (there are also no provisions prohibiting former Presidents from receiving their pension if they take another job, even if it is a governmental position): "a tax-free pension, free medical treatment for him and the dependent members of his family for the rest of his life, an unspecified number of motor vehicles to be maintained at the taxpayers' expense, an annual vacation allowance equivalent to the cost of two first class return airfares, full time personal security and security at his place of residence, payment of services for an unspecified number of personal and household staff, payment for the services of an "attendant" and a gardener, payment for the services of an unspecified number of clerical staff, payment for the services of "technical"  staff, whatever that means, payment of his water rates, payment of his electricity bill, payment of his telephone bill, and toll free road transportation in Guyana."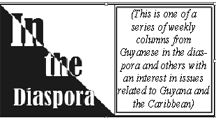 Given comments by the Head of the Presidential Secretariat Dr. Roger Luncheon that what was being proposed was "minimal" compared with the size of benefits provided in other jurisdictions to their former heads, the second column did a comparison between Act No. 12 and similar legislation for other countries. It showed that the benefits provided to a former Guyanese President exceeded by far what is currently offered to former Presidents of the United States, as well as former Prime Ministers of Jamaica and Trinidad & Tobago.
Many people have since pointed out that it is not enough to compare what former heads elsewhere are receiving. In an earlier column, Arif Bulkan concluded that "the President's large gains are most sobering when considered against the searing inequalities now commonplace in Guyana, where the gap between the government and the governed has taken on epic proportions." This column responds to many requests to provide more details on this gap, by looking at the distance between the pension provided to former Guyanese Presidents under Act No. 12 and the general level of old age pensions received by Guyanese. The disparity is not just clear, it is utterly obscene and revealing of the kinds of income inequalities between rich and poor that are becoming more deeply entrenched in the country. For starters, as was pointed out in previous columns, there are absolutely no dollar limits to the various allowances and staff that Former Presidents are entitled to, which means that one cannot even estimate what this will cost the Guyanese taxpayers from year to year – perhaps sitting finance Minister Dr. Ashni Singh might enlighten us? In contrast, old age pensioners receive a fixed amount, nothing more and nothing less, currently totaling the princely sum of G$7,500.00 per month, or just about two hundred and fifty Guyanese dollars a day.
Last year, Red Thread and the Red Thread network Guyanese Women Across Race issued a series of letters and leaflets to support their Living Income Campaign for women and men on pensions and public assistance.
At the time Guyanese were being told how many billions were being spent on old age pensions, billions which then translated into the sum of just G$6,600.00/month for each recipient. The analysis below comes from interviews Red Thread women did with old age pensioners, and is adapted with their permission:
THE STORY OF J, AN OLD AGE PENSIONER
"Dis is wha me a get – $6600 a month.  $212 a day. Wha dis cud do? It kyan even buy wan loaf bread!"
J is a 66 year old woman of mixed race and mother of eight children, of whom three are deceased.  She lives in her uncle's home with her 82 year old uncle and her 47 year old son in South Georgetown. The son only works odd jobs. She cares for her uncle who has prostate cancer and cataracts in both eyes. He also had a stroke which makes it difficult for him to move about. J's uncle is a member of the eye clinic at the Georgetown Public Hospital Complex to which she has to take him monthly.  Although she is hypertensive, she didn't join the hypertensive clinic there for herself because it would mean waiting longer hours  to attend both clinics and that would be too much stress for her uncle.
Here is the household income and spending:
Regular monthly income                               G $
– Pension for self & uncle                            $13,200
– Money from son                                          $  5,000
Total                                                                 $18,200
Regular monthly expenses for essential things
Food                                                                              $ 28,500
Gas                                                                                  $   3,400
Transport to buy gas (1 mini bus ,1 taxi)       $      460
Medication for uncle                                              $   6,000 +
Medication for self & BP check                           $   4,300
Electricity bill     (average)                                   $   6,000
Phone bill     (average)                                            $   4,000
Taxi to the hospital ($500 x 2)                          $   1,000
Mini bus to the market     ($60 x 2)                  $      120
Mini bus to collect pension ($60 x 2)             $      120
Total                                                                              $ 53,780
How J manages
Whenever J has to take her uncle to the clinic, she leaves home at 7am and returns most times a little after 4pm. When she has to collect pension for herself and uncle, she leaves home earlier than 7am in order to get back home before her uncle starts calling for her and gets anxious when he realizes she is not at home. J takes the opportunity to check her blood pressure and buy her medication at a pharmacy nearby when she goes to the market to do her monthly shopping, not because she can afford it but because caring for her uncle means she can't afford the time waiting. J does not get regular monetary support from her son, but he will sometimes help to pay half of the light bill and phone bills, an average cost of $5000. J is then left to pay all the bills including rates and taxes  the best way she can. J's son is an alcoholic who verbally and sometimes physically abuses her.
J's cousin (her uncle's son in the USA) sometimes sends money whenever he can. It's exactly nine months since she received any help from him. Her grandson sent US$100 for Christmas which J used to buy medication for herself and some long overdue personal supplies which she most times has to forego for food and medical supplies.
While the government (and the Parliament) like to look at what they call the National Economy, old age pensioners and people on public assistance have to manage their household economy. What matters to them is not the big sums quoted by big ones but the  lil pittance that reaches them as small ones in this society.
Those who pay this pittance would not be able to survive for one day on what pensioners get per month. Increasing the old age pension to a livable wage is not only the right thing for government to do; it is the sensible thing for government to do. The discussion cannot begin with 'the economy has no money'. It has to begin with, 'People have a right to live'. Once that is established, the next step is to exhaust ways to find the money.  We are holding the government accountable for finding it.
The government has an obligation to ensure that the needs of its citizens are catered for. A country's development should cater for raising the standard of living for poor people. There could be no development if the state of the poor people remains the same."
This Red Thread leaflet was written up one year ago. Two years after Parliament sat and passed Act No. 12 for Former Presidents, old age pensions for Guyanese were increased from G$6,600.00 to $7,500.00.
As the political parties and presidential candidates ramp up their election campaigning, go on walkabouts, fly to wherever Guyanese are in the diaspora with outstretched hands for campaign donations, we should be asking them to explain this obscene gap, to account for the frankly immoral benefits that former Presidents will now receive in the face of continuing starvation level pensions for most Guyanese, to explain to pensioners this eyepass, in which former Presidents are entitled to a blank cheque while they must subsist on the equivalent of less than forty US dollars a month, to account for what this says about priorities and who really counts. Will those who want to get your votes and your money commit to rolling back this legislation?
Will they commit to putting Guyanese first and to raising pensions so that those who have given so much to the country can live with dignity in the later years of their lives? Or is this something that only former Presidents – starting with President Jagdeo – and other big ones are entitled to in Guyana? As one of the persons interviewed by Red Thread stated, "We ain't want house help or gardener.  All we want is enough money to pay our bills and eat."
Around the Web