By Holly Bynoe and Nadia Huggins
Two Vincentians – Holly Bynoe, a visual artist and Nadia Huggins, a digital photographer – have conceptualized and are preparing to release the third quarterly issue of ARC Magazine, a publication that focuses on a collection of works by contemporary visual and literary artists practicing in the Caribbean and its Diaspora.

ARC Magazine is a unique publication, a limited edition production likened to a contemporary art book, as it is necessary to ensure that the publication is a quality and contemporary resource. ARC Magazine endeavours to form a creative platform to offer insight into current practices across the burgeoning creative industries, while bridging the gap between established and emerging artists. ARC is an experiment that brings together the unlikely – it harbors and integrates conversations that reveal the current dynamism occurring in art production, conceptualization and its many manifestations.
Within the region's collective networks, it is becoming increasingly necessary to make the common woman and man and the aficionado aware of possibilities of art, its evolution, trends and 'personalities'. ARC Magazine provides a forum that celebrates creativity, its determination, dialogue and pleasure. It is ARC's ambition to inspire and give voice to a new generation of independent, Do It Yourself and emerging artists who remain fearless in their struggle with the fractions and whole of their varied cultures. ARC gives license to artists who are negotiating their own space and place by offering a neutral ground that accommodates dialogue.
ARC Magazine runs 84 pages and is published 4 times yearly; each issue's print run is approximately 500. It is slightly oversized ( 9" X 12" portrait orientation), and its paper and material quality are considered with great care. We treat each issue akin to an exhibition where themes and motifs lead you through the work.
Each publication offers a different tactile engagement, whether it be a fold out, embossing or different finishes to highlight a certain medium or type of work. We work very intuitively with materials in order to ensure that we produce a publication of the highest quality that can be a competitive publication on the regional and international market.
There are five departments in the publication: Spotlight highlights four emerging artists' works; 24FPS presents an in-depth look at established and experimental filmmakers' works; The Gradient offers a dissection of a larger body of specified work, be it one project or a relevant theme moving throughout an artist's practice; Artist on Artist reminisces and heralds the significance of influence; and Collections showcases the portfolio of each artists, most of them working with and in new media.  For our third issue, we have established  our Cultural department and literary section, which highlights various poets and experimental writing pieces.  Our existing content is mapped out to create a wide and varied idea of the works ARC Magazine engages in.
Issue 1 gathered a collection of diverse artists. Jamaican photographer Radcliffe Roye's photographic serials are broken down into parts and we are introduced to his vivid and confrontational documentary style. Andil Gosine pays homage to Lorraine O'Grady's first foray into moving images while discussing her importance as a model of feminism. Katherine Atkinson's introduction to Headphunk – a spoken-word collective working to keep the creative fire raging in St. Lucia – finds itself in conversation with a group of veteran poets. Their conversations and interactions allow for specific focus to be placed on the role of collective energy in creating a free space for exploration and experimentation.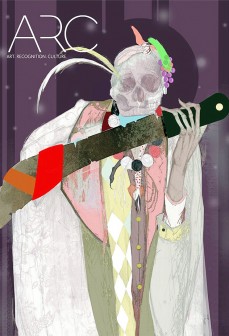 Paradise Omeros, Isaac Julien's video installation, adapts Nobel Laureate Derek Walcott's Omeros; it is an exploration of creolité – of the politics and the culture of our differing Caribbean personas.  Mariamma Kambon's fragmented and constructed series Castle of My Skin is confrontational, as she takes apart iconic imagery linked to the days of slavery. The protagonists are reluctantly heralded as free, alive and engaging – ready to fight. Ishion Hutchinson's poetry tears us from the familiar and drops us into frozen landscapes, locked in a world where the only escape is the creative act. Oneika Russell considers Sheena Rose's practice and our expectations of the form, structure and methods of a visible Caribbean aesthetic.  Guyanese American Photographer Keisha Scarville's series Many Waters follows a very personal narrative that weaves poetry, faces and space together with history, loss and heritage close to the surface.
Issue II brings together the work of Andrea Chung, a Jamaican visual artist, who takes an ironic look at tourism and its neo constructs in the Caribbean. Writer and critic Annie Paul has partnered with Chung to bring a haunting vision to life. 'A Hand Full of Dirt', the first feature by Barbadian filmmaker Russell Watson, is broken down to its core and writer/filmmaker Tracy Assing examines the funding and organizational structures in place to bring Caribbean filmmaking into 2011. Dalton Narine's occupation with Peter Minshall's practice presents a poetic revelation of an artist who for decades lost himself in his creations. Detailing Minshall in his incompleteness and genius, Narine provokes, tempts and enchants us with the power of mas. Featured artist Brianna McCarthy's collage and paper constructions strive to redefine our views of the Afro-Caribbean woman; working within repetition and beauty she constructs patterns that challenge the notions of its definition.
Haitian artist Manuel Mathieu's Oeuvre is in the making and we expose it, where all good fictions, narratives and observations start, at the beginning. His paintings and drawings embrace a chaos and disorder, and memory colliding with form. Guyanese Painter Stanley Greaves' There is a Meeting here Tonight' is contextualized by Trinidadian Writer and Poet Andre Bagoo. In Art and Politics, Bagoo translates the power of subversion, truth and politics that littered Guyana's landscape in her younger years. Greaves' irony and surrealism both represent and critique the various representations of art as an agent of power and change. Dhiradj Ramsamoedj's Flexible Man is scrutinized on its metal frame where he gently rocks. Its delicate costuming tells a story of the fierce hybridization of the Caribbean multiple cultures through an interweaving of languages and histories, his coat demanding attention and observation – delicate in its beauty – jovial and celebratory in its masquerade.
The soon to be released volume brings together work by featured artists from Suriname, Guyana, Venezuela, Trinidad and Tobago, Grenada, St. Vincent and the Grenadines, Barbados, Martinique, Guadeloupe, St. Martin, Santo Domingo, Burkina Faso, and the Bahamas, representing a variety of media, including photography, illustration, film, painting, graphic design, poetry, performance, installation and mixed media.
Issue 3 will be officially launched on the 13th of August in collaboration with FRESH MILK in Barbados. The event includes an exhibition of photography, sculpture and video works co-curated by ARC and Projects & Space. This event will showcase the works of emerging and established contemporary artists from Barbados and the region, including Sheena Rose, Mark King, Russell Watson, Yao Ramesar, Joanna Crichlow, Phillip Nanton, Davina Lee and more.
ARC is attempting to understand our dispersal and the potential of its collective ideologies and content. Larger ideas of supporting emerging artists throughout the duration of their careers will be our first step in defining the collaborative space the publication occupies. ARC Magazine is a quarterly, independent visual arts magazine made possible by the subscription and support of its readers. ARC is a projected motion that ascends, moves outward and beyond into a space of curiosity.
For more information visit: http://arcthemagazine. com/arc/ where you will find all relevant information for purchasing the publication, artists, distributors, annual subscription, advertising specials and more.
Around the Web