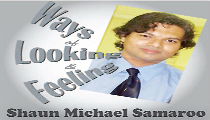 Promise and potential exist side by side with plight and hardship in this country. It's frustrating to see the effects of gross poverty, given what's possible.
Take the Everest Cricket Club and the Wismar Community Centre, for example.
Court in Linden takes up the space once set aside for children and young people to play. The community centre at Wismar doubles as the place where lawyers and magistrates face off with alleged criminals, police ranks and worried witnesses.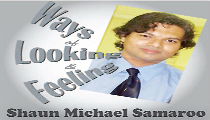 The community centre lies dormant in a state of horrible disuse. It houses a big, promising outdoor basketball court. But weed overgrows it, the pavilions look derelict as they fall apart, and the metal basket boards rust in protest.
The town's court-house, a historical building that had stood its ground for a hundred plus years, now crumbles in ash, a vacant space where justice once served the people. In a suspected arson case, the building burnt flat to the ground.
On a hot Monday morning, court got underway inside the community centre, with police ranks guarding the front.
People attending the court had to navigate among potholes on a narrow strip of white sand to secure a parking space. The centre has no designated parking space.
The mining town's population of 50,000-plus people abides with this state of affairs because life is hard for them.
A visitor is struck by how hard life appears for these people.  Maybe it becomes tolerable after dwelling in it for a while.
A short distance from the community centre-cum-court, a couple dozen men and women stood in knee- deep water last week shoveling sand out of a main trench that drains water and sand from the Valley of Tears.
The Valley community lies in the path of rushing sand when it rains. The sand piles up against houses as rain water flows down the sand mountains.
Men and women under blazing hot sun desperately worked to clear the trench so the sand and water could be channelled away from dwellings.
Member of Parliament Raphael Trotman talked to the workers about their plight, and they complained they were thirsty and needed drinking water. He went over to a nearby roadside stand and paid thousands of dollars for the workers to be given drinking water.
In Georgetown next to the seawall lies the Everest Club. On a sunny afternoon, with a gentle ocean breeze flowing over the brilliant green of the immaculate cricket ground, a couple dozen teenagers decked out in cricket gear bowl, bat and learn the game under the watchful eyes of their coach.
Jason Rooney, a teenager from Charlestown, joined the Club last week, and his first day at practice saw Trinidad-based Guyanese cricket Journalist BrijParasnauth drop in to give an hour-long inspirational talk and batting and bowling tips to the youngsters.
They listened with rapt attention. These young men spend their days dreaming of making it big, and many believe they would one day be stars. They turn up every day to learn the discipline of a sporting life. They invest in their dreams, and Everest makes it happen.
The Everest Club offers great promise and potential to a new generation of Guyanese dreaming of a great future.
One coach said such sessions happen at other cricket clubs around the country, and one former national player said he coaches 30 kids at Leonora in the basics of the game.
Yet, Everest has potential to reach out to hundreds more kids, instead of just a couple dozen.
Jason Rooney, in choosing to join the club, is determined to climb out of mediocrity and reach for something higher. Living in Charlestown, a depressed Georgetown suburb, does not grant him much opportunity. But at Everest he found the kind of atmosphere and life advice that could only stand him in good stead.
Parasnauth said Trinidad and Tobago has high-performance cricket centres all over the country, but Guyana is yet to invest in these.
Such is the promise and potential of this land. Yet, as so painfully evident in Linden, the nation seems unable to get its act together.
In Bush Lot, Berbice, even rice farmers complain about how hard their life turns out.
Two farmers complained that their efforts reap little solid results. One plants 100 acres of rice, and operates a dairy farm of 400 cattle. The other plants 120 acres of rice and owns a dairy farm of 100 cattle.
Yet, they wear rags and complain about various problems – from poor drainage that causes severe flooding of crops, to dams and farm access roads that are impassable. "We now have to go into the farmland with boats," one said.
Such tales, across the country, leave a bitter taste in the mouth. What great potential lies in farming 100 acres and owning 400 cattle. Yet, these farmers face hardship and plight of unimaginable proportions.
In Mahaica, people complained last week to Member of Parliament Khemraj Ramjattan about new multi-million dollar roads that crumble within a year, because of poor construction. They said their complaints to state officials are useless, and so they throw their hands in the air in despair.
Derek Kowlessar, a re-migrant who moved back to Guyana after living 30-odd years in Canada, plans to launch a Social Democracy Coalition to give these people a voice. He talks to them and listens to their complaints.
One day last week, Deo Persaud, a re-migrant from England who lived away for 40 years and who came back to organize the Buxton Fusion music initiative, Kowlessar, and a couple other overseas-based Guyanese – one American and another Canadian- sat and talked about how they could make a positive difference. Their frustration at the lack of encouragement from officials becomes very visible.
For this country to realize its amazing potential, communities across the country must embrace ideas, initiatives and intellectual and human resources from Guyanese who experienced life in developed societies.
The nation cannot transform its plight and hardship into the promise and hope of our potential as a people unless we access the 85 percent of the brains that migrated. Many are willing to come back and serve and contribute.
Khemraj Ramjattan told a crowd in Canje,  Berbice that he would like to see overseas Guyanese play their part in the development process.
Such talk must transcend politics to embrace real community-based development initiatives.
This writer could be contacted by email at beingshaun@gmail.com
Around the Web