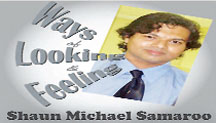 Even as experts bemoan the fact that 85 percent of this country's skilled people migrated and gave their talents to overseas societies, we still have a pool of great people who stayed here and battled the tide of deterioration.
So many more could have packed their bags and left. This writer knows so many people who stayed, and who are heroes for sacrificing for this nation.
So many young people stayed to make a big contribution, battling daily challenges.
This newspaper itself saw many of its skilled and trained Journalists and designers migrate. Yet, the ones who stayed, like Donald Duff the Sports Editor, testify to a refreshing belief in this nation.
We have legitimate business leaders, politicians, lawyers, doctors, the management staff of this newspaper, teachers, nurses and so on who remain here, and make a defining difference.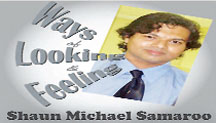 We could lament so much that is wrong with our country. But in the people who remain here and refuse to leave, we have hope.
Many of this writer's high school colleagues, and even siblings, migrated and live successfully in North America and England and the Caribbean.
Yet, some high school colleagues remain here, and live amazing lives. Pierre Nathoo, who raised his family and now has two sons attending the University of Guyana; Deonarine Chand, who built and operates a successful video production studio; Carolyn Nichols, the owner of a high-end craft business for tourists; Rondha Lam-Singh, this writer's ex-neighbour in Ketley Street, now an accomplished literature teacher. These inspire confidence. They are amazing people.
These young people who stayed and built solid, successful lives testify to what Guyanese could accomplish at home, with hard work, decent morals and commitment to a life well-lived.
Many people who stayed now go to New York, Barbados, Toronto and elsewhere, on annual vacation.
Bibi Narine in broadcasting and her husband Richard in theatre, among others, have also lived hugely inspiring lives, right here in Georgetown.
We could go on and on, and come up with a very long list of these inspiring people, who quietly build their lives and contribute to a Guyana we could all one day admire.
A few people re-migrated here and suffered the drastic drop in living standards. But they stayed to make a difference, with maybe Sash Sawh paying the ultimate price with his life.
Of course, we cannot look to advance this society without the depth of resource, talent and skill of overseas-based Guyanese. We need all hands on deck for the task of righting this ship, for it still tilts way too much on the wrong side of history.
As a country we seem to stand on a precipice of either becoming a failed state in the 21st century world, or an emerging nation that plays a vital role on the world stage.
Failing is not an option. We must succeed as a people, and as a nation.
The unique nature of the Caribbean is that many of us do not know our history going back beyond slavery or indentureship. We are building brand new nations, and evolving our national identities as we go along.
To be a Guyanese is to be of the nation of Guyana. We are a nation of Guyanese.
And so wherever someone holds a Guyanese birth certificate, we must, like Jamaica does with its nation, reach out and embrace each other in this task of building up our nation into a viable, admirable and respectful member of the community of nations.
Anthropologists have explored how nations evolve into civilizations. Africa, China, India, Europe, the Arab nations have all developed distinct civilizations, with great cultural uniqueness.
We in the Americas are working on building our civilization. Our nations are young yet, just over 500 years old, since Columbus discovered the landmass.
Caribbean countries are even younger, having achieved political independence less than 50 years ago.
So we are a young people, a growing nation, and an infant civilization.
How we see ourselves, and where we see ourselves going would determine how we act today among ourselves.
Many people still leave these shores in droves. Migration has become a way of life for the country.
And we too frequently forget the ones who stayed, who build against the odds, who overcome the pressures of living through social standards falling apart around them.
Food prices here remain high, with a trip to the grocery store costing a normal family upwards of $30,000 a week.
A lot of this is imported food, and so the cost of food is the same as in North America, where income is far higher than here. It's not easy raising a family here.
But for those who plant their yards with vegetables and fruit trees, and go fishing, life must be so peaceful here, with year-round sunshine and lavish showers of rain.
In Berbice, this writer's grandparents, now approaching their 90's, have lived at one place all their lives. They have a decent house with all modern conveniences. For decades they planted their garden and fished and reared chicken and cows and operated a farm.
Now, in their old age they sit all day talking.
They have lived full lives, and now enjoy their old age. In North America, they would either be in nursing homes, or be hooked on a range of pills.
Life in this country, especially outside of stink Georgetown and away from an inept governance culture, could be a pleasant experience.
Old people lament the loss of home gardens as a way of life. Indeed, it would ease so much burden if people planted the land more.
The way we see ourselves and our country determines how we experience life here.
As the world goes through a widening global economic depression, many people could see Guyana as a fortress, a place of rest and relaxation, and return home.
The world is rapidly changing, and our country could escape the brunt of the chaos that could afflict the world economy.
Just like the emerging powers – India, China, Russia and Brazil – have learned to knit their citizens at home with their overseas-based communities, we must form a strong alliance between our local and overseas communities.
It calls for mutual respect and trust, with overseas-based Guyanese admiring and celebrating those who stayed in this country.
Around the Web